Alaska Airlines and Bank of America are now offering 20,000 Mileage Plan Bonus Miles upon online approval for the Alaska Airlines Visa, an increase from the 5,000 miles that were previously being offered. Their current splash page still shows 5,000 bonus miles but if you click through to the terms and conditions, you'll see the new offer.
20,000 miles is valid for a Round Trip Coach Saver Award ticket between the United States and Canda on either Alaska Airlines or Horizon Air. Note that the card has an annual fee of $75 for Visa Signature and Platinum Plus accounts, and $45 for Preferred accounts.
You can see the offer, along with a summary of the card's benefits, here.

hi sir i am alxmi prasad gautam i awant free visa and free ticket in fish packing in alska can you provide me visa?
please contact me
Advanta (5)
American Express (274)
App-o-rama (3)
Balance Transfer Offers (83)
Bank of America (34)
Barclays (22)
Business Cards (51)
Capital One (14)
Cash Back Cards (118)
Chase (138)
Citibank (108)
Credit Report (25)
Discover (76)
FIA (11)
FNBO (4)
General (56)
HSBC (4)
MasterCard (37)
MBNA (5)
Navy Federal (3)
News (3)
Pentagon Federal (16)
Reward Cards (92)
Signup Bonuses (209)
Student Cards (3)
Sweepstakes (20)
Travel Cards (174)
Uncategorized (6)
US Bank (10)
USAA (2)
Visa (76)
WaMu (2)
Disclaimer: This content is not provided or commissioned by the credit card issuer. Opinions expressed here are author's alone, not those of the credit card issuer, and have not been reviewed, approved or otherwise endorsed by the credit card issuer. This site may be compensated through the credit card issuer Affiliate Program. This site has financial relationships with some of the cards mentioned here and may be compensated if consumers choose to apply for these links in the content and ultimately sign up with them.
Disclaimer 2: CreditCardWatcher.com strives to give our readers a thoroughly unbiased and independent opinion. While we make reasonable effort to provide fair and accurate information, it is presented without warranty.
*See the credit card issuer's web site to review the terms and conditions of all offers. While reasonable effort is made to maintain the accuracy of credit card information, it is presented without warranty.
Alaska Airlines Visa Signature Offer - Products News
Credit-Land.com is an independent, advertising-supported web site. Credit-Land.com receives compensation from many credit card issuers whose offers appear on our site. Compensation from our advertising partners impacts how and where their products appear on our site, including, for example, the order in which they may appear within review lists. Credit-Land.com has not reviewed all available credit card offers in the marketplace.
Companion tickets can be a great way to have some company on your trip and save money, something that Alaska Airline is well aware of having made their companion fare offer more lucrative for people who apply for and get the Alaska Airlines Visa Signature credit card during May and June.
When new cardholders book a regular ticket with the airline they will then be able to pick up their first companion ticket for the price of the taxes and fees.
With this offer, new cardholders get to skip the $99 fee that is usually charged for a companion ticket. This offer is good for the first companion ticket they book for a family member or friend, and for the first year they have the card. "For the next two months we're taking one of our best credit card benefits and making it even better," said Ryan Butz, Alaska's managing director of loyalty marketing.
"Since we introduced the companion fare in 1999, guests have saved hundreds of millions of dollars on companion airfare, and we can't wait to introduce this popular benefit to new cardholders," he said.
For people with the Alaska Airlines Visa Signature credit card, the companion fare is a nice bonus, letting them bring along a friend or family member when flying with Alaska or Virgin America for $99, along for the cost of taxes and fees. These fares typically start at $22 depending on the destination.
There are no blackout dates with this perk, and they can use it for all coach fares, regardless of the day or time they want to travel. That said the fare needs to be booked directly through the airline's website and not through a third party vendor.
Alaska Airlines and Virgin America have merged so cardholders booking flights via Virgin America get the same perks and benefits as they did before. These perks include getting one free checked bag for the cardholder, along with six other companions on the same reservation ticket. They also earn three miles for every dollar they spend when flying on either Alaska Airlines or Virgin America.
With the Alaska Airlines Visa Signature card people earn one mile for every mile they fly, and they can book one-way tickets starting at 5,000 miles. Also, if they are elite members they can take advantage of free upgrades.
Alaska Airlines Visa 30,000 miles + $100 statement credit
That's $625 toward travel when you redeem through Chase Ultimate Rewards®. Or transfer points to United MileagePlus®, Southwest, British Airways, Marriott, and more.
Or, consider other cards for 50,000 more miles or points that transfer into United miles with additional flexibility for your everyday spending.
Reward nights start at 10,000 points. Free anniversary night (no points needed) good at any IHG hotel (Intercontinental, Crowne Plaza, more).
Earn 80,000 bonus points - Chase Ink Business Preferred℠
$1,000 toward travel or transfer to United, Southwest, and more.
Check here for MileCards.com's full list of the latest offers
Airline Credit Cards (73)
American AAdvantage (139)
Amex Membership Rewards (119)
Bonus Offers (189)
Card Benefits (184)
Chase Ultimate Rewards (125)
Citi ThankYou (41)
Delta SkyMiles (128)
Finding Awards (391)
Hotel Credit Cards (107)
MileCards.com (875)
Resource (63)
Rewards Credit Cards (48)
Southwest Rapid Rewards (38)
United Airlines (5)
United MileagePlus (201)
US Airways Dividend Miles (32)
Starwood Preferred Guest® Credit Card from American Express
The Alaska Airlines Visa has often has a special deal that gives a $100 statement credit plus 30,000 miles for signing up and meeting spending requirements.
That's better than the standard deal that offers 30,000 miles, but no statement credit when you get a new card.
It's not widely marketed, so the deal could disappear again at any time. And aside from a 50,000 mile deal that's being targeted in the mail to chosen members, it's currently the biggest publicly available deal for the card.
On its own, it's not the most exciting offer.
There is a $75 annual fee that's not waived. Though the $100 statement credit offsets most of that.
Alaska Airlines miles are great because you can use them on so many partners.
They are just about the only way to fly on Emirates using miles at reasonable prices.
And they let you work on one free stopover on awards, even one-way awards.
What intrigues some is that Bank of America has historically allowed more than one personal account per person, the logic being it's a way to keep your expense types separate. And that also lets you earn more than one mileage bonus.
That said, there has been some abuse of that provision, and there are reports Alaska itself has terminated Mileage Plan accounts of some members who opened an excessive number of accounts in a short period of time.
So tread carefully.
But if you're trying to be reasonable, use the offer as part of your travel rewards strategy.
The fine print is below (note the language about an IRS 1099 form is boilerplate in place for all Bank of America cards):
Bonus Miles Offer. You will qualify for 30,000 bonus miles upon approval of a Visa Signature® account, 5,000 bonus miles upon approval of a Platinum Plus® account or 3,000 bonus miles upon approval of a Classic account. Bonus miles and card enrollment benefits will be credited to your Alaska Airlines Mileage Plan™ account approximately 2-3 weeks after approval. Passenger is responsible for all applicable taxes, fees, surcharges and applicable checked baggage fees. The value of this reward may constitute taxable income to you. You may be issued an Internal Revenue Service Form 1099 (or other appropriate form) that reflects the value of such reward. Please consult your tax advisor, as neither we, nor our affiliates, provide tax advice.
Statement Credit Offer. You will qualify for a $100 statement credit if you use your new credit card account to make any combination of Purchase transactions totaling at least $1000 (exclusive of any fees, returns and adjustments) that post to your account within 90 days of the account open date. Limit one (1) statement credit per new account. This one-time promotion is limited to new customers opening an account in response to this offer. Other advertised promotional statement credit offers can vary from this promotion and may not be substituted. Allow 8-12 weeks from qualifying for the statement credit to post to your account. The statement credit will generally be applied to your existing balance with the highest APR before being applied to any balances with lower APRs. Receipt of a statement credit does not affect your responsibility to pay your Total Minimum Payment shown on each Statement you receive from us. The value of this reward may constitute taxable income to you. You may be issued an Internal Revenue Service Form 1099 (or other appropriate form) that reflects the value of such reward. Please consult your tax advisor, as neither we, nor our affiliates, provide tax advice.
100,000 point Hilton Honors Surpass bonus – is it worth the $75? - September 1, 2017
60,000 mile Aviator Red (American) bonus good through November - September 1, 2017
60k Southwest bonuses = easy Companion Pass opportunities - August 29, 2017
Follow @MileCards on Twitter for the latest updates and new offers
Foreign Transaction Fee Waived
Yes - transfer to United MileagePlus, Southwest Rapid Rewards, Marriott Rewards, and more
Points Can Transfer to Airline Miles ?
Leave a comment below -- we'll reply shortly -- no need to use your real name. Or, use the email form at the top of the page for private advice.
"These responses are not provided or commissioned by the bank advertiser. Responses have not been reviewed, approved or otherwise endorsed by the bank advertiser. It is not the bank advertiser's responsibility to ensure all posts and/or questions are answered."
19 thoughts on " Alaska Airlines Visa 30,000 miles + $100 statement credit "
I heard alaska air has a credit card now with no annual fee and a companion fare of taxes only. Which card is that? I have the aa mileage card already.
@Peggy – There's not one with no annual fee, but this is the one with the companion fare.
I purchased a ticket with Alaska Airlines in March 2017 using my Delta SkyMiles credit card. At that time Delta was a partner and I assumed I would be receiving SkyMiles for my flight and a FREE bag. As of April 30, 2017 Delta is no longer a partner (great!… would have been nice if they still would have informed me).
Alaska Airlines will not grant me any SkyMiles nor a free baggage check-in. This doesn't seem fair to me. It was a contractual agreement between Delta and Alaska Air at the time I purchased my ticket!
I talked with an Alaska representative who said I could use a Bank of America Visa Signature Card. Ok, I have one. Another representative told me it had to be a Bank of America Alaska Airline Visa Signature Card. I'm so confused. I am eligible for another credit card (excellent credit) but what's the point. With the service I received I will NEVER fly with Alaska Airlines again.
I feel that I have been treated unfairly. Meanwhile the ticket I purchased, thinking I was getting a fair deal has added $50.00 luggage fee (round trip). I have already spent at least 2 hours trying to get this resolved. What a waste of my time.
@Christy – It's frustrating to go through the ins and outs of partnerships, but unfortunately the Delta card only offers a free bag on flights that are flown by Delta – has been that way since it launched.
Same as an American card with free bags wouldn't get you a free bag on its partner Alaska.
1)Is this chase Visa Alaska airlines card?
2)if I get the Alaska signiture visa do I get the $100. Statement credit plus the 30,000 mileage later after I started using my card
3) can I have my husband or my daughter on that same Acct.
@Resty – This card is from Bank of America – and yes the statement credit and mileage should post around the same time. The statement credit will post to your Bank of America card account, and the miles will post to your Alaska miles account.
You can add your husband and daughter to the account if you want their card spending to all go into your account.
This offer has been improved. You can now receive a $100 statement credit, 30,000 mile, and save $99 off the cost of your companion fare ticket. All for spending $1000 in the first three months. (The reduced companion fare offer is only good through July 10, 2017)
This is a crappy card and a crappy offer and I will tell you why. I saw that pop up for this card on the Alaskan Airlines website offering $100 off if you applied for the card. On the website the consumer doesn't even get to choose which card they will get, either the one with the $50 annual fee or the $75 annual fee. The bank will choose for you based on your credit worthiness. Long story short, I applied and was approved for this card. I got the card in the mail, went to the Alaskan Airlines website to book the ticket and did not see the $100 applied to the ticket. I called BofA and they said the $100 was not applied to the ticket, but to the statement balance, but I would not be getting that either since the offer required you to apply for the card and book the ticket at the same time. That doesn't even make sense. How can you book a ticket if you don't have the card # yet? Anyway, I called the customer service dept and they would not budge on this and kept saying I owed the $75 annual fee. I cut up the card and mailed it back to them (had this card 3 days!) paid for the ticket I had booked, paid everything except the bogus $75 annual fee. I feel I was ensnared in a poorly worded vague promotion designed to do nothing but extract a $75 fee out of me and offer nothing in return. Two days ago I sent an email to the Chairman of BofA explaining this situation and that I was not paying an annual fee for a card I applied for based on a promotion that BofA is not honoring. I am not stupid, I have a college degree, I travel quite a bit and belong to several FF programs and this is by far the crappiest offer I've ever been entangled with. It really seems to be all about getting a fee out of you. I am in the process of fighting this matter and it's been a tremendous waste of time offering me nothing in return. There are other cards, other airlines offering better promotions than this one. I say stay away from this offer because Bank of America is a ruthless cash mongering company that is going to screw you over at every point possible and offer you nothing in return.
It's a little clunky and confusing, both on BoA and Alaska's end, but in the end, I received both the $100 statement credit and the 30,000 miles. Fine print says statement credit will take a one billing cycle to post. All in all, not a bad card because of the companion fare and free checked luggage.
How long does it take to approve the Visa signature card? I need to purchase the tickets today, can i have the purchase today counted when my visa signature is approved.
@Blankie – If you go to the Alaska website, and shop for a ticket, you might see this offer on the payment page. That might give you the option to pay for the flight with the new account if approved there. But using a regular application won't let you use it instantly.
So strange. I completed the $1K in purchases and received a typed letter saying I would earn a $100 statement credit.
Confused because I thought it would REPLACE my 30K miles, I called BofA. They said "Oh no, it should be 30,000 miles, not $100 credit, I have no idea why you received that…"
Now reading this, it looks like they were indeed offering both.
Can you please direct me to the source of your information?
@Cara – It should be both. The link above to the offer has those details.
I recently was approved for Visa signature account and at close of first month put 1600.00 on the card (paid off in full at Bill date). I did not see the 100.00 statement credit, is that something I could call on to receive?
To clarify I did not see the 100.00 statement credit as part of my offer. (I understand I am to receive the 30K miles)
@dillon – Can't hurt to ask, but if you didn't see it as part of your offer then don't be surprised if they say no.
Will my decent spending help the situation? I have excellent credit and have noticed the Costco anytime visa is a better deal with no yearly fees, agreed?
Unclear of what type of purchases of $1,000 – airline ticket only? Please list types. Thanks!
@Joanne – Any purchase that earns miles – not just airline tickets.
Alaska Airlines Visa Signature® Credit Card Reviews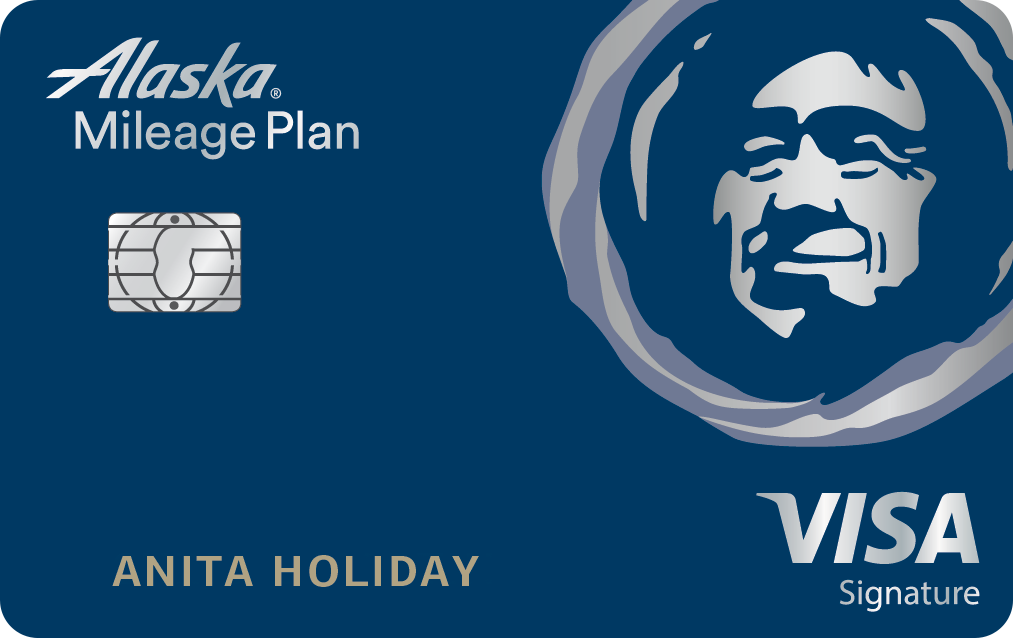 Sign up or log in to see your Approval Odds
From Cardholders in the last year
Sign up or log in to see your Approval Odds
4 out of 5 stars
4 out of 5 stars
Balance Transfer Intro APR Not Applicable
Balance Transfer Regular APR 13.24% - 20.24%* Variable
Annual Fee $75
Purchase Intro APR Not Applicable
Purchase Regular APR 13.24% - 20.24%* Variable
The Alaska Airlines Visa Signature® credit card is a good option for travelers who fly frequently on Alaska Airlines.
Right off the bat, cardholders are rewarded with 30,000 bonus miles after you make $1,000 or more in purchases within the first 90 days. Cardholders can also pile up 3 miles for every $1 spent directly on Alaska Airlines and Virgin America purchases and 1 mile for every $1 spent on all other purchases. Miles are redeemable not only on Alaska Airlines, but also on airline partners including American Airlines, Virgin America and more.
The benefits above apply to Visa Signature® consumer accounts only and different benefits apply to Platinum Plus® accounts. If your credit doesn't stack up to that level, you may still be approved for the Alaska Airlines Platinum Plus® credit card, but it has lesser benefits. There's also a $75 annual fee associated with the Visa Signature® credit card.
These reviews were written by current and former cardholders in the last year.
thats right. thus card offers a buy one, get one companion fare offer.
easiest way to get upgrades to premium and first class.
miles can be shared with all of their 20 partners .
no black out dates, no bag check fees, no miles ever expire.
the opening/intro offer of 30,000 miles is alomst a round trip ticket to any of Alaska Airlines and now Virgin America destinations.
Was this review helpful?
I just got the card, instantly approved online and was given the card number, expiration date, and cvv. Tried using the card online and it's not working. Perhaps I need to wait for the system to update? Then I tried calling customer service and this is where I started to lose faith in this card. I was on hold for 45 minutes for first call, 1hr 20minutes for 2nd call, and 50 minutes for my 3rd call. This is horrible. Seriously debating cancelling this card since it's too much of a liability if I need support again in the future. The 3 customer support folks I talked to was quite awful compared to Chase and Amex. First one just wasn't trained to be helpful with the failed transaction query. Second rep was trying to be helpful but after 30minutes of investigation came back with no solution or next steps. The 3rd rep was just condescending and unhelpful. I thought BoA was better than this but perhaps all the competent reps were taken by Chase and Amex. I'll fly Delta and Hawaiian and use my Chase Reserve.
Was this review helpful?
It's obvious you were in a hurry and customer service saw right through this as a liability. Alaska Airlines have the best reps in the nation.
be glad you get to deal directly with the airline and not the bank. I believe this mileage plan was just awarded Best Airline Rewards Programs ranked by U.S. News & World Report.
they have very low minimum requirements to redeem miles for flight as opposed to. well, every other airline in the domestic carrier industry.
folks, this card attached to the mileage plan is the best/easiest way to vacation and get upgrades to premium and first class.
Alaska miles are great for redemptions to Mexico, Costa Rica and many airports in the western states. Europe redemptions can be tough due to high fuel surcharges. There is some value with the companion pass, but it's more like 2 for the price of 1.5, than a 2 for 1 deal. If you need to check bags or regularly purchase tickets on Alaska Airlines, this card is a must.
Was this review helpful?
I think the card is great! I just got approved for it and like the idea of a passenger fare every year as well as the bonus miles. Free checked baggage is great and 3 points for airline purchases is great! 75/year can be a drag, but it compensates with the benefits. I got approved with a 705 EQ and 724 TU. I applied using the "pre-approved9quot; mailer and got a $5,000 CL.
Was this review helpful?
If you're a frequent Alaska Air flyer, or any of it's partner companies (British Air, Virgin, Delta, etc.), this is a great travel card. Book your Alaska flights with it, you get 3x the points.
Was this review helpful?
Sign up for a free membership, and Credit Karma can estimate your chances of approval based on your credit profile. You'll also get:
Credit scores and reports
Credit monitoring
Personalized recommendations
See the online Provider's credit card application for details about terms and conditions. Reasonable efforts are made to maintain accurate information. However all credit card information is presented without warranty. When you click on the 'Apply Now' button, you can review the credit card terms and conditions on the provider's website.
† Credit Karma looks at how your credit profile compares to other Credit Karma members who were approved for this product. Of course, there's no such thing as a sure thing, but knowing whether your Approval Odds are Very Good, Good, Fair or Poor may help you narrow down your choices.
‡ Average score refers to the arithmetic mean and typical low score to the 5th percentile of, in each case, available VantageScore 3.0 credit scores provided by TransUnion of Credit Karma members who were approved for this product from June 2014 through November 2014. Average and typical approved scores are provided as guidelines only and approval is not guaranteed. You can learn more about credit card approval through our in-depth article.
Advertiser Disclosure: The offers that appear on this site are from third party advertisers from which Credit Karma receives compensation. This compensation may impact how and where products appear on this site (including, for example, the order in which they appear). It is this compensation that enables Credit Karma to provide you with services like free access to your credit scores and free monitoring of your credit and financial accounts at no charge. Credit Karma strives to provide a wide array of offers for our members, but our offers do not represent all financial services companies or products.
alaska airlines signature visa vs platinum plus
With a limited-time $0 (+ taxes and fees) Companion Ticket offer and a 30,000 mile signup bonus, the Alaska Airlines Signature VISA is one of the best travel cards on the market right now. Travel benefits include:
30k Alaska Mileage Plan miles after spending $1000 in first 3 months
FREE companion ticket, pay only taxes and fees with no blackout dates
FREE checked bag for you and up to 6 other passengers on your reservation
No foreign transaction fees
Up to 3X miles per $ spent
Low annual fee is $75 (not waived the first year)
(Partner offer, terms apply)
You can redeem Alaska Mileage Plan miles on the following partner airlines: