How Must a Self-Employment Net Loss Be Reported on a Tax Return?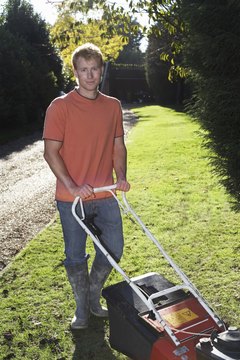 Going into business for yourself has its advantages. For one, the profit belongs to you and you alone. On the flip side, however, the losses are all yours, too. Self-employed people must report both profits and losses on their tax returns, and the Internal Revenue Service has forms just for this purpose.
Self-employed people report profits and losses from their businesses by filing Schedule C with their tax returns. You must use Form 1040 for your tax return. Self-employed people cannot file the 1040A "short form" or the bare-bones Form 1040EZ. You use Schedule C to calculate the amount of your profit or loss, then transfer that amount to your 1040. (There is an abbreviated version of Schedule C, known as Schedule C-EZ, but you cannot use it to report a loss.) Self-employed people must also file Schedule SE with their tax return. This is the form used to compute "self-employment tax," which is what the IRS calls Social Security and Medicare taxes for the self-employed.
On Part I of Schedule C, you compute your gross income from self-employment. On Part II, you list your expenses. You then subtract expenses from income. When your expenses exceed your gross income, you incur a net loss for the year. The amount of your loss goes on Line 12 of Form 1040. When you have a net loss from your business, you won't have to pay self-employment tax, since that tax is assessed only on profits. Even so, if you're filing Schedule C, you still must file Schedule SE. One wrinkle: You can't claim a loss greater than your own investment in the business; if your reported loss exceeds that amount, you may have to file Form 6198 to calculate your allowable loss. This doesn't apply to the vast majority of self-employed people, though.
You can use net losses from self-employment to offset other income on your return, which may reduce the tax you owe. For example, say you had a "regular9quot; job that paid you $5,000 during the year. You also ran a lawn-mowing business that operated at a net loss of $700. Your gross income for the year is just $4,300 -- $5,000 from the job minus your $700 loss. If your loss exceeds all your other income for the year, you may have what the IRS calls a "net operating loss." These losses can be carried into other years to offset income in those years. In general, losses can be carried back up to two years (by filing amended returns) or carried forward up to 20 years.
If you're going to claim a net loss from self-employment, be aware that the IRS might take a close look to make sure you're actually running a business. It's not uncommon for taxpayers to try to pass off a money-losing hobby as a business to claim a loss and reduce their taxes. If you've had a profit in three of the past five years, the IRS automatically considers it a business. Otherwise, the IRS will look at how you operate. There's no hard-and-fast rule about what qualifies an activity as a business, but the IRS considers such factors as whether you depend on the activity for income, whether the time and effort you put into the activity suggest you're trying to make a profit, and whether you've altered the way you operate to try to boost profitability.
hobby income is reported on schedule c
© FTI Publishing, LLC 2013 - 2017. All Rights Reserved. Terms of Use / Disclaimer
Individual Income Tax Guide
Introduction to Schedule C
Use Schedule C (Form 1040) to report income or (loss) from a business you operated or a profession you practiced as a sole proprietor. An activity qualifies as a business if your primary purpose for engaging in the activity is for income or profit and you are involved in the activity with continuity and regularity.
NOTE: A sporadic activity or a hobby does not qualify as a business and the income and expenses from such an activity is not reported on Schedule C. You should generally report income from a nonbusiness activity on Form 1040, line 21, or Form 1040NR, line 21.
You should also use Schedule C to report:
(a) wages and expenses you had as a statutory employee;
(b) income and deductions of certain qualified joint ventures; and
(c) ertain income shown on Form 1099- MISC, Miscellaneous Income. The Instructions for Recipient (which are on the back of Copy B of Form 1099- MISC, Miscellaneous Income) discusses the types of income to report on Schedule C.
Schedule C- EZ: Small businesses and statutory employees with business expenses of $5,000 or less may be able to file Schedule C- EZ, Net Profit From Business, instead of Schedule C.
Limited liability companies (LLCs): Generally, a single- member domestic LLC is disregarded as a separate entity for federal income tax purposes, and is referred to as a disregarded entity. However, a single- member LLC will not be disregarded and will be treated as a separate corporation if the member has made an election (i.e., checked the box) for the LLC to be treated as a corporation. See the instructions to Form 8832, Entity Classification Election, for more information about this election.
Lines A through J
Line A: Describe the business or professional activity that provided your principal source of income reported on line 1. If you owned more than one business, you must complete a separate Schedule C for each business. Give the general field or activity and the type of product or service. If your general field or activity is wholesale or retail trade, or services connected with production services (mining, construction, or manufacturing), also give the type of customer or client. For example, "wholesale sale of hardware to retailers" or "appraisal of real estate for lending institutions."
Line B: Enter on line B the six- digit code from the Principal Business or Professional Activity Codes chart.
Line D: Enter on line D the employer identification number (EIN) that was issued to you on Form SS- 4, Application for Employer Identification Number (EIN). Do not enter your SSN on this line. Do not enter another taxpayer's EIN (for example, from any Forms 1099- MISC, Miscellaneous Income, that you received). If you do not have an EIN, leave line D blank.
You need an EIN only if you have a qualified retirement plan or are required to file employment, excise, alcohol, tobacco, or firearms returns, or are a payer of gambling winnings. If you need an EIN, see the Instructions for Form SS- 4.
Single- member LLCs: If you are the sole owner of an LLC that is treated as a disregarded entity, you may have an EIN that was issued to the LLC (in the LLC's legal name) if you are required to file employment tax returns and certain excise tax returns. However, you should enter on line D only the EIN issued to you and in your name as a sole proprietor. If you do not have such an EIN, leave line D blank. Do not enter on line D the EIN the IRS issued to the LLC.
Line E: Enter your business address. Show a street address instead of a box number. Include the suite or room number, if any. If you conducted the business from your home located at the address shown on Form 1040, page 1, you do not have to complete this line.
Line F: Generally, you can use the cash method, accrual method, or any other method permitted by the Internal Revenue Code. In all cases, the method used must clearly reflect income. Unless you are a qualifying taxpayer or a qualifying small business taxpayer (see the Part III instructions), you must use the accrual method for sales and purchases of inventory items. Special rules apply to long- term contracts (see Section 460 for details).
If you use the cash method, show all items of taxable income actually or constructively received during the year (in cash, property, or services). Income is constructively received when it is credited to your account or set aside for you to use. Also, show amounts actually paid during the year for deductible expenses. However, if the payment of an expenditure creates an asset having a useful life that extends substantially beyond the close of the year, it may not be deductible or may be deductible only in part for the year of the payment. See chapter 1 of Publication 535, Business Expenses.
If you use the accrual method, report income when you earn it and deduct expenses when you incur them even if you do not pay them during the tax year. Accrual- basis taxpayers are put on a cash basis for deducting business expenses owed to a related cash- basis taxpayer. Other rules determine the timing of deductions based on economic performance. See Publication 538, Accounting Periods and Methods.
To change your accounting method, you generally must file Form 3115, Application for Change in Accounting Method. You also may have to make an adjustment to prevent amounts of income or expense from being duplicated or omitted. This is called a Section 481(a) adjustment.
Example: You change to the cash method of accounting and choose to account for inventoriable items in the same manner as materials and supplies that are not incidental. You accrued sales in 2014 for which you received payment in 2015. You must report those sales in both years as a result of changing your accounting method and must make a Section 481(a) adjustment to prevent duplication of income.
A net negative Section 481(a) adjustment is taken into account entirely in the year of the change. A net positive section 481(a) adjustment is generally taken into account over a period of 4 years. Include any net positive Section 481(a) adjustments on line 6. If the net Section 481(a) adjustment is negative, report it in Part V, Other Expenses.
For details on calculating Section 481(a) adjustments, see the Instructions for Form 3115, and Rev. Proc. 2006- 12, 2006- 3 I.R.B. 310. Also see Rev. Proc. 2006- 37, 2006- 38 I.R.B. 499.
Line G: If your business activity was not a rental activity and you met any of the material participation tests, as explained on the Material Participation page, or the exception for oil and gas applies, check the "Yes" box. Otherwise, check the "No" box. If you check the "No" box, this activity is passive. If you have a loss from a passive activity, see the Passive Activity Rules page. If you have a profit from the rental of property to a nonpassive activity (i.e., to an activity in which you materially participated), the net rental income from the property is treated as nonpassive income.
Rental of personal property: Generally, a rental activity (such as long- term equipment leasing) is a passive activity even if you materially participated in the activity. However, if you met any of the five exceptions described in the Rental Activities page, the rental of the property is not treated as a rental activity and the material participation rules apply.
Exception for oil and gas: If you are filing Schedule C to report income and deductions from an oil or gas well in which you own a working interest directly or through an entity that does not limit your liability, check the "Yes" box. The activity of owning a working interest is not a passive activity, regardless of your participation.
Limit on losses: Your business activity loss may be limited if you checked the "No" box on line G. In addition, your rental activity loss may be limited even if you materially participated. In general, a business activity in which you do not materially participate or a rental activity is a passive activity and you have to use Form 8582, Passive Activity Loss Limitations, to figure your allowable loss, if any, to enter on Schedule C, line 31. See the Passive Activity Rules page and the instructions to Form 8582.
Line H: If you started or acquired this business in 2015, check the box on line H. Also check the box if you are reopening or restarting this business after temporarily closing it, and you did not file a 2014 Schedule C or C- EZ for this business.
Line I: If you made any payment in 2015 that would require you to file any Forms 1099, check the "Yes" box. Otherwise, check the "No" box.
You may have to file information returns for wages paid to employees, certain payments of fees and other nonemployee compensation, interest, rents, royalties, real estate transactions, annuities, and pensions. You may also have to file an information return if you sold $5,000 or more of consumer products to a person on a buy- sell, deposit- commission, or other similar basis for resale.
NOTE: See the Guide to Information Returns for which Forms 1099 must be filed, the amounts to report, and the due dates for the required Forms 1099.
Got a hobby? It might qualify as a business, with all the extra tax breaks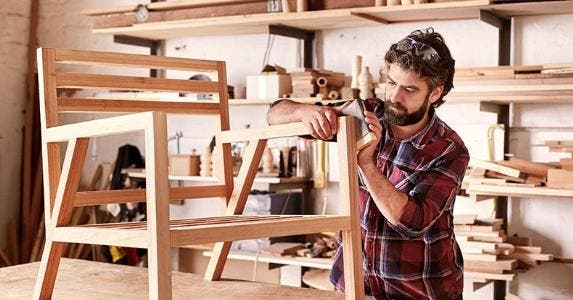 Tax breaks on hobby income are less favorable than for a business. Here's how it works.
Be aware, however, when your hobby produces income, you owe tax on it.
You can reduce your taxable hobby income by deducting your hobby expenses. Or you can turn your hobby into a business and deduct even more.
The major drawback of deducting hobby expenses is that they are limited.
You can only deduct expenses up to the amount of money you make on the hobby. Even then, hobby expenses, along with other miscellaneous expenses you itemize on Schedule A, must come to more than two percent of your adjusted gross income before you can deduct them.
If you find you are regularly making money from your hobby, it might be to your tax advantage to turn the sideline into a business.
It's not as difficult as you might think. If you operate as a sole proprietor, you report the income on your Form 1040 tax return and you have more options when it comes to deducting your expenses.
RATE SEARCH: Looking for a high-yielding savings account? Compare rates at Bankrate.com today!
The IRS defines a hobby as an activity you pursue without expecting to make a taxable profit. Basically, you do it because you like it, regardless of the cost.
But if you demonstrate that you are involved in an activity with the expectation of making money on it, the IRS will consider it a business. As such, you'll be able to deduct expenses directly from your income. You even can deduct overall business losses in the years you don't turn a profit.
You must, however, make the right moves to convince the IRS that your sideline is a legitimate business.
The IRS uses two tests in determining whether your activity is a business or a hobby.
First, the profit test demands that you show you earned money on the activity in three out of five years.
If you can't meet the profit test, you get another chance to convince the IRS that you are running a business by passing the factors-and-circumstance test. Here, the tax agency takes a subjective, individualized look at your pursuit.
Whether you carry on the activity in a businesslike manner. This includes, for example, keeping good books and records, promoting your business and holding down costs where possible.
How much time and effort you devote to the enterprise.
Whether you depend on income from the activity for your livelihood.
If your losses are due to circumstances beyond your control or are normal for a business in its startup phase.
Whether you change your methods of operation in an attempt to improve profitability.
The knowledge and background you (or your advisers) have in running such a business.
If you were successful in making a profit in similar activities in the past.
Whether the activity makes a profit in some years and, if so, how much.
Whether you can expect to make a future profit from the appreciation of the assets used in the activity.
The element of personal pleasure involved in the activity. That doesn't mean you can't enjoy your new business, but you better be getting more out of it than just a good time.
Even though the IRS looks at some specific things when you turn your hobby into a business, no one element is more important than others. In determining whether you are carrying on an activity for profit, the IRS says all the facts are taken into account. So be prepared to come through in several areas to convince the IRS that you're making a good-faith attempt to run a business and not just looking to illegally claim the more expansive business tax breaks.
By successfully transforming your hobby into a business, you'll be able to deduct your associated expenses on Schedule C or C-EZ without worrying about a percentage limitation. You might even find a few more you can take, such as one for the home office you set up to take care of your new endeavor's administrative chores.
And if you have an occasional year where you lose money, the loss can help reduce your other income and lower your tax bill.