Property insurance is ownership insurance: it insures that the rights of ownership conferred upon you when you purchased your property will remain intact. Typically, property insurance covers loss of use from either damage or theft; loss of value, or the cost of replacement; and liability for any use of the property that causes damage to others or others' property. For most people, insurable property risks are covered by insuring two kinds of property: car and home.
Loss of use and value can occur from hazards such as fire or weather disasters and from deliberate destruction such as vandalism or theft. When replacement or repair is needed to restore usefulness and value, that cost is the cost of your risk. For example, if your laptop's hard drive crashes, you not only have the cost of replacing or repairing it, but also the cost of being without your laptop for however long that takes. Insuring your laptop shares that risk (and those costs) with the insurer.
Liability is the risk that your use of your property will injure someone or something else. Ownership implies control of, and therefore responsibility for, property use.
For example, you are liable for your dog's attack on a pedestrian and for your fallen tree's damage to a neighbor's fence. You also are liable for damage a friend causes while driving your car with your permission and for injury to your invited guests who trip over your lawn ornament, fall off your deck, or leave your party drunk.
Legal responsibility can be from
negligence Failure to take ordinary precautions. , or the failure to take usual precautions;
strict liability Responsibility for intentional or unintentional events. , or responsibility for intentional or unintentional events;
vicarious liability Responsibility for another's use of your possessions, or for another's actions, under certain circumstances. , or responsibility for someone else's use of your possessions or someone else's activity for which you are responsible.
Homeowner's insurance insures both the structure and the personal possessions that make the house your home. Renter's insurance protects your possessions even if you are not the owner of your dwelling. You may not think you need insurance until you are the homeowner, but even when you don't need to insure against possible damage or liability for your dwelling, you can still insure your possessions. Even if your furniture came from your aunt's house or a yard sale, it could cost a lot to replace.
If you have especially valuable possessions such as jewelry or fine musical instruments, you may want to insure them separately to get enough coverage for them. Such items are typically referred to as listed property Valuable property insured separately under a homeowner's policy. and are insured as endorsements The clause of a homeowner's policy insuring listed property. added on to a homeowners' or renter's policy. Items should be appraised by a certified appraiser to determine their replacement or insured value.
A good precaution is to have an up-to-date inventory of your possessions such as furniture, clothing, electronics, and appliances, along with photographs or video showing these items in your home. That inventory should be kept somewhere else, such as a safe deposit box. If the house suffered damage, you would then have the inventory to help you document your losses.
A homeowners' policy covers damage to the structure itself as well as any outbuildings on the property and, in some cases, even the landscaping or infrastructure on the grounds, such as a driveway.
A homeowners' policy does not cover
animals;
property of renters, or property kept in an apartment regularly rented;
business property, even if the business is conducted on the residential premises.
According to information from the Insurances Services Office (http://www.iso.com), an insurance industry data and research company, hazards covered by the homeowner's policy include
fire or lightning;
windstorm or hail;
explosion;
riot or civil commotion;
damage caused by aircraft;
damage caused by vehicles;
smoke;
vandalism or malicious mischief;
theft;
volcanic eruption;
falling objects;
weight of ice, snow, or sleet;
accidental discharge or overflow of water or steam from within a plumbing, heating, air conditioning, or automatic fire-protective sprinkler system, or from a household appliance;
sudden and accidental tearing apart, cracking, burning, or bulging of a steam or hot water heating, air conditioning, or automatic fire-protective system;
freezing of a plumbing, heating, air conditioning, or automatic fire-protective sprinkler system, or of a household appliance;
sudden and accidental damage from artificially generated electrical current (does not include loss to a tube, transistor, or similar electronic component).
Note that floods and earthquakes are not covered. A homeowner in a flood- or earthquake-prone area may buy special coverage, either from a private insurer or from a federal or state program.
Homeowners' insurance covers the less direct costs of hazards as well. For example, the costs of removing damaged goods or temporary repairs are covered. The cost of temporary housing and extra living expenses while repairs are made is covered, although usually for a limited time or amount.
Homeowners' policies cover liability for injuries on the property and for injuries that the homeowner may accidentally inflict. You may also want to add an umbrella policy Personal liability insurance in attached to a homeowner's policy. that covers personal liabilities such as slander, libel, and defamation of character. An umbrella policy may also extend over other assets, such as vehicles or rentals covered by other insurance carriers. If you participate in activities where you are assuming responsibilities for others—you are taking the Cub Scout pack out for a hike, for example, or volunteering at your local recycling center—you may want such extended liability coverage available through your homeowners' policy (also available separately).
Home insurance policies automatically cover your possessions for up to 40 percent of the house's insured value. You can buy more coverage if you think they are worth more. The benefits are specified as either actual cash value Market value of insured property at time of loss. or replacement cost Cost of replacing insured property at time of loss. . Actual cash value tries to estimate the actual market value of the item at the time of loss, so it accounts for the original cost less any depreciation that has occurred. Replacement cost is the cost of replacing the item. For most items, the actual cash value is less.
For example, say your policy insures items at actual cash value. You are claiming the loss of a ten-year-old washer and dryer that were ruined when a pipe burst and your basement flooded. Your coverage could mean a benefit of $100 (based on the market price of ten-year-old appliances). However, to replace your appliances with comparable new ones could cost $1,000 or more.
The actual cash value is almost always less than the replacement value, because prices generally rise over time and because items generally depreciate (rather than appreciate) in value. A policy that specifies benefits as replacement costs offers more actual coverage. Guaranteed replacement costs The full cost of replacing insured items at time of loss. are the full cost of replacing your items, while extended replacement costs Insured amount capped at a specified percentage of actual cash value. are capped at some percentage—for example, 125 percent of actual cash value.
You buy home insurance by paying a premium to the insurance company. The insurance purchase is arranged through a broker, who may represent more than one insurance company. The broker should be knowledgeable about various policies, coverage, and premiums offered by different insurers.
The amount of the premium is determined by the insurer's risk—the more risk, the higher the premium. Risk is determined by
the insured (the person buying the policy),
the property insured,
the amount of coverage.
To gauge the risk of the insured, the insurer needs information about your personal circumstances and history, the nature of the property, and the amount of coverage desired for protection. This information is summarized in Figure 10.4 "Factors that Determine Insurance Premiums".
Figure 10.4 Factors that Determine Insurance Premiums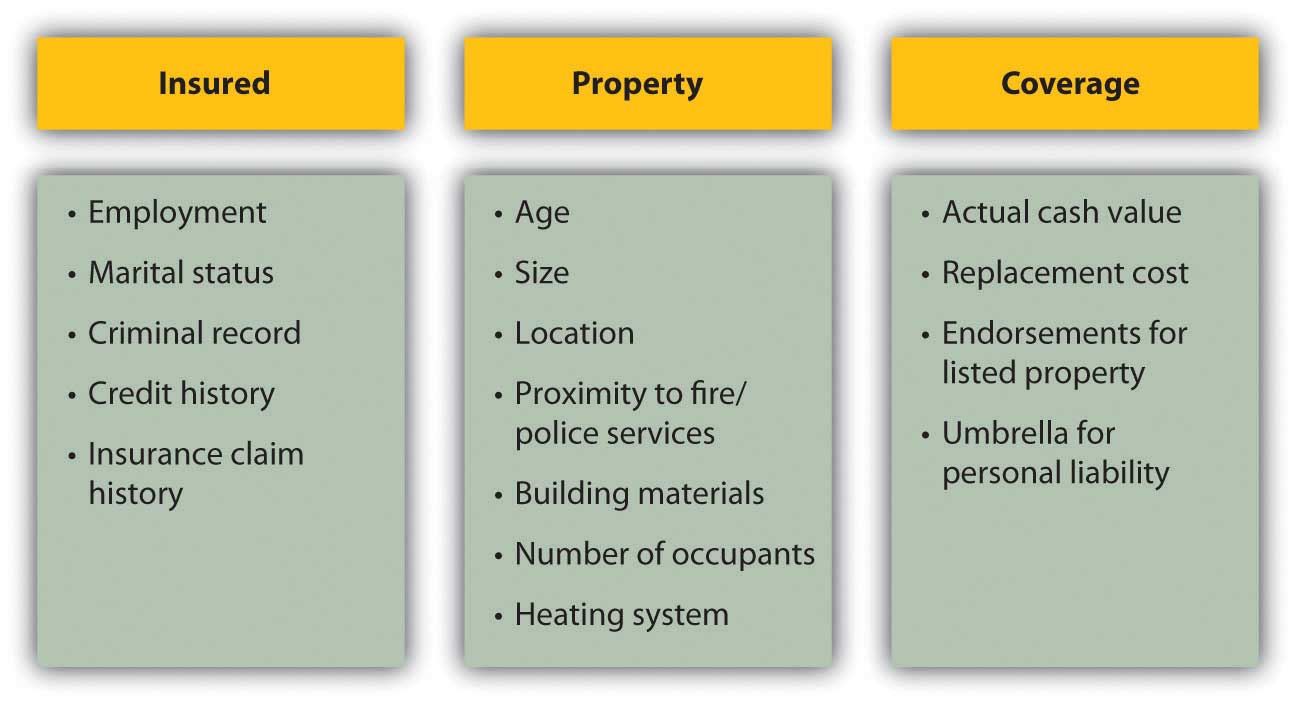 Insurers may offer discounts for enhancements that lower risks, such as alarm systems or upgraded electrical systems. (Smoke detectors are required by law in every state.) You also may be offered a discount for being a loyal customer, for example, by insuring both your car and home with the same company. Be sure to ask your insurance broker about available discounts for the following:
Multiple policies (with the same insurer)
Fire extinguishers
Sprinkler systems
Burglar and fire alarms
Deadbolt locks and fire-safe window grates
Longtime policyholder
Upgrades to plumbing, heating, and electrical systems
The average premium for homeowners insurance in 2006 in the United States was $804 a year, and for renters insurance was $189 a year. That year, Arizona homeowners paid an average of $640 for insurance that cost $1,409 in Texas. Insurance Information Institute, http://www.iii.org/media/facts/statsbyissue/homeowners (accessed May 3, 2009). Premiums can vary, even for the same levels of coverage for the same insured. You should compare policies offered by different insurers to shop around for the best premium for the coverage you want.
If you own and drive a car, you must have car insurance. Your car accident may affect not only you and your car, but also the health and property of others. A car accident often involves a second party, and so legal and financial responsibility must be assigned and covered by both parties. In the United States, financial responsibility laws in each state mandate minimal car insurance, although what's "minimal" varies by state.
Conventionally, a victim or plaintiff in an accident is reimbursed by the driver at fault or by his or her insurer. Fault has to be established, and the amount of the claim agreed to. In practice, this has often been done only through extensive litigation.
Some states in the United States and provinces in Canada have adopted some form of no-fault insurance A system of auto insurance where the insured's insurance covers physical and property damage and liability, regardless of "fault" determined. , in which, regardless of fault, an injured's own insurance covers his or her damages and injuries, and a victim's ability to sue the driver at fault is limited. The idea is to lower the incidence of court cases and speed up compensation for victims. The states with compulsory no-fault auto insurance, in which personal injury protection (PIP) is required, include Florida, Hawaii, Kansas, Kentucky, Massachusetts, Michigan, Minnesota, New Jersey, New York, North Dakota, Pennsylvania, Utah, and Puerto Rico. Eleven other states use no-fault as add-on or optional insurance. Insurance Information Institute, http://www.iii.org/media/hottopics/insurance/nofault (accessed May 3, 2009). The remaining states in the United States use the conventional tort system (suing for damages in court). Understanding the laws of the state where you drive will help you to make better insurance decisions.
Auto insurance policies cover two types of consequences: bodily injury and property damage. Each covers three types of financial losses. Figure 10.5 "Automobile Insurance Coverage" shows these different kinds of coverage.
Figure 10.5 Automobile Insurance Coverage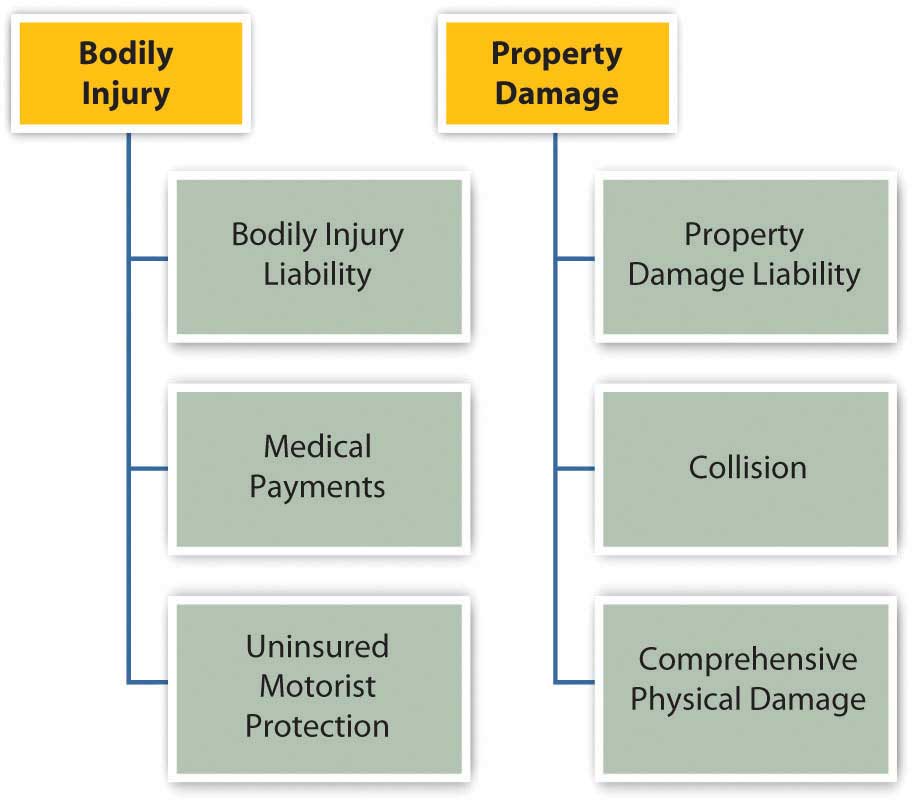 Bodily injury liability Responsibility for financial losses from injuries sustained in an accident for people outside of the car of the driver at fault. refers to the financial losses of people in the other car that are injured in an accident you cause, including their medical expenses, loss of income, and your legal fees. Injuries to people in your car or to yourself are covered by medical payments coverage Responsibility for financial losses from injuries sustained in an accident for people inside of the car of the driver at fault. . Uninsured motorist protection Coverage of financial losses from injuries sustained in an accident if the driver at fault has insufficient insurance. covers your injuries if the accident is caused by someone with insufficient insurance or by an unidentified driver.
Property damage liability Responsibility for damage to property owned by people other than the driver at fault. covers the costs to other people's property from damage that you cause, while collision Responsibility for damage to the property of the driver at fault. covers the costs of damage to your own property. Collision coverage is limited to the market value of the car at the time, usually defined by the National Automobile Dealers Association's (NADA) Official Used Car Guide or "blue book" (http://www.nada.org). To reduce their risk, the lenders financing your car loan will require that you carry adequate collision coverage. Comprehensive physical damage Coverage for damage from hazards. covers your losses from anything other than a collision, such as theft, weather damage, acts of nature, or hitting an animal.
Auto insurance coverage is limited, depending on the policy. The limits are typically stated in numbers representing thousands of dollars. For example, 100/300/50 means that $100,000 is the limit on the payment to one person in an accident; $300,000 is the limit on the amount paid in total (for all people) per accident; and $50,000 is the limit on the amount of property damage liability that can be paid out.
Here's an example of how it all works. Kit is driving home one night from a late shift at the convenience store where he works. Sleepy, he drifts into the other lane of the two-lane road and hits an oncoming car driven by Ray. Both Kit and Ray are injured, and both cars are damaged. Figure 10.6 "Auto Insurance Coverage Example" shows how Kit's insurance will cover the costs.
Figure 10.6 Auto Insurance Coverage Example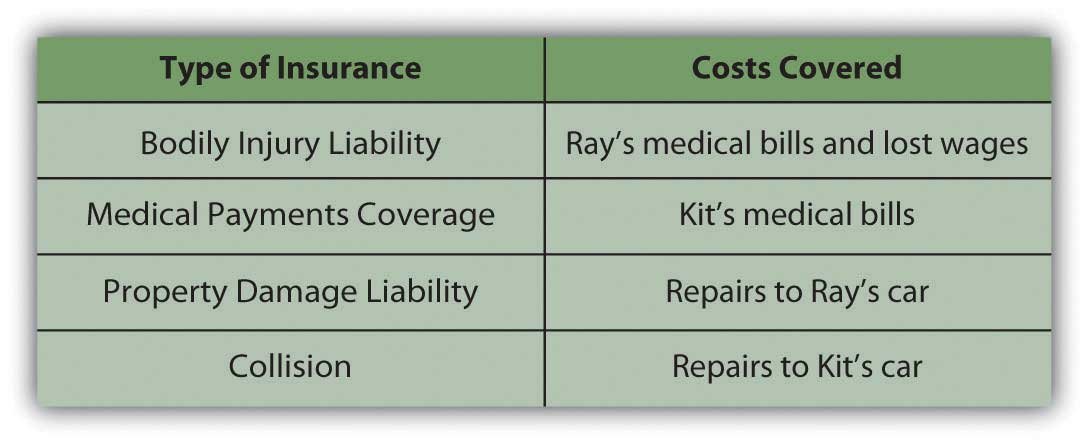 As with any insurance, the cost of having an insurer assume risk is related to the cost of that risk. The cost of auto insurance is related to three factors that create risk: the car, the driver, and the driving environment—the region or rating territory.
The model, style, and age of the car determine how costly it may be to repair or replace, and therefore the potential cost of damage or collision. The higher that cost is, the higher the cost of insuring the car. For example, a 2009 luxury car will cost more to insure than a 2002 sedan. Also, different models have different safety features that may lower the potential cost of injury to passengers, and those features may lower the cost of insurance. Different models may come with different security devices or be more or less attractive to thieves, affecting the risk of theft.
The driver is an obvious source of risk as the operator of the car. Insurers use various demographic factors such as age, education level, marital status, gender, and driving habits to determine which kinds of drivers present more risk. Not surprisingly, young drivers (ages sixteen to twenty-four) of both sexes and elderly drivers (over seventy) are the riskiest. Twice as many males as females die in auto accidents, but more females suffer injuries. Nationally, in any year your chances of being injured in a car accident are about one in a thousand. U.S. Census Bureau, The Disaster Center, http://www.disastercenter.com/traffic (accessed May 3, 2009).
Your driving history and especially your accident claim history can affect your premiums, as well as your criminal record and credit score. In some states, an accident claim can double your cost of insurance over a number of years. Your driving habits—whether or not you use the car to commute to work, for example—can affect your costs as well. Some states offer credits or points that reduce your premium if you have a safe driving record, are a member of the American Automobile Association (AAA), or have passed a driver education course.
Where you live and drive also matters. Insurers use police statistics to determine rates of traffic accidents, auto theft, and vandalism, for example. If you are in an accident-prone area or higher crime region, you may be able to offset those costs by installing safety and security features to your car.
Premium rates vary, so you should always shop around. You can shop through a broker or directly. Online discount auto insurers have become increasingly popular in recent years. Their rates may be lower, but the same cautions apply as for other high-stakes transactions conducted online.
Also, premiums are not the only cost of auto insurance. You should also consider the insurer's reliability in addressing a claim. Chances are you rely on your car to get to school, to work, or for your daily errands or recreational activities. Your car is also a substantial investment, and you may still be paying off debt from financing your car. Losing your car to repairs and perhaps being injured yourself is no small inconvenience and can seriously disrupt your life. You want to be working with an insurer who will cooperate in trying to get you and your car back on the road as soon as possible. You can check your insurer's reputation by the record of complaints against it, filed with your state's agency of banking and insurance, or with your state's attorney general's office.
Property insurance is to insure the rights of ownership and to protect against its liabilities.
Property damage can be caused by hazards or by deliberate destruction, such as vandalism or theft.
Homeowner's policies insure structures and possessions for actual cash value or replacement cost; an umbrella policy covers personal liability.
The cost of homeowner's insurance is determined by the insured, the property insured, and the extent of the coverage and benefits.
Auto insurance coverage insures bodily injury through
bodily injury liability,
medical payments coverage,
uninsured motorist protection.
Auto insurance coverage insures property damage through
property damage liability,
collision,
comprehensive physical damage.
Auto insurance costs are determined by the driver, the car, and the driving region.
The risk of the driver is determined by demographics, credit history, employment history, and driving record.
The risk of the car is determined by its cost; safety and security features may lower insurance costs.
The risk of the driving region is determined by statistical incident histories of accidents or thefts.
Determining Life Insurance Premiums for Term and Level-Premium Policies
There are 2 basic methods of determining premiums for life insurance: the yearly renewable term method and the level premium method. While there are many different types of life insurance policies, their financial basis rests on these 2 methods or their variations.
The yearly renewable term insurance policy covers the policyholder for 1 year. It provides no cash value, so most of the premium covers the mortality charge, the amount that must be paid for those who die. The cost of the premium is largely determined by the death rate of each age group. Each policyholder must pay the pro rata share of death claims within his age group.
For instance, consider a group of 1,000 50 year old nonsmoking males that want $1,000 of life insurance. This is the mortality rate, based on the 2001 Commissioners Standard Ordinary (CSO) Table of Mortality:
Mortality Table by Decade
Out of 1,000 50 year old nonsmoking males, 3.32, or 0.332%, will die before reaching age 51. An insurer of this group would have to pay out $3,320 for the death claims. That means that it would have to collect at least $3.32 per year from each policyholder to cover the death claims (and, of course, a little extra for operating expenses and profit).
As you can see, the premiums rise steeply in the later ages. This is why the premium increases each year that the policy is renewed. If you are a smoker, take note that smokers have almost twice the death rate for both men and women at most age levels. The difference between men and women and between smokers and nonsmokers diminishes as they approach the age of 120. However, don't count on living that long! Very few people live to be 120, although that number should increase significantly with advances in medical technology and the increase in healthy lifestyles.
Why bother classifying people as men or women, or as smokers and nonsmokers for calculating premiums. Because there is a significant difference in life expectancies for the groups. For instance, if one insurance company charged the composite rate for all people in an age group, then other insurance companies would offer the women and nonsmokers a lower rate and take away business from the insurance company charging a composite rate. That company would suffer from adverse selection, because the composite rate is lower for the high risks and higher for the low risks. Thus, the low risk group would buy insurance from other companies because of the lower rate, and then the company charging the composite rate would have to charge higher prices to cover the high risk group.
Then why not extend this segmentation by classifying people according to family history of disease or genetics, for instance? Because, currently, it is not easy to segment the population in this way, and there may not be a large enough difference in mortality rates to justify the expense of segmentation. There will also certainly be political and social resistance to this degree of segmentation, since it will be viewed as an invasion of privacy and discrimination. Of course, basing life insurance premiums on sex and smoking status can also be viewed as discriminatory, but it has a sound actuarial basis. However, sex and smoking status, unlike family history or genetics, are easily observable traits, and, thus, cannot be considered an invasion of privacy.
Nonetheless, as technology advances, there will probably be more attempts at segmentation based on genetics. While many view it as discriminatory, others will argue, and rightly so, that to not allow it would force others to subsidize the premiums of others. Since insurance rates are determined by the death rate of the insured, including people with a higher death rate at the same premium would make the premium higher for all. As with the different rates for sex and smoking status, companies will offer those who are willing to show their good genetic profiles better rates, which, in turn, will cause adverse selection for the other companies not using genetics, which, in turn, will force companies either to raise their premiums for all or to start using genetic profiles as well.
The level-premium method is used to determine premium prices for lifetime protection by charging a single premium rate while the policy is in force. The life insurance policy provides protection to age 100. If the insured survives to 100, then the face value of the policy will be paid to the owner of the policy.
To be able to charge a level premium for the life of the policy, the premium must be higher in the early years of the policy than is needed to cover the mortality charge. The excess money is segregated into a fund and invested to cover the mortality charge in later years when the premium will be less than that needed to cover death claims.
The method of investing and accumulating the fund is regulated by state law; therefore, it is called a legal reserve. The states require a minimum amount of legal reserves to maintain the insurance company's solvency, so that it can pay claims and benefits, and is generally commensurate with its contractual liabilities of the policies that it has written. The legal reserve covers all policies that an insurance company writes, and is equal to the present value of future death claims minus the present value of future premiums.
Legal Reserve = Present Value of Future Death Claims - Present Value of Future Premiums
Why use present value? Because insurance companies invest the premiums to earn interest, so the present value accounts for this interest. The interest earned lowers the legal reserve requirements. As the insured gets older, the present value of the death claim becomes greater because there is less time until death; at the same time, the number of future payments that will be made is declining, and, thus, the present value of the future premium payments is also declining.
The legal reserve can also be viewed at the individual policy level. With individual policies, the legal reserve increases steadily, reaching the face value of the policy at age 100. Obviously, the later the policy is purchased and the higher the amount of insurance, the more expensive the premiums.
The difference between the face amount of the policy and the legal reserve is the net amount at risk for the insurer, which is pure insurance. If you should die before age 100, then the insurance company loses the net amount at risk for your individual policy. This loss is compensated by the premiums of those who haven't died yet, and from income from the invested premiums. Since the sum of the net amount at risk and the legal reserve equals the face value of the policy, the net amount at risk and the legal reserve are inversely proportional. As the legal reserve increases, the net amount at risk decreases.
Face Value of Policy = Legal Reserve + Net Amount at Risk
The legal reserve requirements of most policies are either currently based or soon will be based on the 2001 Commissioners Standard Ordinary (CSO) Mortality Table.
The main purpose of the legal reserve is to provide lifetime protection, but because more money is collected in premiums in the early years than is needed to cover the mortality charge, level-premium policies develop a cash value, which the policyholder can borrow against, or can surrender the policy for its cash value if the policyholder no longer wishes to continue the life insurance policy. However, the cash value is initially less than the legal reserve because of deductions of sales expenses and other acquisition costs.
If you want to buy insurance, but are unsure for how long, it is better to buy term insurance initially, especially convertible term insurance, because it is much cheaper than a level-premium policy, which is designed for lifetime protection. A level-premium policy that is terminated within the 1 st few years will have little or no cash value and will have cost considerably more than comparable term insurance. A convertible term policy can be converted to a cash-value policy without providing evidence of insurability.
What Kind of Water Damage Is Covered by Homeowners Insurance?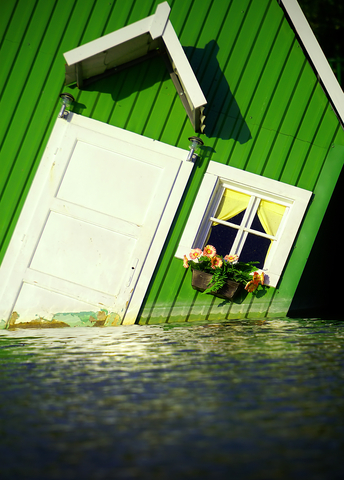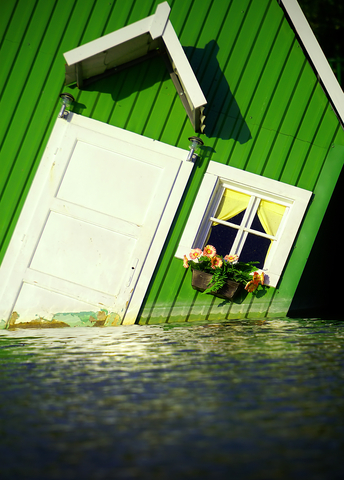 Most homeowners insurance claims are water related. Yet many policyholders are unaware of what is covered and what is not covered by their homeowners insurance policy.
Unfortunately, a lot of confusion and hard feelings result when policyholders try to file a claim only to find out that the damage caused as a result of a water event is not covered or only partially covered by their homeowners policy.
It is imperative that policyholders ask their agent what is covered and read their policy as to what is covered and what is excluded with regard to water damage. Not all policies are the same. So sometimes that cheaper policy you think you are getting a great bargain on results in creating a lot of holes in your homeowners insurance coverage.
So what water damage events are typically covered by homeowners insurance? For the most part, homeowners insurance will cover water claims that arise from "sudden and accidental" occurrences and not neglect, wear and tear or normal maintenance that is the responsibility of the insured.
Related: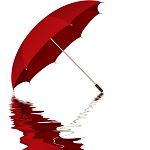 DO I REALLY NEED AN UMBRELLA POLICY?
For example, water entering the home through leaks, cracks and seepage are considered to be the responsibility of the owner and should be prevented through routine home maintenance.
Similarly, water entering through a roof leak that has shingles and tiles that have not been maintained for a good number of years is the responsibility of the homeowners. While the resulting damage to carpet, flooring and dry wall may be covered by the insurance carrier the slab, foundation and roof leaks would not be covered.
Here are some common water-related events that may or may not be covered:
1) Burst water heaters and pipes. Generally, these are covered by the homeowners policy for both the water heater and pipes and the resulting damage to walls, flooring and home furnishings. However, none is covered if the house is unoccupied and/or without heat. If this is the case the claim will likely be denied.
2) Overflow from a backyard pool. If damage is the result of a rainstorm or tree falling on the pump the policy should cover the damage to the pool and water damage to the home caused by the rainstorm. However, there is a smaller dollar amount for damages available for lawns, trees, shrubs and landscaping. Also, if the cause is from a flash flood or river overflowing no coverage would be provided.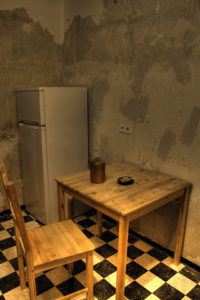 3) A toilet, tub, sink overflows or a dishwasher explodes. The damage to the toilets, sinks, tubs and dishwasher as well as the water damage to home furnishings would be covered by the homeowners policy if it is determined to be "sudden or accidental." Companies vary on the amount of mold damage included in this coverage so it is wise to check what amount is provided in your policy. One possibility where it would not be covered is when the blockage of the toilet, sink or tub was caused by sewer blockage. Then, the claim could be denied if Sewer back-up coverage is not part of the policy. See #4
4) Sewer back from drains and sump pumps. Many standard homeowners policies do not include this coverage. It might include Loss of Use Coverage but that's all without this endorsement on the policy. Ask your agent if your policy includes this coverage. If not, the cost to add it typically runs $40 – $50 per year. A wise investment. If you are a business owner you might also want to consider having this for your office that you own or lease. Most homeowners and business owners are unaware that they are responsible for the upkeep and maintenance of the sewer line that runs between their building and the sewer main.
5) Water from a rainstorm. Most insurers will not pay for roof leak repairs because this is considered to be a maintenance problem. It would, however, cover the damage inside the home caused by the water damage. If the damage to the roof was caused by wind, hail or something like a falling tree then the repairs to the roof leaks would be covered.
6) Damage from a wash or river that overflows. Flood damage is NOT covered by a homeowners policy. You need to purchase a separate policy from the federal government for this coverage. You can easily obtain this coverage from your insurance agent.
7) In-home fire sprinklers and air-conditioning/heating unit burst pipes. These are typically covered in the homeowners policy, however, if neglect or improper use is found, there might be no coverage.
Large Water Spills. If a large fish tank or large bucket or cooler causes damage to flooring or dry wall it is typically covered in the homeowner's policy.
9) Slow dripping water leaks. A slow pin hole leak in a pipe, a dripping ice maker in the refrigerator, a leaky toilet or an incorrectly sealed bath or shower will typically not be covered since it is considered negligence on the part of the homeowner.
Many times people ask if they should make repairs immediately in the event of water damage. Generally, you should make the necessary repairs to protect your property from further damage. If possible, take pictures of the damage before making temporary repairs.
When calling your carrier to make your claim, consult with them as to what additional repairs you can make before an insurance adjuster comes to inspect the damage. It is always wise to calculate the likely amount of your claim versus your homeowner's insurance deductible. If it relatively close to this amount you might consider not filing the claim since the amount you receive from the insurance company is below what the increase in your premium will be from this claim.
The purpose of this article is to provide guidance with regard to water damage claims. Because there are so many different homeowner policies and carrier rules and regulations, it is imperative you read your application or policy and review it with your agent to make sure you have the coverage you expect and need for your home. Finding out you do not have insurance coverage for one of life's biggest investments could cost you thousands of dollars unexpectedly when it comes time to file a claim.
Best Homeowners Insurance For Military Members Discounts
Best Homeowners Insurance For Military Members Discounts
This article covers Best Homeowners Insurance For Military Members Discounts.
You've finally purchased your first home -- congratulations! You sailed through the closing of your home but did you get homeowner's insurance? You can't opt out of this coverage like dental or health insurance.
And, in some cases, you must have it before you even buy your home. So now that you've come to the harsh realization that you need homeowners insurance, it's time to look for the most affordable options. Here are Insure.com's nine tips for decreasing the cost of homeowner's insurance:
Shop around - Check with several different home insurance companies to get rate quotes.
Don't be afraid to ask friends and families members if they're happy with their homeowner's insurance policy.
Raise your deductible - Typically homeowner's insurance starts at $250.
But if you increase the deductible to $500, you could save up to 12 percent on your monthly premiums. Take a look at how much you save if you increase your deductible by the following amounts:
Buy your home and auto policies from the same company -- Most companies will give you a discount on both policies if you buy both policies from them.
Consider insurance when buying your home -- When you're looking at purchasing a new home think about the cost of insuring your new abode. A newer home's electrical, heating, and plumbing systems and overall structure might be in better condition than an older home. This might lead to a discount on your insurance premiums.
Insure your home, not the land -- While your home and its contents are at risk from fire, theft, windstorms, and other perils, the land your home sits on is not. Don't include the value of the land in deciding how much home insurance you need to buy. Your agent can help you assess the coverage you need.
Improve security and safety -- Little safety precautions such as a dead bolt lock, burglar alarms and smoke detectors can provide savings of 5 percent each (depending on the company.) In addition, your insurance company may also offer a significant discount of 15 percent to 20 percent if you install a "top-notch9quot; security system.
Stop smoking -- Believe it or not, smoking accidents still account for more than 23,000 residential fires every year. Some insurers will offer to reduce premiums if no one smokes in your home.
Look for group coverage -- Large employers, alumni associations and business associations often work out insurance deals with an insurance company, which includes discounts for employees and members.
Stay with an insurer -- If you've kept your coverage with a company for several years, you may receive special consideration. Several insurers will reduce their premiums by 5 percent if you stay with them for three to five years. Some companies will discount you as much as 10 percent after six years.
Owning a home has long been a cornerstone of the American dream. Even frequently relocating military members can appreciate the satisfaction of building equity while painting the walls any color they choose. But buying a home – whether it's your first or your fifteenth – also means you'll need to purchase homeowners insurance, so it's wise to consider your insurance options as you search for the perfect place to call your own.
Homeowners insurance premiums are determined by a number of factors, many of which are under your control. Making a few smart decisions will give you the coverage you need and could save you hundreds of dollars each year. Consider the following tips, which can go a long way toward protecting your home and your peace of mind.
Get the facts. When you find a house, gather as much information as you can to determine its potential insurance costs. The age of electrical, plumbing and other systems within the home, as well as construction materials used to build the house, can affect your premiums. For example, masonry homes or less flammable roofing material can provide an insurance price break, especially in dry areas of the country that are most susceptible to fire damage. On the other hand, masonry homes could be much more expensive to insure against earthquake damage. Homeowners and potential buyers can review current building codes and materials recommendations at www.disastersafety.org/, the Web site for the Institute for Business and Home Safety.
Be aware of geography. Regardless of the homebuilding materials used, where you live can have a significant effect on your insurance premiums and coverage availability. Homeowners likely will pay more for insurance in areas prone to severe weather and natural disasters, such as tornadoes, hurricanes, earthquakes or wildfires. According to the Insurance Information Institute, the states paying the most for homeowners insurance in recent years have been Texas, Louisiana and Florida, all coastal states with above-average claims for water and wind damage.
Your rates also may be affected by the neighborhood you choose. For example, homes in close proximity to a fire department may cost less to insure. And while seclusion can have its advantages, it won't lower your insurance rates if emergency vehicles may have difficulty reaching your home.
Know how much is enough. Studies from construction-cost estimator Marshall & Swift/Boeckh suggest that more than 60 percent of homeowners in the United States are underinsured, primarily because they don't insure their homes to "replacement value." Replacement value is what it would cost today to rebuild a home from the foundation up. Replacement value can differ substantially from market value, which represents what a willing buyer would pay for a home.
Since the cost of building materials has risen in recent years, it may cost more than market value to rebuild an older home. And if you've remodeled or renovated your house, your insurance coverage should be updated to reflect the home's likely increase in replacement cost. Of course, increasing your insurance coverage will raise your monthly premiums, but it could save thousands of dollars in the long run if a major claim is necessary.
Float your way to complete coverage. While a standard homeowners policy will cover the structure of your home and some of your personal belongings, it may not provide full coverage for high-value possessions, such as coin collections and jewelry.
If you have specific items for which the value exceeds your policy limits, you may elect to add a "personal articles floater" to your coverage. Though rates will vary by state and for the actual item insured, you may be able to purchase a personal articles floater for as little as $30 a year to insure your most valuable possessions for their current purchase price or recent appraised value. Often used to fully insure engagement rings or electronics, "floaters" have no deductible and usually cover a broader range of claims, such as theft or loss away from the home.
Protect your financial assets. Repairing or replacing your property is only part of the homeowners insurance equation. Your policy can go much farther to protect your financial well-being through liability coverage.
As an example, if a visitor to your home falls down the stairs and is seriously injured, the visitor's insurance company could hold you responsible for thousands of dollars in medical bills. In this type of situation, your homeowners policy would likely cover the costs up to a specified limit, and in certain cases it may even cover legal fees that arise.
But while standard policies typically offer $100,000 in liability protection, most insurance experts recommend $300,000 of coverage or more. Increased liability coverage is especially important for homeowners with potential safety hazards, such as a swimming pool.
Consider your comfort level. As you establish your homeowners insurance coverage, you're able to choose your deductible level, which is the amount you will pay out of your pocket when you have a claim. Opting for a higher deductible, such as $1,000 instead of $500, can lower your monthly premiums significantly. Conversely, you may be more comfortable paying a higher premium each month for greater peace of mind should disaster strike. The choice is yours to make. Your insurance company can provide a variety of premium/deductible scenarios that will best suit your needs.
Save money through safety. You may be able to save on insurance premiums by looking into safety and prevention features that often merit a discount. Consider purchasing monitored security alarms, and take precautions such as installing deadbolt locks, both of which can ward away thieves and prevent a costly (not to mention frightening) break-in. Easily accessible fire extinguishers are another good addition to the home, reducing the risk of severe flame and smoke damage.
Embrace preventive maintenance. Remember that a homeowners insurance policy is designed to repair or replace your property in the event of an unexpected major loss, and individuals who repeatedly file claims for minor problems may face higher premiums and could jeopardize their insurability. Conducting preventive maintenance on your home and repairing small problems quickly can help avert more substantial losses down the road. A number of providers offer home warranty coverages more suitable for maintenance needs involving appliances, plumbing or the like.
Keep your records current.If the unthinkable should occur and you have to file a major insurance claim, having up-to-date records of your home's contents and structural condition can be invaluable during the claims process. First, if you've made any significant renovations to the home itself after moving in, be sure to inform your insurance company, since it may affect the replacement cost of the home.
Next, take an inventory of your belongings, including how much you paid for each item and its current value. Make a record of your possessions, with pictures or a video camera, and store the records outside of your home so they are less likely to be destroyed in a disaster. The record can help you determine your coverage needs, and it also can serve as your proof of ownership if a loss occurs, helping the insurance company to estimate your payment.
Pick a good partner. Doing business with an insurance company you trust is important. Before purchasing insurance, review the company's complaints record and rankings on customer satisfaction and financial security. Your state's department of insurance Web site, and industry analyst companies such as J.D. Power or A.M. Best Company, are unbiased sources of information.
While searching the internet for Best Homeowners Insurance For Military Members Discounts be sure to add to your search string the name of your state and city so that you get local save on local search results. For your convenient here is a list of US states and largest cities: in Alabama AL, in Alaska AK, in Arizona AZ, in Arkansas AR, in California CA, in Colorado CO, Connecticut CT, Delaware DE, District of Columbia DC, in Florida FL, Georgia GA, Hawaii HI, Idaho ID, Illinois IL, Indiana IN, Iowa IA, Kansas KS, Kentucky KY, Louisiana LA, Maine ME, Maryland MD, Massachusetts MA, in Michigan MI, Minnesota MN, Mississippi MS, Missouri MO, Montana MT, Nebraska NE, Nevada NV, New Hampshire NH, in New Jersey NJ, New Mexico NM, in New York NY, North Carolina NC, North Dakota ND, Ohio OH, Oklahoma OK, Oregon OR, Pennsylvania PA, Puerto Rico PR, Rhode Island RI, South Carolina SC, South Dakota SD, Tennessee TN, Texas TX, Utah UT, Vermont VT, Virginia VI, Washington WA, West Virginia WV, Wisconsin WI, Wyoming WY. in New York, in Los Angeles, in Chicago, in Houston, in Philadelphia, in Phoenix, in San Antonio, San Diego, in Dallas, in San Jose, Detroit, Indianapolis, Jacksonville, in San Francisco, in Columbus, Ohio, Austin, Memphis, Baltimore, Fort Worth, Charlotte, El Paso, Milwaukee, Seattle, Boston, Denver, Louisville- Jefferson County, Washington, Nashville-Davidson, in Las Vegas, Portland, Oklahoma City, Tucson, Albuquerque, Long Beach, Atlanta, Fresno, Sacramento, New Orleans, Cleveland, Kansas City, UK, Virginia Beach, Omaha, Oakland, Miami, Canadian, Canada, Northern Ireland, Australia, Tulsa, Honolulu, Minneapolis, Colorado Springs, Arlington. AL. AK, AS, AZ, AR, CA, CO, CT, DE, DC, FM, FL, GA, GU, HI, ID, IL, IN, IA, KS, KY, LA, ME, MH, MD, MA, MI, MN, MS, MO, MT, NE, NV, NH, NJ, NM, NY, NC, ND, MP, OH, OK, OR, PW, PA, PR, RI, SC, SD, TN, TX, UT, VT, VI, VA, WA, WV, WI, WY.
Here're other insurance topics that may interest you:
Disclaimer: While every effort is made to ensure that the content of this website is accurate, the website is provided "as is" and Bizmove.com makes no representations or warranties in relation to the accuracy or completeness of the information found on it. While the content of this site is provided in good faith, we do not warrant that the information will be kept up to date, be true and not misleading, or that this site will always (or ever) be available for use. Nothing on this website should be taken to constitute professional advice or a formal recommendation and we exclude all representations and warranties relating to the content and use of this site.
Copyright © by Bizmove. All rights reserved.