Contact Wells Fargo: Customer service, phone of Wells Fargo
Contact Wells Fargo: Find below customer service details of Wells Fargo offices, including phone and address. You can reach the below contact for queries on Wells Fargo banking, insurance, credit cards, loans, investments and mortgage services. Besides contact details, the page also offers information and links on Wells Fargo services.
420 Montgomery Street
San Francisco, CA 94104
Wells Fargo Auto Finance
Phoenix, AZ 85038-9704
> Consumer Credit Card Services
Wells Fargo Card Services
Los Angeles, CA 90030-0086
Wells Fargo Customer Service
Phone: 1-800-TO-WELLS (1-800-869-3557)
Phone: 1-800-956-4442 (online banking)
Phone: 1-800-877-4833 (TDD)
> Home Mortgage Customer Service
Phone: 1-877-636-0501 (The Private Bank)
Phone: 1-866-247-2814 (Family Wealth)
International Phone Numbers
Find below phone numbers of Wells Fargo contact around the world. You can reach the number for queries on Wells Fargo banking, locations, mortgage rates, auto finance, home equity, insurance, investments, credit cards, or queries on other Wells Fargo services.
To locate Wells Fargo ATMs click here
To access Wells Fargo online banking click here. You can get online statements, make bill payments, money transfers and much more.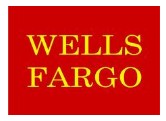 Wells Fargo was founded by Henry Wells and William G Fargo in the year 1852. It is one of the four largest banks in America. Currently it has over 12,000 ATMs and 9,200 banking stores. The financial services company offers banking, insurance, investments and mortgage services to over 70 million customers. Wells Fargo is US' second largest debit card issuer and mortgage servicer. It is ranked fourth in assets and second in market value. Headquartered in San Francisco, Wells Fargo employs some 275,000 worldwide. The company currently has assets of $1.3 trillion. In 2011, the company was ranked as World's 41st Most Admired Company and Top 20 Biggest Public Companies in the World by Fortune magazine
Wells Fargo products include banking, credit cards, loans, auto loans, student loans, home equity loans, home mortgage, life insurance health insurance, renters insurance, home and property protection, mutual funds, and more. Wells Fargo's credit cards include Rewards Card, Cash Back Card, Home Rebate Card, Platinum Card, Cash Back College Card, College Card and Secured Card. For checking accounts there is Value Checking account, College Combo, Custom Management Package, Complete Advantage Package and PMA Package. Most of the checking accounts offer a platinum debit card, free access to online banking, mobile banking, account alerts, online bill pay and more.
Please provide the phone number for the offices in South Africa. The number is not listed on this page and I cannot find on the website. Thank you.
I am overseas in Vietnam from the United States. I have called all the numbers and none of them work, including the number for your Vietnam line. And I am locked out of my mobile banking, and do not have my account numbers..
I live in Russia, and I would like to close my Wells fargo account, but there're some funds still remaining in the account. My check card's invalid, cause period of validity of the card expired. I were signed up at wachovia.com, but i cant sign on now – "We do not recognize your username and/or password. Please try again". I tried to resign up – "We're sorry, we are unable to complete your request online. Please call us and etc". My english isn't so good for phone calls, How can i close my account, for example, by email? I dont need a money from my account (its just few dollars)
I live in South Africa and need to sort out my Wells Fargo account, how do I go about this? What number do I phone or who can I email?
the numbers are given on this page..simply call the customer service to receive help