Discover More Card Review With Cashback Bonus Schedule
by Silicon Valley Blogger on 2011-05-31 31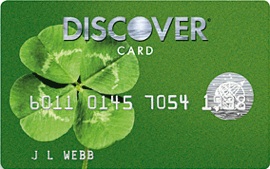 I cover quite a number of outstanding cash back credit cards, and one of the more well known names happens to be the Discover More credit card. It's a great option, as it stands out as having some of the highest cash back offers I've come across. Like many other credit cards, it occasionally changes its terms, particularly for new customers, so it's good to keep tabs on it if you're looking to pick up a new credit card.
Let's take a look at what Discover More is currently offering:
Discover More 5% Cashback Rewards Bonus Schedule (2011 – 2012)
When it comes to rewards, how does a 5% Cashback Bonus sound? All Discover More card holders will be able to enjoy such high rewards regardless of when they sign up for this card. As an example, for a particular quarter, you can earn 5% cash back of up to a certain amount (this amount is variable per quarter) for purchases in certain spending categories. Different time periods will yield rewards for different types of purchases such that one month, you may be rewarded for spending at restaurants, while another month, you are given the 5% cash back on fashion buys. These categories change throughout the year, so your favorite categories will likely be covered at some point. In the past, the categories have included gas, travel, and home improvement. One important thing you need to remember is that you need to sign up for each 5% rewards program each time.
Here are the cashback bonus categories for Discover More for 2011 through 2012. Also watch out for those 5% cashback bonus limits, which we've pointed out below.
Beyond these special categories, the default case is that you will earn cash back at a rate of .25% on your first $3,000 in purchases, and up to 1% in cashback bonuses after you spend above that amount. So, in reality, while Discover DOES have a 5% cashback feature, be aware that it has limitations:
#1 You are required to enroll in each cashback program cycle every time.
#2 You are subject to cashback spending categories per quarter. For some customers, this would mean planning their spending during given quarters in order to optimize their rewards.
#3 Your 5% cashback rewards are subject to a spending limit per quarter. This means that the cashback applies only to a few hundred dollars during certain quarters. So for instance, if you don't happen to spend on clothes, outfits, garments or home decor and materials during the Spring (e.g. April – June timeframe), then you won't be earning 5% cash back, unfortunately.
So to get the most money back from your Discover More card, you'll need to do a little planning.
Note that this card has NO annual fee and has never sported one. It does not charge for rewards redemption or for additional cards. But if you intend to do a balance transfer into this card, there is a fee for that. It's usually a percentage of the balance transfer amount or a fixed dollar amount ($10), whichever is higher. Also, there's a late payment fee of $35 and you'll pay the same amount if your payment's returned.
Other positives about the Discover More rewards program: there is no expiration date for your rewards unless your account gets closed or is inactive for a set amount of time, or you become delinquent with your card payments.
Here is how to apply for specific Discover More Card types:
One more thing to note about the Discover More card, it's been voted #1 in customer loyalty for 15 straight years, as pegged by the 2011 Brand Keys Customer Loyalty Engagement Index.
Shop At Discover's Online Shopping Site For More Rewards
Want to earn more cash back? There are a lot of cash back sites out there that are competing for your dollar, and credit card companies are certainly part of that mix. To entice you to stay as a loyal customer, they give you additional rewards and deals through their exclusive shopping sites. In the case of Discover, it's easy to earn Cashback Bonuses for your online shopping. You can do this by checking out ShopDiscover (Discover's online retail section), which offers 5% to 20% Cashback Bonus offers from a diverse selection of merchants and services.
You'll encounter favorites like Best Buy, Orbitz, and Sephora. Since you'll find more than 150 popular merchants and services, you're likely to find a cash back deal that suits you. Some of the partners sweeten their deals with free shipping, so check ShopDiscover often to catch the best offers. I explored it a bit and found that one of my favorite retailers, where I buy all my house-related materials (Bed Bath and Beyond), is on the list — so on top of those Bed Bath and Beyond coupons I already use, I'm thinking I could get the stuff I buy there further discounted by using a Discover card.
What are your choices when you want to redeem your Cashback Bonuses? You can redeem rewards for cash, merchandise, gift cards, or for donations to charity. Note that you can increase or double your rewards if you redeem your card rewards for gift cards through Discover's retail partners. But watch out for those events that can trigger the loss of your cash back rewards. It's possible to lose your rewards if you fail to make payments (ie. twice in a row), if your account status becomes inactive, or if your account gets closed.
Created August 15, 2008. Updated May 31, 2011. Copyright © 2011 The Digerati Life. All Rights Reserved.
How Is Cashback Profitable For Credit Card Companies?
Credit card companies are in the business of making money, yet they often advertise incentives that feature rewards such as cash back on credit card purchases. For example, Chase (JPM) offers up to 5% cash back on its Chase Freedom Rewards Card, as does the Discover Card (DFS). How can these companies offer such seemingly generous deals for consumers and still make a profit? (For more, see: Credit Card Tutorial.)
First, it is important to read the fine print. Most cash rewards programs have an annual maximum limit, so that it may offer 5% cash back rewards, up to a maximum of $1,500 per year. Other cards only offer cash back for certain categories of purchases, such as at restaurants or gas stations. The fine print for the Discover card's latest cash back bonus program is revealing. It reads:
*Sign up to earn 5% Cashback Bonus on up to $1,500 in combined restaurant and movie purchases made from 4/1/15 (or the date on which you sign up, whichever is later) through 6/30/15. Restaurant purchases are those made at merchants classified as full-service restaurants, cafes, cafeterias and fast food locations. Movie purchases are those made at merchants classified as movie theaters, video rental stores, and online movie ticket services. Purchases made using Near Field Communication (NFC), virtual wallets or similar technology may not be eligible. Purchases made at warehouse clubs, wholesale distributors and discount stores are not eligible. Rewards are added to your Cashback Bonus account within 2 billing periods.
It is made clear that this cash reward bonus program only applies to purchases made at restaurants or those associated with movies, and is capped at $1,500. Furthermore, the reward period lasts only for the months of April, May, and June of 2015. It also states that if you use a credit card with NFC technology or from a virtual wallet such as Google Wallet (GOOG), it may not count towards the program. (See also: Credit Card Rewards: Cash Back Vs. Airline Miles.)
With a credit card program with a $1,500 cash back limit per year at 5%, any spending over $30,000 would not contribute to accumulating any further cash back rewards. (For more, see: Rewards Credit Cards.)
Because most consumers do not take the time to read the fine print, they may open a credit card account under the impression that cash back rewards programs are much more generous and universal than they actually are. (See also: Investing in Credit Card Companies.)
When merchants accept payment via credit card, they are required to pay a percentage of the transaction amount as a fee to the credit card company. If the card holder has a participating cash back rewards program, the credit card issuer is simply sharing some of the merchant fees with the consumer. The goal is to incentivize people to use their credit cards when making payments rather than cash, which earns them no rewards. The more that a consumer uses a credit card, the more merchant fees the credit card company can earn. (See also: Comparing Credit Card Companies.)
Additionally, credit card companies make money by charging high interest rates on credit and issuing late fees for balances that carry over from month to month. The more a consumer uses their credit card, the more likely it becomes that they will miss a payment or carry a balance for which they will owe fees and interest. According to the Federal Reserve, the average credit card interest rate is 13.68% APY with almost $900 billion in outstanding revolving credit. Furthermore, according to Statistic Brain, 56% of all consumers carried a credit card balance over the past 12 months, with 26% of those balances increasing rather than getting smaller.
Credit cards that offer the most generous sounding rewards programs also often carry the highest fees and interest rates, compared to a similar card with a lower rewards program, or none at all.
Cash back rewards sound enticing, and they can help certain consumers save a bit on credit card purchases. However, once taking into account the restrictions and qualifications spelled out in the fine print, including limitations on how much cash back credit card users can earn per year, these programs do not look as generous as they may on the surface.
Because these programs are incentives for consumers to use their credit cards in lieu of cash or debit cards, they generate increased merchant fees for the credit card company and may also cause some consumers to increase their debt, providing yet another source of revenue for the credit card company. Rather than draining corporate profits, cash back rewards programs are ingenious marketing tools that actually increase credit card companies' bottom lines. (For more, see: Find the Top Cash Back Credit Cards.)
Earn 5% Cashback on Amazon, Target & Restaurant Purchases With Discover Through 2017
The Discover it Cashback Match credit card is a great way to save on travel expenses that you cannot pay for with miles or points. By taking advantage of the Discover Cashback Calendar, which offers 5% cash back on rotating categories every quarter, you can score savings on items that don't typically lend themselves to coupons.
Each quarter of the Discover Cashback Calendar, the credit card offers new categories of items that allow you to earn 5% cash back on up to $1500 in purchases. If you are a card holder, you need to "activate" the bonus category each quarter usually about two months in advance. Currently, the fourth quarter, October-December 2017, is available for activation.
Discover Cashback Calendar Fourth Quarter Categories: Amazon & Target
One of my favorite times of year to use the Discover it Cashback Match credit card is during Christmas and the holidays. In past years, Amazon.com has been the featured category for the Discover Cashback Calendar fourth quarter. We do lots of shopping at Amazon and find that other than Amazon's sales, there are not a lot of easy ways to score a deal on this popular retail website.
How to Activate the Discover Cashback Calendar Bonuses
To activate your Discover Cashback bonuses, log into your Discover credit card account at Discover.com. Next you will click on Rewards and then select 5% Cashback Bonus from the dropdown menu. This will bring up a screen with all the rotating categories in the Discover Cashback Calendar. Find the quarter you'd like to activate (you'll only be able to activate upcoming featured categories) and select Activate. Done!
Crediting to your Discover card bill
An Amazon.com credit
Gift cards for popular restaurants and stores with at least $5 free added to each card — This is a GREAT way to increase your savings!