How many digits does the Valid Credit Card Number have?
First of all, all potential cardholders should know, that the different types of credit cards have different number of digits in their numbers.
Below is the full list of credit card issuers and the respective length of their credit card numbers:
Visa and Visa Electron Credit Cards
These credit cards have 13 or 16 digits in their number.
Mastercard and Discover Credit Cards
Both of the above cards have 16 digits.
American Express Credit Cards
AmEx cards have 15 digits in their number.
You will find exactly 14 digits in the Diner's Club Credit Card number.
How Credit Card Numbers Are Generated [Party Trick Alert]
How do they come up with credit card numbers?
If you're looking for a credit card generator you've come to the wrong place.
While you can't actually generate a credit card number which will be valid and accepted for a payment, you can find out more about how our current credit card numbers are validated and test the theory on the cards in your wallet.
Your credit card numbers may seem to be made up of a series of random numbers and whether you know those numbers off by heart or not, in the US they are verified according to a simple mathematical system you can learn, and use as a great party trick too.
In 1954 – before the world was immersed in credit card debt – Hans Peter Luhn patented an algorithm which is now known as the Luhn Algorithm. Every credit card and debit card number in the United States follows Luhn's Algorithm so that every US credit card provider can be sure there are no errors when they create and distribute their cards. You can use the Luhn Algorithm to verify any credit card you have in your purse right now, and here is an example credit card number to show you how it works:
5412 7534 5678 9123
Firstly, the check digit is isolated on the card and that is the last number in the sequence – in this case it is the three. Then start with the number to the left of the check digit and double that number, and every second number on the card, this is what you end up with:
(10)4(2)2 (14)5(6)4 (10)6(14)8 (18)1(4)3
Then add together the digits of any double digit number to create a single digit number and this is the result:
1422 5564 1658 9143
Now when these numbers are added up they equal 66, which means this example credit card number is not real as the result of a real credit card number would be evenly divisible by 10. Also, even though you are able to generate a credit card number which works out to be divisible by 10 according to Luhn's theory, there are other security features which you are not able to duplicate such as the CVV2, CVC2 and the CID numbers which are those ones printed on the front or back of a credit card for additional authentication that the card is present in a transaction.
Having cracked the credit card number code, it is important to keep in mind that US banks and credit card providers don't use the Luhn Algorithm to prevent fraud or identity theft, but for their own administrative needs. Therefore, to create a fake credit card with a valid number and valid security authentication is impossible. If you wanted to create a valid three digit CVV2 security code, you would need the primary account number, the four digit expiry date, a unique three digit service code and a set of DES keys. It is not just one piece of account information which is required to generate credit card security codes and this, coupled with the fact that there are almost endless numerical combinations, makes it impossible to create a fake credit card, and makes it impossible for someone to use your credit card number if they don't have the additional security codes.
So while it is interesting to be able to validate your own credit card numbers, and actually quite mind-boggling to think that every single credit card being used in the US adheres to this mathematical system, that system doesn't make it possible to generate a valid credit card number – only validate an existing credit card number. It also means you can feel more secure knowing just how hard and how impossible it is to conduct credit card fraud, and how unlikely it is someone can charge purchases to your credit card number, without your actual credit card.
Fred is a personal finance writer at Credit Card Finder. He helps people to compare credit cards online.
Join 36,000 subscribers improving their financial life.
Subscribe for free. Get my book (31 Days to Improve Your Financial Life), intro series, and article digest.
Success! Now check your email to confirm your subscription.
How to Tell Which Card Number Is What Credit Company?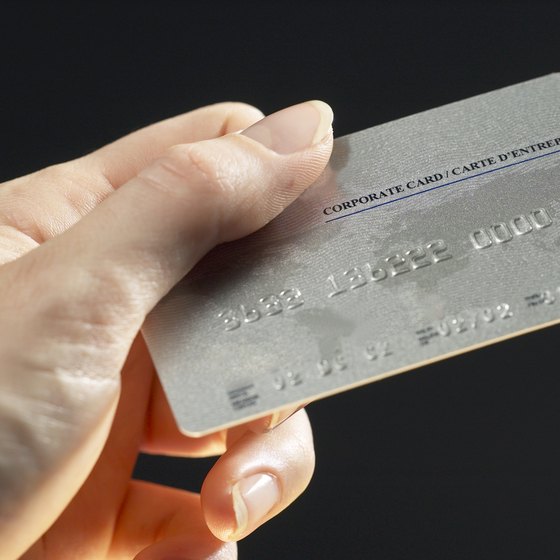 All of the numbers on a credit card have a meaning. Packed into the 15- or 16-digit sequence of major credit cards are the credit company, the identifying bank number, your account number and security fraud codes. By identifying the credit company from the number, small business owners will know the service charge for that transaction. To find the credit company of a particular card, just look at the first two numbers.
Identify a bank card's credit company by looking at the first number. Cards that start with a "3" are American Express. Those that start with "4" are Visa credit and debit cards, those that start with "5" are MasterCard credit and debit cards, and those that start with "6" are Discover credit cards. The service fee that is charged to merchants varies between card companies.
Count the digits in the credit card number. Most credit cards should contain either 15 or 16 digits. American Express credit cards contain 15. The other three major credit companies -- Visa, Mastercard and Discover -- have a 16-digit sequence on their cards.
Look at the first number on the card again to determine the industry within which the card was issued. Along with identifying the credit company, the first number on the card serves as the major Industry Identifier, which tells you if it is a bank or gasoline card, for example. Cards that start with 1 and 2 are issued by airlines, those beginning with 3, such as American Express, are identified with travel and entertainment, numbers 4, 5 and 6 are bank cards, and those that start with 7 are issued by gasoline companies, such as ExxonMobil and Chevron.
Based in San Francisco, Beth Rifkin has been writing health- and fitness-related articles since 2005. Her bylines include "Tennis Life," "Ms. Fitness," "Triathlon Magazine," "Inside Tennis," "American Fitness" and others. She holds a Bachelor of Business Administration from Temple University.
How To : How Credit Card Algorithms Work: The Anatomy of Credit Card Numbers
Have you ever wondered how credit card numbers work? I mean, how they really work? How do they come up with the numbers? Credit cards actually follow a very specific pattern. Let's take a look at how they're set up.
Example of a Credit Card Number
These numbers are split up into various parts that identifiy different things about the credit card (who issued it, etc). These things are: major industry identifier, bank issuer ID, user ID and check number. They correspond to these parts of the number:
Number 1 is the MII.
Numbers 2-6 are the issuer ID, telling which bank the card is from.
The major industry identifier tells you what the card is for. Here are the numbers and corresponding meanings.
0 = ISO/TC 68 and other industry assignments
2 = Airlines and other industry assignments
3 = Travel and entertainment
4 = Banking and financial
5 = Banking and financial
6 = Merchandising and Banking
8 = Telecommunications and other industry assignments
9 = National assignment
The issuer ID is for identifying which bank owns the card. Here are the bigger companies numbers.
As you can tell from this chart, my example number is a VISA card.
This number is pretty self-explanatory. The user ID is the identification for who owns the card. With VISA, each bank has 999,999,999 possible card holders. These are given based on availability.
To ensure that credit card numbers are valid, a final checking number is appended to each number to ensure that it passes a checking algorithm, otherwise known as the Luhn check. Let's check to see if my fake number above is a valid credit card number.
Let's split up the number I made so that we have an easier time managing the number check.
4 4 8 5 3 1 5 1 5 8 8 2 2 8 4 9
From the back, double every other number.

8 4 (16) 5 6 1 (10) 1 (10) 8 (16) 2 4 8 8 9
After, we have to de-concatenate the double-digit numbers and then add them to make one single digit.

If you add all of the numbers together and they add up to a multiple of 10, you have a valid credit card number! If you have any questions, be sure to leave them in the comments below.

Follow and Chat with Null Byte !
How To : Get Unlimited Free Trials Using a "Real9quot; Fake Credit Card Number
How To : MagSpoof Digitally Clones the Magnetic Stripe of Any Credit Card
How To : Auto-Fill Credit Card Forms Using Your iPhone's Camera in iOS 8
How To : Hack RFID enabled credit card & steal money for cheap
How To : Flaw in Hilton's Rewards Program Allows You to Achieve Instant HHonors Gold Status for Free
How To : No Knife? Use Your Credit Card to Cut Food Instead
How To : Say "Can I use my credit card here?" in Chinese
How To : Pack your wallet for an itnernational trip
How To : Build web credit card validation with Ruby on Rails
How To : Hack a Skype Password
How To : Unlock a Door with a Credit Card
How To : How Hackers Stole Your Credit Card Data in the Cyber Attack on Target Stores
How To : Get an iTunes account without using a credit card
How To : Calculate the number of periods it takes to pay off a credit card in Excel
How To : Avoid credit card debt
How To : Consolidate debt with a 0% APR credit card and low APR bank loan
How To : Get credit when you have no credit
How To : Effectively negotiate with your credit card company
How To : Transform Gift Card Balances into Cash from Any ATM with Google Wallet
News : 1.5 Million Credit Cards Hacked in the Global Payments Breach: Was Yours One of Them?
How To : 15 Clever Uses for Expired Debit, Credit, Gift, and Membership Cards
News : A History of Print Ads from Wild Turkey Bourbon
How To : Tell Whether a Credit Card Number Is Valid Just by Looking at It
News : FarmVille Free Animal with Facebook Credits Farm Cash Purchase
How To : Exchange Gift Cards for Facebook Credits
The Job Board : Best all-time job posting
How To : Skip the Pre-Menu Credits in Deus Ex: Human Revolution
How To : Securely & Anonymously Spend Money Online
Deal Alert : Get a Free Wireless Charger from Samsung
News : Island Villages
How To : 7 Easy Mnemonic Tricks for Remembering Numbers
News : The Almighty Mouse
News : State Prison Sentence Calculator
News : Federal Prison Sentence Calculator
News : Africa Hosts the Cup but Imports the Coaches
News : This puts a macabre slant on 1950s couples' twin beds
News : Victory Out of Harmony
News : Nice LEGO Animation done for Italsoft
News : Boba Fett Armor made of LEGOS
News : Where Bocas is in Panama and greater Central America
Hi Alex - this is a great post. I have often wondered what the numbers mean on Credit & Debt Cards.
This tutorial explains it well. Can I ask though whether this applies to the United States only, or does it apply to other countries also? Chris.
To be honest, I'm not sure. If I had to make an educated guess, I would say that this is only inclusive to the US. Anyone out of country want to take a VISA card and throw the algorithm against it to check?
This is awesome!
It's the same princip as IMEI numbers on your phone
Shows Fabric place, brand and so on
This is interesting, and a neat trick to know… A number of immediate applications to jump to mind, but it is difficult to make use of any of them isn't it?
wow i always wondered about that
so this is how CC numbers are 'faked'. so the scanner thing is the CC number 'encoded' (readable by machine)?.
The black strip on a CC contains the number magnetized into it :). I'm assuming it works via binary converted to decimal, as that would be easiest for someone to create a device to read the numbers.
The magnetic strip on the back of a credit card contains more than just the number on the front of the card though. Especially on modern credit cards that work with a pin.
So, my friend is telling me.. if you are calculating AmEx you can pad the front with zeros.
The other thing he said was that although adding up all the numbers end up in 0, if don't add up the checksum but multiple your total 9, the last digit of your answer will be the checksum digit. So, in your example, if we add up all the numbers except last one. it will be 71. 71x 9 is 639. Checksum digit is 9. On my card, the total was 56. 56x9 is 504. The last digit on my credit card is 4.
of course this stuff is interesting to know but if you're doing this to get free stuff and not paying for it. I have to pay for your cheating the system by higher prices and higher interest rates etc. and if there's a person attached to the credit card you're using then thats even more a fuked up thing to do. I think punishment for those who rip people off by duplicating or just plane using numbers off their debit and credit cards needs to start at first offense min of ten years prison without any chance of early release. Whether it for a buck or ten grand. Stealing is Stealing. $500.00 isn't the magic number. Any amount is wrong if your name isn't on that credit card or assigned along with that account. PERIOD! Hey, I like free stuff too. But it just doesn't happen like that. If I get lucky and come up on something thats a great deal I find before not too long its got its price. There's no such thing as a free lunch without paying a price somewhere later down the line. Trust me on that! All you brilliant people turned shady, you are too smart seriously for taking the easy way (to you) and ending up in jail. Think about all the legal money you could be making just by thinking up the things that we humans need on a daily basis. Then cash in on that!