Average GMAT Scores For The Top 50 Business Schools
Studying at the University of Pennsylvania Wharton School – Ethan Baron photo
Editor's Note: The latest update to this story can be found here.
Looking at GMAT score trends over the past five years brings you to one unmistakeable conclusion: The more highly ranked schools are getting more of the high scoring test takers than ever before–and in many cases the average class scores at highly ranked schools are hitting new records.
Among the Top 50 U.S. MBA programs, only half show increases in their average GMAT scores for their entering classes in the past five years. More tellingly, though, 17 of the Top 25 ranked schools have been able to improve their average GMATs, largely by taking a higher percentage of those students from lesser-ranked institutions.
Among the schools reporting the biggest increases are the University of Pennsylvania's Wharton School of Business, which saw a 14-point rise to an average GMAT score for last fall's entering class of 732, up from 718 in 2011. Northwestern University's Kellogg School of Management boasts a 12-point jump to 724 last year from 712 five years earlier, while the University of North Carolina's Kenan-Flagler Business school saw its average class GMAT also rise a dozen points to 701 from 689 (see below). Yet, the Top 50 school with the single biggest increase in GMAT scores was none other than Michigan State University's Broad School where the average soared by 26 points to 664 from 638.
WHARTON HAS CLOSED A 21-POINT GAP WITH STANFORD TO BE JUST A POINT BEHIND THE TOP ELITE SCORE
Rising GMATs are not only an element of a school that is improving the quality of its incoming students. They can also be an indication of a school's aggressiveness in offering more scholarship money to compete with rivals and be a sign that a school is eager to move up in rankings that weigh GMAT scores in the methodology used to compute those lists.
A 700 GMAT score puts a test taker in the 89th percentile of those who have taken the exam. That means only 11% of those who sit for the GMAT have a score of 700 or above. The average is about 547. Stanford's leading average GMAT of 733 comfortably puts the incoming class among the top four percent of all test takers, though the latest entering MBA students have GMATs that range from a low of 570 to a perfect score of 800. Last fall, Harvard accepted a 510 GMAT scorer, while Wharton's lowest score last fall was 110 points higher at 620.
Just as surprising as the schools that have had significant upticks in their GMATs are those that have reported falls. The biggest surprise occurs at Stanford University's Graduate School of Business which has long boasted the highest average GMAT scores of any elite MBA program. Stanford's average has fallen six points to 733, just a point above Wharton's record 732 last fall. Just five years ago, Stanford was ahead of Wharton with a 21-point gap, with Stanford then at 739 and Wharton at 718. Harvard Business School, by contrast, reported a class average of 725 for the Class of 2017, up just a single digit from five years ago and down two points from 2013.
Most likely, the difference has more to do with Wharton placing increasing value on GMAT scores in its admission decisions, a point of view subscribed to by MBA admission consultants. Likewise, the decline at Stanford has more to do with the school moving toward a slightly more holistic evaluation of candidates, with somewhat less emphasis on a standardized test score.
11 Strategies To Score More Than 90% Marks In 12th Board Exam
This article is also useful for class 10th students. So keep reading.
I am a teacher myself, and I use to teach the students of 12th class of CBSE and ICSE/ISC board. And there is a very common question generally asked by my students, what are the tips and strategies to score more than 90+ percentage in 12th class?
Undoubtedly, this is a genuine question. Every good student is always worried about his/her percentage in 12th class. With all past experience, today I am going to share some tips and tricks which are very useful for the students of class 12th to score 90+ percentage.
But, before I start with my tips and tricks, here are some questions which you should read first.
Is this really possible for everyone to score more than 90+ percentage?
No, not for everyone. This is all your hard work from the beginning of 12th class. In my case study, huge number of students do not take first 9 months too seriously. They start their preparations just before the 3 months of board exams.
So is it OK? Absolutely yes, only if you are fully prepared with your notes and every stuff related to board exam. Use your last 3 months in reading or practicing those notes and not collecting them. Last 3 months are judgment months, and the students who are preparing for board exam from the beginning of 12th class uses this time with great strategies, and they successfully get the 90+ percentage in board exams result.
So by using the last 3 months in a very great and smart way, you can achieve a good percentage in 12th class. I will give you the tips in my points below that how to prepare for board exams in last 3 months.
Will evaluation process harm your percentage?
Yes, the evaluation process is a manual process in which some government and private teachers are hired to check and evaluate your answer sheets and those teachers evaluate more than 40+ copies in 6 hours, so there are chances of mistake. Either in a good way or a bad one.
Read full process and tips to prevent you from evaluation process for CBSE Board.
11 Tips To Score More Than 90% Marks In 12th Board Exam
As I stated above that, it is all up to your hard work from the beginning of 12th class that whether you score more than 70% or 80% or 90% marks in 12th board exam. Now here are my tips and suggestions to score the good percentage in your 12th class which are the outcome of my case study while teaching my students for 6 years.
Just follow these tips and I assure you that no one can stop you from securing more percentage in your 12th board exam.
Create two instances of yourself, first is your present and the second one is your past. Now play a game between your Present and your Past. Keep only one thing in your mind that you have to defeat your past at any cost. If you can't do this then forget to score great in the board exams.
Keep defeating your previous percentage, your present has to be perfect than your past, in this way, you will surely achieve a good percentage in your 12th board exam.
More than anything else, your target should be always to do better than you have ever done before.
Below pictures will show that how your percentage stats should look like. If your stats are not going in this way then it is advised to concentrate more towards the preparation of board exams.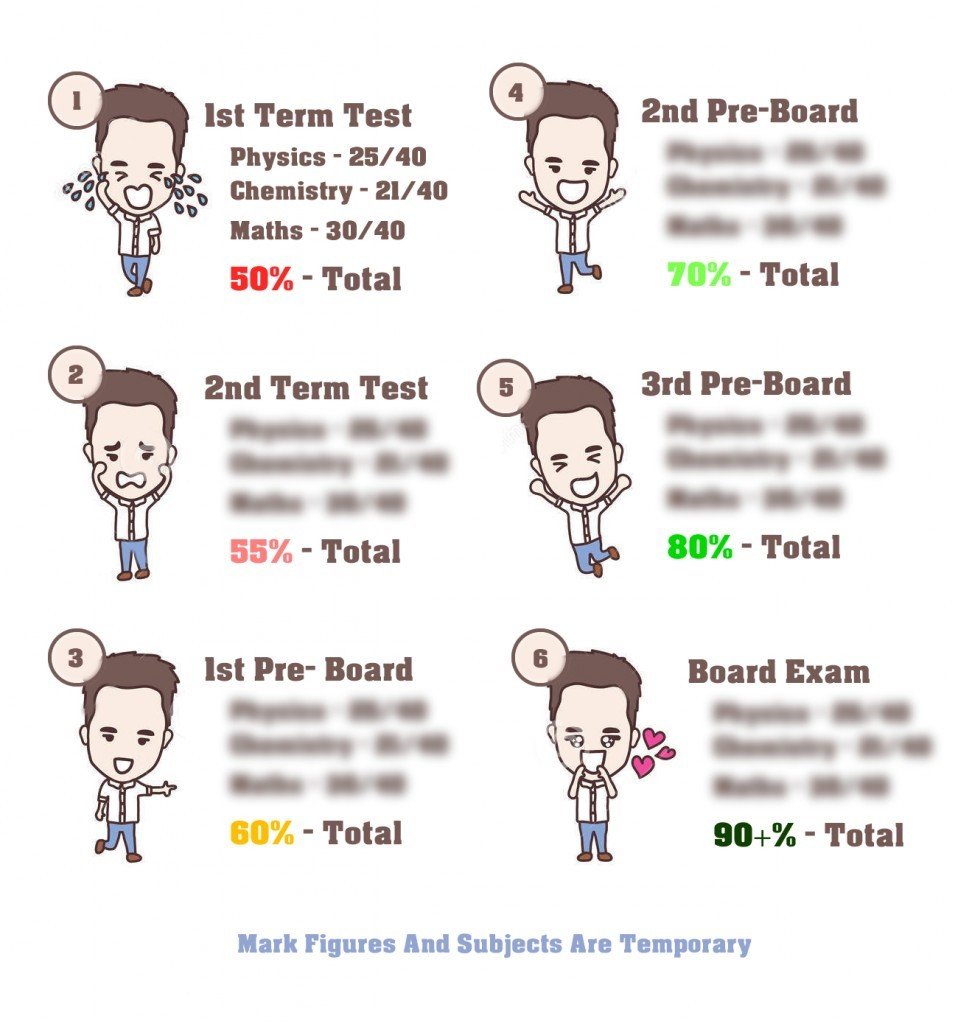 This may look weird but you should make a statistical table(like above) of all previous marks and percentage of the individual subject. This will help you to find out how much you need to improve.
Yes, I have seen a number of students of mine running behind the big heavyweight reference books, and they underestimate their syllabus books like NCERT in the case of CBSE board.
These syllabus books are the best to practice with. Have you ever noticed the high scoring students always stick to the syllabus textbooks and this is only because they know the true significance of that key to success book (syllabus textbooks).
Reference books are good to study but only for those students who want to be a part of competitive exams after 12th class. But if you really want to score more percentage, then, according to me, you should stick with your syllabus textbooks.

All the syllabus books in any board exam are designed according to the strict syllabus and this has never happened in the history of board exams that a question has came out of the syllabus.
So according to me, you should not go for the reference books, because you are preparing for class 12th, not to get selected in NASA.
What are my weak points and how to make them strong? You should always keep this question in your mind while preparing for the board exams.
Take out your answer sheets of pre-boards and class tests etc, and take a deep look into your answers, find your mistakes, make a list of those mistakes for each and every subject. Ask yourself, will I repeat these mistakes in board exams too?
No, say a big no, and start debugging your mistakes, do a hard work on your mistakes, scratch them to their depths, take it like a mission to convert those weak points of yours into the stronger ones.

Is your handwriting filthy? try to make it better, if not 90 or 80% but at least 1%, but do work on it.
Is it organic chemistry? Learn it, read it and make it happen. But do not underestimate it.
These are a sort of weak points, i am talking about in this section. Recovering from your weak points which are responsible for your deducted marks will surely put you on the track of scoring great percentage in your board exams.
Ask in comment box, if you are having some weak points and want some tips to recover from them. I will bring out the best tip for that specific point of yours.
Yes, I am talking about the time management here, this is one of the big factor responsible for marks. You are not a kid, every student knows the definition of time management, but only a few of them take it seriously while preparing for board exams.
It is your class 12th. You will never see the school again in your life and, believe me, you will never study again with such an enthusiasm as you are doing right now. So, why not make this preparation more beautiful and smart by applying time management on it ?

So, let me explain some important key points of time management for board exam preparation.
If you do, stop sleeping 8 hours, make a healthy sleep of 5 to 6 hours only and save your 2 hours from there.
Study the learning subjects like chemistry, Biology, Economics, etc at morning time. This will help you to retain a long time memory of whatever you have learnt while reading in the morning time.
In school, take advantage of free time like sports period and curriculum activities. Practice logical subjects like Maths, Physics, Accounts etc. Trust me, reading or practicing in the free time of school will save a lot of time.
In the last 3 months of your preparation, you should not join or continue things like coaching classes etc. Use that time in self-study and making notes. Trust me, you will understand things way better by doing self study.
Study at least 8 hours a day, if you really want to score 90+ percentage in board exams. Because this is the only way which is required to achieve such percentage.
Divide equal time of study with your main subjects. But do not forget to study subjects like Hindi, English etc. because they can prove to be a real percentage boosters.
So, overall, you have to study at least 8 hours a day and make it 9 to 10 hours on holidays like Sunday. This feels like crazy, studying with such madness, but the 90+ achievers did that and made their percentage possible.
Don't know why the students do not understand the value of old assets. Again a huge number of students are there who spend a big amount of money on reference books but they don't even try to look at the previous year papers.
Maano Ya Na Maano, previous year papers act like a key to success in getting the mind blowing percentage in your 12th class. Don't waste your money in buying such costly and heavy books. The internet is ruling today where you can find anything, anytime.
Currently, our team has uploaded the previous 10 year papers for different boards including CBSE, ICSE, ISC etc which you can download easily by visiting our sample papers section.
Solving previous year question papers are like giving previous board exams. Take each and every year question paper seriously and start solving them and feel like you are sitting in examination hall of board exam.
Do not go for answers directly without solving the question paper on your own completely, and after solving the question paper, look for the answers and be a checker for yourself. If you score 90+ marks in very first question paper then congo you are already a genius.
But if not then look for the mistakes and repeat the third point above, Solving 10 such papers before the board exams will make you 10 times stronger to face the board exams.
Previous year papers are important because they will :
Let you know the difficulty level of questions.
Helps to figure out the repeating sequence of questions because some cute questions show their faces in every board exam.
Helps to figure out your true level of securing marks.
So, do not waste your time and download the previous year papers above, if you haven't. And start solving them. Also with solving the previous year papers, you can practice sample papers and guess papers too. These papers also help to predict the future of your marks.
6. Don't Underestimate ENGLISH – Specially CBSE Students
Physics, Chemistry, Maths, Biology, Accounts, Economics, blah and blah. Dude, do you remember you have one more subject called English?
Not everyone but a huge number of students does not take this subject seriously and at the time of result, this subject become responsible for the drop in overall percentage.
Subjects like English can be used as a booster in making a high percentage, all you need to do is to study it, at least, a day in a week. if you can maintain this, then surely this subject will support your percentage in a great way. Also, give a special attention to handwriting while preparing for English. You will secure at least 5 marks just by working on your answer sheet presentation skills.
7. Do Your Answer Sheet Looks Filthy After You Finish The Exam?
We are talking about 90+ percentage, it's not a joke! Even a single mark can make a big difference to 89.9% and 90%, getting me?
So each and every activity matters while you are preparing for board exams. Neatness and cleanliness are one of them. Your answer sheet is the only thing on the basis of which you will get your marks, so everything related to your answer sheet matters.
Practice on making your answer sheet look great, do work on your handwriting if it is not too good. Take some tips from good students of your class about the presentations of the answer sheet. Also, take advice from your teachers. They will tell you the best about this scenario because some of them have experience in checking the answer sheets.
Underlining the important phrases in your answer sheet, making boxes around the answer in the case of Mathematics are one of the basic elements which should be used in making your answer sheet looks neat and clean.
This neat and clean FUNDA will add worth up to 10 extra marks in your board exams, so why not work on it?
Yes, approx 10% of your marks depends on this night, make a great use of this night, not in the study but in taking rest, making your mind feel relaxed.
I too have experienced this night in my life, the only thing I remembered today is fear of board exam. What will happen tomorrow? How tougher will be the exam? These type of questions was eating my brain. Having that fear, I opened my notes and started revising the important things. No one was there to guide me that what I was doing at that time was totally wrong.
I have an experience now and thus, i can tell, what should you do that night.
Make yourself forget that tomorrow is your exam, feel free like a bird.
Do not ever try to revise your study stuff, as this is not one night fight.
Sleep earlier as much as possible, and take a long sleep. This will help you to reset your brain and remember the things more accurately at the time of the exam.
According to my 8th point you should sleep earlier on the night just before the exam. Take a healthy sleep of 8 hours and get early in the morning. Open up your study stuff and make a quick revise of all the topics in a brief way.
Do not let your confidence down, when you find something is still to study. Let it be, do not ruin all other topics just because of that single thing.
You have faced 10th board and that gave you an experience for board exams. Do you remember that just before the exam was about to start, a number of students were struggling around with their notes, books and another sort of things? Maybe you were one of them.
So, did that struggle just before the exam helped you in any way? No, the answer is an absolute no, moreover, this activity make more negative effects on marks. So do not ever study just before the exams.
Leave all your study material at home and go with a free and relaxed mind. Do not talk about the topics with friends, stand alone somewhere and wait for the exam to start. All you need to do at this time is to make yourself more confident and stronger.
First and important, before reading the question paper, feel and pretend that you are well familiar with each and every question and you know how to answer each question present in that question paper. This is self-defence system and works very well. Thinking like this will make you even more positive and you will perform double for sure!
OK, now in advance 15 minutes, read out each and every question to its root, understand it, make a plan that how you will do that question. Read all the questions with the same focus, and then make a strategy that which questions will you attempt first.
I know that you will be stuck on some questions while reading them in advance 15 minutes, and this will make you bit worried. But don't panic at that moment, let it be, you will find a way to solve it later, do not struggle with that particular question, give other questions attention too.
Always attempt 5 marks questions first, the simple logic says, you cannot do 5 marks questions when there is a shortage of time and you have to finish the paper, but you can easily do 1 marks even 2 marks questions in lesser time. And this is the best practice when dealing with the questions.
Do each and every question with the same attention and same focus because each question is important. Use similar writing and formatting throughout the answer sheet. And please do not make your answer sheet look bad in any way, keep using decorating items throughout the answer sheet.
Always take a pencil and a scale with you, make diagrams whenever possible while attempting the questions, your diagrams will make a great impression on the checker's mind, so make it happen.
Time means marks, do not spend more time on doing a particular question, here the experience comes in play. More the previous year or sample papers you have solved before, clearer you will become about the time management on each question.
Be fully prepared with your stuff like pen, pencil, rubber, scale etc. Do not take chances, take everything in double amount, as each and every second is important here.
11. Don't Leave The Examination Hall Soon, You Are Not Done Yet.
You have prepared for board exam for an entire year and the hours of examination time are the last moments of that subjects in 12th class, so do not let them go. Use these hours as much as possible in a good way.
Don't be in a hurry to leave the examination hall after completing your exam, wait to the last second of the exam. Cross check your answer sheet twice, thrice and again and again. If you are thinking that you have done everything correct then, you are absolutely wrong.
Find your silly mistakes and resolve them. Also, add small design elements to make your answer sheet look good. Cross check your 1 mark questions again.
Add more important lines to the questions carrying more marks, read each and every answer of yours and if you feel any answer uncomfortable then do not hesitate to make it interesting.
During the last 3 months just before the board exams, disconnect yourself from every social activity. Disconnecting includes:

Put your Facebook account on rest for these 3 months.
Pack up your cell phones, and say goodbye to messengers apps like WhatsApp.
Stop attending parties sort of things.
Say goodbye to your friends even the closer one(you can understand what I mean to say) for this time period.
Getting 90+ percentage in your board exams is not a joke, you really have to work hard and very hard, you must follow each and every tip given above with full focus and enthusiasm.
And I am sure if you can follow these tips, you can score more than you expected.
Students who have passed with a great percentage in their 12th class are requested to put their tips in comments below, to inspire the current 12thies.