Can Wells Fargo charge these fees for overdraft legally?
In 2009 I opened a checking account with Wachovia, which is now Wells Fargo. After a few months I had several disputes with Wachovia about them rearranging items that were coming into the account causing overdraft fees. I finally got fed up with them and left the bank. At the time I was owed $233.81 to Wachovia in overdraft fees only.
Fast forward three years; my husband received a call from a Michael Dean on 6-25-12 stating that we owed $711 to them. I called Mr. Dean today to find out what was going on, he basically told me that I could either pay $711 or they would settle the matter for approx $495.
Mr. Dean informed me that if I did not pay they would turn the account over to the DA's office in my area and could have me arrested for writing bad checks. Even though all checks that bounced with that account were taken care of through the check recovery system and/or the DA's office in my area. He was very rude and when I told him I could not make the demanded payment amount and would like to work out something for less he basically intimidated me into agreeing to pay $495 over two payments starting July 13th.
I called Wells Fargo who put me in touch with Wachovia's collections department. Lori with Wachovia told me that they had charged off the account to United Credit Recovery, but that the amount they were asking for was way more than owed ($233.00, is what their records show). I am trying to determine if the amount they are asking me to pay is legal? I don't mind paying reasonable fees to settle this account but I do not want to be bullied into it.
Can they legally charge me that much to recover the amount?
The contract you signed when you opened the account with Wachovia (transferred to Wells Fargo) will have contained a section that covers how defaults are treated. If you have a copy of that contract, look for details there first.
Many banks, including RBS, Bank of America and Chase, have paid hundreds of millions in fines for the abusive practice you have described below where they reorder transactions to maximize overdraft fees and penalties. They made a ton of money from doing to many Americans what they did to you.
Wells Fargo and other banks like Citi and Captial One have not settled yet. Wells Fargo lost a case for over 200 million related to this in California that they are appealing. Here is an article on the topic: Wells Fargo Shakes Down Their Own Customer
If you are motivated to do so, you may want to consider detailing your situation back then and now in a letter and complaint to your states attorney general and also to the Consumer Financial Protection Bureau (CFPB). You can file the complaints online too. Here is the link to file a complaint with the CFPB about Wells Fargo: http://www.consumerfinance.gov/complaint/
I am not sure what recourse you will have as an abused account holder who left the bank. I am also not sure if your account is indeed part of that recognized abuse (too little background information in your post). It sure looks like it on the surface though.
You might want to file the complaints with your AG and the CFPB and let Mr. Dean know you will be happy to follow up with him once you have heard back from the regulatory agencies.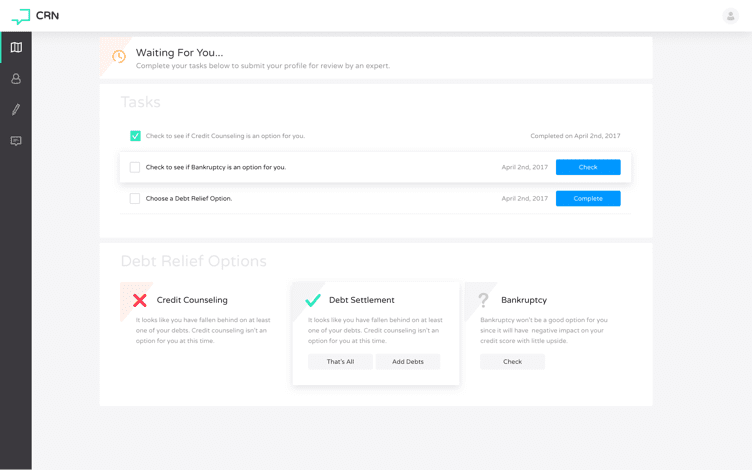 If you've fallen behind on your payments, then we can help you settle them with your creditor directly through our platform.
Getting out of debt is confusing. Signup today to get a free debt consultation and we'll show you your best path out of debt and help you get there.
We have experts standing by to answer any questions you have about debt settlements, lawsuits and judgements.
Michael started CRN in 2004 with a mission to provide people in need with detailed debt and credit help and education. Michael has participated as an expert panelist in federal consumer protection rule making, collaborated on state law changes governing debt consolidation, has worked as an expert witness in court matters related to the debt relief industry, and is a regular contributor to several personal finance websites.
You must be logged in to post a comment.
© Copyright 2017 Consumer Recovery Network 217 Cedar Street - Sandpoint, ID 83864 · All Rights Reserved - Site Terms Privacy
Presenting How Wells Fargo Nickel And Dimes Clients To (Account) Death
Despite the recent humiliating defeat for the TBTF bank proposal to establish debit fees, the bailed out banks are still somehow supposed to make money now that their prop trading desks can no longer mimic hedge funds and trade ahead of flow or on "expert network" inside information (and old school revenue generation like advisory and underwriting is just too much work). So what do they do? Why nickel and dime clients to death. As the following interactive graphic from the Pew Trust demonstrates, in a recent example where it was caught red-handed, Wells Fargo literally tried to nickel and dime a client (who subsequently sued) to death, by shifting the order of debit transactions in a way that maximized the penalty fee, ignoring the actual chronological order. In other words, banks have a "malicious" algorithm designed to maximize client pain, while ignoring actual sequence of events. The net result an overdraft balance that is 4 times higher than what it would have been if proper temporal sequence had been followed. And that is why banks are desperate to pickpocket their clients: because once news of such practices is made public, everyone should pull their money. That they still don't is quite incomprehensible.
The Transaction Infraction graphic demonstrates how banks can post debits and withdrawals in non-chronological order – a practice that can greatly impact the number of overdraft fees charged to a customer. Pew is encouraging an end to this practice and for banks to post transactions in a fully disclosed, objective and neutral manner that does not maximize overdraft fees.
To interact with this tool, the user should compare the customer's order to how the bank processed them by toggling between the two tabs.
The actual example of chronological vs Well Fargo's sequence of events is presented below. Raping clients or self defense against an evil environment that no longer allows money to grow on trees? You decide.
What Is the Difference Between an Overdraft & Overdrawn?
Overdrawing your account can result in fees or the transaction being declined.
When you have a checking account, there's no little birdie that sits on your shoulder and warns you when you're writing a check for more than you have in your account. An overdraft is the act of writing a check for more than you have in your account, and being overdrawn is the result of having a negative balance in your account.
Your account is overdrawn when you try to transfer more money out than you currently have in the account. For example, say you have $500 in your checking account and your landlord tries to cash your $600 monthly rent check. Obviously, there's not enough money in your bank account to cover the entire check. Whether or not your bank will honor the attempt to cash your check depends on if you have overdraft protection.
Depending on your bank and whether you've authorized overdrafts, your bank might still honor checks you write for more than the current balance of your account. For example, say you write a check for $600 when you only have $500 in the bank. If you have overdraft protection for at least $100, your bank will still cash the check, your balance will just drop to negative $100. In addition, many banks reserve the right to refuse to accept a transaction and won't accept ATM withdrawals that overdraw your account unless you authorize them ahead of time.
Not only do you have to pay the money back, your bank also will charge you fees on the amounts withdrawn. Typically, you'll pay about $30 to $40 per overdraft. However, some banks and credit unions make exceptions for overdrafts of less than $5. But, if your account remains overdrawn for several days, you could be charged an additional fee. For example, if you overdraw your account on Monday and don't deposit additional money until the following Tuesday, you might see even more fees.
Some banks also offer to link another account to your checking account so that money is automatically transferred from that account to your checking account if it gets overdrawn. For example, say you have both your checking account and savings account at the same bank. The bank might allow you to link the two so that if you write a $600 check with only $500 in your checking account, the bank will automatically transfer $100 from your savings account to your checking account so it doesn't get overdrawn. However, you might be charged a fee for this service.
Mark Kennan is a writer based in the Kansas City area, specializing in personal finance and business topics. He has been writing since 2009 and has been published by "Quicken," "TurboTax," and "The Motley Fool."
Commendable List About Costumer Service Wells Fargo
by
SUNNY August 6, 2017, 5:00 pm
I collected a video list for costumer service wells fargo,And Classify them addcording to most views such as Wells Fargo Job Preview: Customer Service Representative (consumer Lending Group) from most views list,Highest rating such as How Do I Change My Address With Wells Fargo? from rating list,And Last upodate such as Wells Fargo Wants Your House from last update list.Please browse the following list :
#1 Wells Fargo Job Preview: Customer Service Representative (consumer Lending Group)
The Details for #1 Wells Fargo Job Preview: Customer Service Representative (consumer Lending Group)
Title:Wells Fargo Job Preview: Customer Service Representative (consumer Lending Group)
focus on fraud jobs
Wells Fargo Job preview was very helpful.
Solomon a confirmation
#2 Wells Fargo Jump Into January 2011 Customer Interaction
The Details for #2 Wells Fargo Jump Into January 2011 Customer Interaction
Title:Wells Fargo Jump Into January 2011 Customer Interaction
that's the entire roadmap lmao
So true. I was a teller at WF for over 3 years and everything depicted in this vid is absolutely true. I was fortunate enough to be able to escape this insane asylum and get a much better and higher paying job without having to sell anything!!
The Details for #3 Wells Fargo Check Cashing Customer Interaction
Title:Wells Fargo Check Cashing Customer Interaction
YOU BANKERS ARE A FUCKING JOKE. LIKE I'M GOING TO TAKE FINANCIAL ADVICE FROM SOME 20 YEAR OLD COMMUNITY COLLEGE DROPOUT. ALL BANKERS ARE A FUCKING JOKE AND CAN BE REPLACED.
Better to starve on your feet than be fed on your knees. Death to the Corporatetocracy.
"I quit, I quit, this place treats me like shit." lol
#4 Wells Fargo Complaint – Think Twice Before You Use Their Online Merchant Services.
The Details for #4 Wells Fargo Complaint – Think Twice Before You Use Their Online Merchant Services.
Title:Wells Fargo Complaint – Think Twice Before You Use Their Online Merchant Services.
Omg I was just about to start service with tjem omg
Yes in fact wells fargo will steal your MONEY
THAT SIMPLE wells Fargo is not recommended for any merchant account service's
#5 Questioning Of Wells Fargo Ceo During Financial Services Committee Hearing
The Details for #5 Questioning Of Wells Fargo Ceo During Financial Services Committee Hearing
Title:Questioning Of Wells Fargo Ceo During Financial Services Committee Hearing
Please tell me Wells Fargo suffered a huge loss after this
If I was the chairman of the committee I would have said…"Gentleman's time is up but he's doing such a cracking job of making this guy sweat I'm gonna allow him to continue! Carry on Mike!"
The most amazing fraud since the financial crisis. But are they going to get criminally prosecuted ? Nah… Its Murca after all. No prison for the rich.
This case is terrible….it's sad and shocking!!
the bank screwed everybody!
The Details for #6 How Do I Change My Address With Wells Fargo?
Title:How Do I Change My Address With Wells Fargo?
The Details for #7 How Much Does Wells Fargo Let You Overdraft?
Title:How Much Does Wells Fargo Let You Overdraft?
#8 How Much Does Wells Fargo Allow You To Overdraft?
The Details for #8 How Much Does Wells Fargo Allow You To Overdraft?
Title:How Much Does Wells Fargo Allow You To Overdraft?
The Details for #9 Can You Overdraw Your Wells Fargo Account?
Title:Can You Overdraw Your Wells Fargo Account?
The Details for #10 What Is A Wells Fargo Campus Debit Card?
Title:What Is A Wells Fargo Campus Debit Card?
Title:Wells Fargo Wants Your House
Seems fair , people need to pay their bills
Title:Wells Fargo: Financial Services
#13 Sls And Wells Fargo… Please Get Along And Help A Homeowner!
The Details for #13 Sls And Wells Fargo… Please Get Along And Help A Homeowner!
Title:Sls And Wells Fargo… Please Get Along And Help A Homeowner!
Title:Barr Admonishes Wells Fargo Ceo For Unauthorized Customer Accounts
So I guess I'm forced to comment here since Mr. Congressman Barr you have refused to contact me via phone, email, or in person when I made 2, 18 hr drives to DC from Frankfort. Your LA has seen me in DC however that was the 1st and last no one from your office has reached out to me or my mother regarding the kratom issue. Again, we are constituents. I will ask you here, what are you doing for people like myself and my 70 yr old mother and if I may add she has an acct with Wellsfarg and we both have accts with the local credit union. What are you doing to protect our rights to have kratom tea? Your LA in your DC office has both our numbers, your offices has all of our contact info and YES WE ARE YOUR CONSTITUENTS so again, I am asking what are you doing for us? #IamKratom #KratomUnited #KentuckyKratomUnited #Kratom Followup email? Call back? Apt? Nothing! I'm so disappointed!
10 Reasons Wells Fargo Sucks – A warning to new customers
Wells Fargo Sucks – A warning to new customers.
Last year I decided to build a home, and be the general contractor. A contractor I knew well recommended his "good buddy" at Wells Fargo for the construction loan. He said they worked very well with Owner-builders. I called up the loan agent, and indeed it seemed like an unusually smooth process for an owner-builder. So I made the commitment. During the construction process everything went smoothly and the local branch employees were great to work with. There were a few extra fees added on to the loan, but that seems to be pretty much standard practice everywhere.
It is after the construction loan converted to the 30-year that the trouble began. In order to get all best rates, discounts etc. I needed to have a checking account from which automatic payments would be withdrawn. No problem there. Well if I wanted to have free checking and free checks, I needed a free savings account… No problem there either. Also in order to avoid mortgage insurance, an equity line of credit was opened up at the same time. So I opened all the accounts and it appeared that everything would go smoothly… and it did for awhile.
Side Note: By the way… if you hate getting lots of crap in the mail… Wells Fargo sends all kinds of it…
After the first month's billing cycle I notice a monthly service charge on the savings account. What the heck? This is all supposed to be free of service charges. So I email customer support via the website. I am subsequently informed that I need to maintain a $300 minimum balance. I responded that I was never this and would deposit at least $300 to meet the minimum requirement, but wanted a refund for the charge. Of course the refund was denied.
OK, one mess up… Maybe I just missed something…, but checking over the paperwork received, I could not see anything noting a minimum balance requirement. And the over-zealous agent never mentioned it either, he just said he need to transfer $20 from my checking account, and we would be set.
After the first month, I paid off the Wells Fargo equity line with an equity line from the home we were trying to sell (much lower interest rate). The Wells Fargo equity line now showed a zero balance.
I had not yet switched over my automatic payroll deposits, so I transferred money to my Wells Fargo checking account to cover the upcoming mortgage payment. And rather than wait around for the auto-withdraw date and be paying interest I deiced to make the payment immediately using the online payment system. I selected the option to apply the payment to my next payment due and clicked submit.
Another note: It takes several days for payments to show up from one account to the other, unlike other banks where it is immediate. I am told this is because the Mortgage division is separate from the other banking divisions…
The payment finally posts, and it posted as a principle payment only! Well dang. So I use the online email system to contact customer service… They don't give me much of an explanation of why it happened, but after a couple exchanges, they tell me they will have the payment applied as a regular payment…. It takes several days, and finally posts… Then I am informed that it has posted, AND that my automatic payment would still be required as well. What the heck? At US Bank, if I made a payment early, the automatic payment would not be drawn. Rather than go through the hassle of contacting support again, I transferred more money into the account from my savings to cover the upcoming the auto-payment, and besides, it never hurts to pay down the mortgage early.
I made a few more small principle only payments online during the next month, and each time ended up contacting support to have the payments applied properly. I was really starting to get sick of it. Finally our other house sold, so I made a large lump sum payment on the mortgage. This time it took no fewer than 5 email exchanges to get the funds applied properly. The monies sat on the mortgage as "unapplied funds" for several weeks, during which time I paid interest I shouldn't have been paying.
Another note of annoyance: If you email customer support regarding your mortgage via the website, you get three replies. One saying the normal "We'll get back with a response as soon as possible"… The other from a live representative saying the request has now been forwarded to the Mortgage division. Then someone from the mortgage division, doesn't use the online message system, but instead sends you a direct email with the response contained in a password protected pdf file. The password is your loan #. Very annoying! Why don't they just use the online message system, and who in the heck just carries around their mortgage account #?
The 3rd month comes along, and I get a message on my work phone from the local branch saying that I had over drafted the checking account. I wasn't using this checking account as my primary yet, so I had no idea what it could be for.
I look online, and see that an automatic payment was made to my equity line of credit… Yes the line of credit with a zero balance for two months… I call the local branch and ask why a payment was made to an account with a zero balance. She to is baffled by the situation, but promises to sort it out for me… She gets back to me and explains that the way interest was calculated at some cut-off period resulted in the interest charges not showing up until 2 months later! I asked how I was expected to know that, and how I was expected to make a payment against a zero balance. She agreed that it was all a bit messed up, and took the effort to get the overdraft fees etc. refunded. I have never over drafted an account in my life, so this was a first for me, and now I see how the fees can spiral out of control, with one fee covering another fee etc.
My payroll checks were now being direct deposited to my Wells Fargo checking account, but I was going to be a couple hundred dollars short for the next auto-draw mortgage payment on the next Monday. So on Thursday I initiated a transfer from my equity line to my checking account, so I would have enough to cover the auto-payment…. Along comes Monday… and I had been assessed a huge overdraft fee… "What the heck"? I ask myself. In looking at the chronological order of transfers, the Equity transfer did not take place until Monday just after the auto-withdraw. Again… at the other banks I've dealt with, the transfers are immediate, even if it is on a weekend, and this transfer was initiated on a Thursday! Unfortunately there was no way for me to get these overdraft fees refunded… I finally wizened up and took the step to add overdraft protection based on my equity line.
I used the online banking system to setup overdraft protection and figured it was done… Nope… a week later a bunch of forms come in the mail that I have to fill out, and fax or mail back to Wells Fargo corporate. A minor annoyance I know, but why even have the online process, if it isn't going to do any good?
So I finally decide it is time to start breaking away from Wells Fargo. I found a great rate with mortgage broker and started the refinance process, and got locked in at the rate for 30 days. All the paperwork was completed on my end and on the broker's end. However, my Wells Fargo line of credit had an early closing provision that I would be charged a $300 penalty if I closed the account early. Since it had a zero balance, I decided to just leave it open for the next 2.5 years and close it then. So we were just waiting for Wells Fargo to complete their loan subordination paperwork. It took them 3 weeks! I was ready to just close the loan and pay penalty when the subordination was finally completed.
Then at the last minute, they charge a $150 subordination fee! So I am thinking it would have been better to just close the darn equity line since they charge $75 a year to have it open anyway… But what is done is done, and an equity line is always a nice fallback anyway. So I leave it open….
All the refinance paperwork finally gets done, and the funds disbursed, but before this takes effect, I notice ANOTHER FEE has shown up. It was just $10, but still…. another stinking fee without any explanation! Off to email support again…. It was a fee for faxing the payoff statement to the mortgage broker.
The Wells Fargo mortgage finally shows a Zero balance. Whew… Once less thing I have to use them for. Now wait a minute…… What's this $12 monthly charge on my "FREE" Complete Advantage Checking.
Another email to support… I am told that since I closed the mortgage I will now be charged a $12 a month fee on my checking account.
That was the last straw, and I decide to just close everything. I email to confirm that a $300 penalty will be charged for closing the account early, as indicated in my signed loan documents. The representative emails me back and tells me that it will be a $500 penalty!
Let this serve as a warning to others out there considering using Wells Fargo, or to those thinking about getting in with them even deeper.
UPDATE: Jul. 15th 2008
So even though I closed all my accounts with Wells Fargo in May, I still continue to receive tons of crap from them in the mail like account balances for accounts that have been closed. It also took them this long to record with the county the release of all the liens associated with the mortgage and equity line. This made opening a new equity line a real pain in the butt. I've received a lot of emails from people who have had similar experiences with crazy and hidden fees.
Thanx for posting this informative story….we were about to get a shaft from a local wells fargo branch…midland, texas…great info.
Cabot says : I absolutely agree with this !
I totally agree with this too. Beware of fast talking "I will be your personal banker" employees!!
I used to work for Wells Fargo and they brain wash their employees into thinking that it's okay to do these types of things. Wants really funny is when they hire new personal bankers, they all go through this extensive training program…..the program/classes make the newly hired bankers think that they are really going to help people make smart financial decisions, but instead when they get into the banks all the managers do is force them to sell products to customer that the customer doesn't even need and sometimes puts the customer in a worse finanical position (i.e. Wells Fargo Financial).
Hello Ex-Wells Fargo,
I know this is a bit after the fact but I was wondering if I could ask you some questions about Wells Fargo. I'm working on a news story about college student use of credit and debit cards and I was hoping you might be able to give me some leads. Their are plenty of students I know who complain about Wells Fargo practices. Thanks and I hope to hear from you soon.
I'm dealing with Wells Fargo, they do suck. Even though I have a letter stating "formal notice" of loan modification approval, now 6 months later they're attempting pre-foreclosure collection tactic saying my modification was not approved. Even paralegals like me with "free legal representation" aka our bosses are not spared! No way am I allowing them to take whats mine!
The only "help" that WellsFRAUDgo provides:
HELPING THEMSELVES to YOUR money!
…or YOUR HOUSE, YOUR PROPERTY, etc., etc.
Just saw today that Wells Fargo beat earnings estimates… You know how they did that don't you. By screwing their customers of course!
Wells Fargo keeps mixing up my accounts with my business accounts and my brothers accounts. It's maddening I tell you! So why do I do business with them? I'm locked into a loan I can't prepay on without penalty. Same with my business. I wish I could get help but I'm experiencing everything you guys are.
I have had the same kind of experience. Some of their customer support people are honest and admit that dishonest practices are common with this bank. They try to charge fees whenever the customer is not vigilant. This bank is really the worse I have come across.
My brother and I are both private clients with Wells Fargo and I am writing to you today to tell you about some of my customer service experiences with Ben Boody.
My experience with Mr. Boody has not been satisfactory and nothing less than pure harassment. So much, that I've become completely beside myself about calling your customer care team. This is something that has literally caused me to lose sleep over with worry.
Today I called to ask for an appointment with a manager to discuss this situation. Ben responded to my request by asking me questions about why I was unhappy. When I began telling him he repeatedly talked over me (loudly and aggressively.) As I had come to expect, the discussion began to escalate so I asked Ben for his manager's contact information. He simply said he's not in right now. After some prompting, he offered a name. When I specifically asked for a managers phone number he would not give it to me, and he never did.
The experience I had with Ben prior to this one was a conversation about a disbursement request for a calculator for one of my college courses. Ben first tried to deny this request and said I should budget it into my current expenses.
The state of Texas mandates my health and education be provided for by the trust. He is in direct violation to that agreement.
In my phone call with him today, the calculator came up in conversation again. This time (and only when) I recited the state agreement to him he fully agreed that a disbursement should be made. This only proves that the time and frustration spent discussing it previously was for the sole purpose of making things difficult for me. There within lies the definition of harassment.
Other times Ben has informed me of his own personal money situation as if to compare my situation to his. (Groceries, gas, etc.) I fail to see what relevance that has to my life and why I should have to waste my time discussing those things. If we are to compare life styles, let's compare everything. Housing, car, salary, etc. and perhaps whether his father (and support) died at the age of 14. For that matter I'd be glad to accept his monthly salary as my new monthly expense amount.
I have also experienced having discussions and determining that specific things will be paid for by the trust only to be turned down by Customer Care when it comes time for the disbursement to occur.
According to your own website one of your company's policy's are to "Do what you say you are going to do." Perhaps the Trust Officer's should work closer with the Customer Care Team for the sake of providing better customer service.
You know this is funny reading all these posts, I have been with Well's since 1988, I have not been happy with them for about 4 years; ever since they started charging me $12 a month for my checking account with an average balance of $6,000.-$9,000 monthly. The last straw was when they denied me a "small loan", with perfect credit and payment history, they never told me why I was denied, or even called me back. Because of the latter treatment, I will be moving my account to a small local bank. It will be interesting to see how they treat me as I withdraw my money. Furthermore, I think they've gotten "too big" and impersonal for their own good, I don't like the idea of my "account number" being around for so many years, on so many checks, in so many computer systems, in so many states: It's time for a clean break and a new experience.
John; when a bank makes any adverse decision on a credit application, IT'S A LAW that they must provide you with a "Notice of Action Taken and Statement of Reasons" within 30 days. It sound like you didn't receive this required notice. You should file a complaint at CFPB, OCC and your State Attorney General for violations of the Equal Credit Opportunity Act, a Federal law has been broken here! According to the law, victims are entitled to $10,000 fine plus punitive damages and restitution.
Sorry to tell you Chris, but no one polices Wells Fargo. I have been reporting Wells for over 7 years. OCC, CFPB can do nothing! Oh, you can call and report to FBI, like I did in 2011. Same time Wells foreclosed. Now, we are in mid 60s, in Chapter 13 to save house. Still harassing us, losing our payments; we make them again; reversed. and stop payment is a joke. This is all retaliation. I'm sure everyone dreams of retirement, under bankruptcy.
I opened an account with Wells Fargo and they did not let me access my funds for 3 months. All sorts of excuses and crap. I ended up closing the account.
I am looking for the email address of a Wells Fargo Mortgage Customer Service rep that I dealt with and can't find it. I want to contact this person directly because of past dealings. I can't seem to get her on the phone either. Has anyone out there gotten an email from Wells Fargo Mortgage Customer Service that may tell me what their naming convention is? For mortgages it's [email protected] I tried this using the name of the rep I am looking for and my emails were bounced. Any body have any ideas for me? Thanks.
Reasons Why Wells Fargo Home Mortgage Sucks
1) Hurricane Ike was my fault. WFHM held up my insurance money for nearly 6 months. We lived in a home with mold and water damage for a long time, lied to over and over again by countless disaster response reps that work for WFHM.
2) WFHM loses important papers and then no one knows how to read them.They lost my divorce decree 9 times. When they finally got it, they put my ex-wifes name on a check that was originally made only to me, ignoring a 5 year old court order. When asked why a rep said"I guess they didn't look it up in the computer". I called almost daily to remind them to not put her name on this check!
3)WFHM lies lies lies! Never sent insurance funds at promised dates even when I sent them a pre addressed set of envelopes and paid for overnight fees! Suing these dumbasses!
4) WFHM making interest money off of HUNDREDS of Hurricane Ike victims in Texas and Louisiana by holding their insurance checks. Customers are suffering with damaged homes while Wells are making a killing on the interest on these funds.
5) Lying to the press, saying that we who complain against them are isolated cases!
6) Using the ill gotten interest money to pay off their TARP loan so the government can't force them to do business legally.
7)Screwing Gulf War Soldiers out of their homes even though they made their mortgage payments on time. Wells Fargo claiming one soldier "abandoned" his home. No you idiots, he's getting his ass shot at to protect scumbag companies like Wells Fargo!
Systematically overcharging fees and perpetrating fraud on customers because of their own outdated technology. If a liquor store can own a machine that says a check is good on the spot, how come this BIGTIME bank holds people's funds forever and a day? Haven't you lazy asses ever heard of picking up a phone and calling another bank to ask if the check is good? I do it and it takes 3 minutes.
9) Almost every time you call them, Wells ends up "disconnecting" your call by "accident"
10) Giving customers this many reasons to say Wells Fargo SUCKS!
"If a liquor store can own a machine that says a check is good on the spot, how come this BIGTIME bank holds people's funds forever and a day?"
Stores can only verify if a checking account has a history of having been used for fraudulent purposes, or has a history of a person writing bad checks. This has nothing to do with contacting the actual bank, only accessing a fraud database used by other merchants that stores records of bad check-writers.
I opened a new checking/savings account with them about 3 months ago. So far I was hit by at least a $100 in all kinds of fees, that I had no idea about. This is the first bank I dealt with that cost me this much money in my entire life. This bank news on your wallet, stay away.
Hiral Shah is their worst possible mortgage associate. she spends thousands on advertisements and is very sweet talking when it comes to getting new customers. As soon as you've got the mortgage you are scum to her. Treats you like rubbish. Beware of her. She has her own website and advertises a lot so you will see her name a lot in the newspapers etc esp for the Indian community in NJ. BUT BEWARE.
she CONNOT be trusted. She is selfish and cheap.
Gave us a rate higher than the market and has been ripping s off all along. Typical WF tactics to make money and only to make money. Screw customers should be their official motto!!
To Noah, who obviously works for Wells Fargo-You are missing the point! Is a paycheck by an established business fraudulent. This is what is wrong with this country and it's economy- pathetic excuses, GREED, treachery, and an unwillingness to do business HONESTLY and EFFICIENTLY! Wells Fargo, hat in hand begging for MY tax money, then screwing me, other hurricane victims, and consumers in general. I am saying NO MORE! They only hold people's funds WAY TOO LONG because they can. WF likes to treat people like dirt-IT'S A FACT!
Calling out an inaccuracy in your post doesn't mean I work for Wells Fargo. I happen to think they suck, too… that's why I'm posting here.
Wells Fargo sucks camel buttocks
Wells Fargo is supposedly modifying our mortgage after 18 months of hasseling and lying to us.
The local Wells Fargo office is useless and run by a bunch of lousy, trouble causing drunks.
We hope to leave Wells Fargo at the first possible chance -this bank truly sucks!
Hopefully the government will just let them fail.
MY NAME IS DON AND I CANCELLED MY WELLS FARGO RIPOFF, I MEAN CREDIT CARD TODAY AND CLOSED MY BANK ACCOUNT AND SAVINGS ACCOUNT WITH WELLS FARGO. THEY ARE THE DEVIL.
RUN AS FAST AS YOU CAN AWAY FROM THIS EVIL HORRIBLE BANK WELLS FARGO. THEY MAKE SATAN LOOK GOOD ACTUALLY.
They ARE evil. They'll BURN in ____ . (You know where.)
I am a former Wells Fargo Financial employee. I worked for Wells for a total of 8 years. In the beginning, I was with Norwest Financial, who actually bought Wells, and then adopted all of their policies. Slowly, the job transitioned from being a great place to work and help clients, to the exact opposite. We used to be very up front with our higher rates, and did not deal with customers that had excellent credit. We helped people with less than perfect credit. More recently, Wells has completely stopped lending to those people, and set their sights on the unsuspecting good credit profile. I finally got fed up with it. I could not allow myself to sell these ridiculous rates to people that did not deserve it. I had to have a job, so I stayed probably a year longer than I wanted. I definitely shirked my duties during this time. I would tell my customers that they should consult a bank for better rates, as I knew we were just screwing them out of money. Unfortunately I could not find a job making the salary that I made with Wells, and they let me go for poor job performance. Remember, I was there for 8 years, and I was always a top producer up till about a year ago. Being there for 8 years, you would think that I would have been given the option to resign my position, but that is not how it went down. I cannot speak for the other divisions of Wells Fargo, but I will tell you this……When I was let go, I felt a huge weight lifted from my shoulders. We were expected to sell loans anywhere from 21% to 36% to customers with 660+ credit scores. They are now hiring in a bunch of college kids, promising them that they can make a ton of bonus, which is a lie. The reason they feast on college kids, is because they are not sophisticated enough to understand that they are ripping people off. They usually figure it out within 6 months though.
I used to be a Personal Banker with Wells Fargo. It's a HORRIBLE bank. and they screw their customers out of money every single day. I know first hand… DONT BANK THERE.
Wells Fargo DOES suck, and for several reasons. They are greedy and that is their first problem. Second problem they hire idiots to run customer service.
Out of all the idiots I have had the privelidge to speak with, Frederick in collections is the biggest idiot of all. He probably should quit customer service and work in a grave yard.
Wells Fargo screwed up my home modification request several times in 2009. As of December 2009, we have waited more than 6 months for the loan modfication to be complete. They loose paper work, and are slow walking are request. A class action law suit is needed to teach these low lifes a lesson, IMO.
Did the same to me!
And piled fees on top of fees after i tried to pay off the fees and they kept slipping a new one right under the time limits! even after i canceled the accounts they kept fee piling and calling ten times on a Sunday to harass me! I told them to stop calling and they refused and would not cancel the accounts! They would not listen and repeated there rhetoric like checked out drone monkeys! I told them i will abandon the account!
Who do these people think they are? And why do they get to get away with it?
It was like paying protection money to the mafia!
DO NOT DO BUSINESS WITH WELLS FARGO ON ANY LEVEL!
In my opinion they are a rip off lying cheating corrupt corporate entity!
I'm a 57 year old college educated divorced woman working as a direct care worker (couldn't survive being a realtor) for $13.87 per hour which I started on Mar. 30th 2009, the day my dad died, a WWII veteran a proud American. My parents lived through the Depression hardworking people, sent their kids to college because they wanted better for us. For the last two years my dad always worried about how hard things were for me and financially helped me out (I always could pay him back).
I took this job because that's all I could get full-time with health benefits.
I wrote this letter after reading the speech you gave in Ohio where you said "And I can promise you, there will be more fights in the days ahead. We're having one of them right now, because I want to charge Wall Street a modest fee to repay taxpayers in full for saving their skin in a time of need. You can rest assured, we're going to get that money — your money — back, each and every dime."
Obama concluded, "I didn't run for president to turn away from these challenges. I didn't run for president to kick them down the road. I ran for president to confront them, once and for all."
My TIME OF NEED is NOW I need some of the stimulus money that was handed to the banks to SAVE MY SKIN. REDUCE my interest rate, SAVE my house that I've lived in since 1979.
One company you need to confront is Wells Fargo Home Mortgage. My current mortgage rate is 8.62%. My mortgage is $54,000 but with escrows, taxes my payment is $1,027 per month. My mortgage problems started in Dec 2008 when I fell behind in my payments. It's been a horror show since then. I provided all the paperwork Wells Fargo required for a loan modification, they lied, everytime I spoke to someone it was a different story. I spoke to Wells Fargo 2-3 times weekly from Dec 2008- Jan 2010.
On Jan 19, 2010 I received a foreclosure letter from a law firm. Saying I was behind 4 months. I called Wells Fargo the Loss Mitigation specialist looked at my payments history, agreed there were mistakes. Said talk to Customer Service and get a payment history print out.
Which I never received.
In 30 days I could be foreclosed on, what am I supposed to do .
I'm not asking for a handout or anything for free. I just need HELP.
I'm looking for what was promised lower interest rates, my house not going into foreclosure.
That is what the stimulus money was for, not for mega bonuses, lavish parties.
I've called a counselor numerous times at HOPE NOW but never got a return call.
As I was typing this letter to you I received a fax the law firm if I want to reinstate my loan I need to give them $6,625.25 ($1,410.54 in legal fees) before Feb 3rd after that date the fees get higher. See attached letter.
Parts of Letter sent to the President of the United States
I am so angry at Wells Fargo right now. I have online bill pay set up for my car to Ford Motor Credit. I go in and approve a payment once a month. I have two checking and a savings account that are all supposed to be linked so I don't overdraft. Tuesday I log in and everything looks good. I have a $575 deposit pending and money in all of the accounts. I look an hour later and there are 10 overdraft fees of $35. I call and they tell me two payment went to Ford for $500 each. They charged 10 overdrafts and then put in the $575 deposit. Their answer, I must have autopay through Ford. I don't. I call Ford and they say two payments were mailed. Wells wants proof, I fax it and get the complete runaround, Glenda in Cedar Rapids says things like, You should really plan better. Wells insists the money was taken out by Ford. Glenda does admit that she can see back to June that I always do bill pay and Ford has never taken money out this way. She has not given me proof. I asked her to credit the fees (we have a business checking and use their credit card processor for several million dollars of business every year, I am also on the verge of refinancing my ho,e with them) she told me she couldn't think anymore about it, it was time for her to go home and she would call me today after she put some thought into it.
Response to Elaine Says:
I am so sorry to here this terrible news. I am in the same boat and have been trying to get a Load Modification for the last several months. My situation started in August of 2009 when we fell behind on our mortgage. Not to retype what you posted, each and every time we call Wells Fargo Loss Mitigation Dept our call gets routed to one the following call centers, Minneapolis or Spring field and we speak with a loss mitigation person, each time we speak we here a different story. i am afraid we might lose our house if they don't speed up the process.
2 years ago, when my son was 13, I opened up a SAVINGS account for him through Wells Fargo, thinking this would be a good way to make deposits for him that he wouldn't have IMMEDIATE access too. I thought the account was set up as DEPOSIT authority which meant he could put money into his acct but NOT withdrawal. I think a lot of parents have experienced the missing $5 spot and even occasionally the $20 out of their wallet but WE definitely don't think our kids will touch our checkbooks. UNFORTUNATELY, mine did. To make matters WORSE, he took one of the checks, Wrote the Check for $500.00, TOOK it to WELLS FARGO and THEY CASHED it. They didn't use what ALL Banks are obligated by law to use known as PReCautionary CARE!! They didn't think about putting a 24 hour hold on the FUNDS for verification of FRAUD, even though my son's account only had $5.00 in it at the time and Only had a deposit record of a Grand Total of $25. WHAT Frickin Bank, in their Right Mind, gives a 15 year old, WHO should be in school, $500.00 cash money. Needless to say, I placed a stop payment through by bank on the stolen check! The check was returned to Wells Fargo as insufficient… BUT (this is the suck-ee part) because I was the consenting parent who assisted by son in opening the account
WELLS Fargo is holding ME liable for the money THEY gave a minor. SO, Parents BEWARE, your money and your identity IS NOT SAFE with Wells Fargo BECAUSE THEY SUCKS.
Wells Fargo is a company riddled with liars and dishonest people. After sending my information to receive a loan modification 3 times – they proposed a payment that was higher than the one I was already paying. Gee…thanks for the help Wells.
On top of that, I completed my 3 trial payments and they closed my file as I was "reinstated". Ummmm…I made my full payments since day one by selling things off and scrimping, and I've never missed a payment – so Wells Fargo Idiots – my loan was never in default to begin with.
"Gail" a supervisor from Loss Mitigation said that I "would receive a lower payment permanently" once I completed my trial period and send in updated documents (pay stubs, list of bills and hardship letter). I did everything I was told and now they are saying they can't help me.
Guess Wells Fargo doesn't care that I'm willing to keep the full 200k balance on my mortgage current and just want a lower rate to lower the payment. They would rather take a $120,000 loss on my home than lower my payment $370 a month. Good thinking Wells! You guys are really sharp over there! No wonder your bank needed the Government to bail you out. Idiots.
Don't do business with Wells Fargo for any reason. If you have accounts there – take your money and your loans elsewhere.
I will spare all of you my story of Nightmare with Wells Fargo. I want to know a strategy for extending my foreclosure, that will make life miserable for them. Please advise me on how to legally trample with their satanic worship to screwing people. In November of 09 panic stricken and out of work I made payments to them in ADVANCE . Two months payments paid in advance were applied to principal. After months of them screwing the bill up with those payment i fell behind two months, they said i owed them five months. I sent the payments in, and they mailed them back and said they were moving to foreclosure. I mailed the Venezuelan embassy then and ask them if they would please bail me out. To which they said they would consider it, but i was standing in line.
Please help direct me. I am now dedicating the rest of my life to putting Wells Fargo out of business, behind bars. Please understand that i am peaceful and wish to do this within the law. I am out front and willing to do anything under both the sun and the law to put them out of business.
This is the letter I recently submitted because like everyone else on this page I have had zero success with their customer service or local branches. My sister is impeccable with her finances, and WF is doing the same thing to her. I have not talked to anyone who disagrees that WF is a nasty place to do business. The American Taxpayers just bailed these jerks out last year, when they should have gone bankrupt.
Side note to my letter, I was able to get an advance deposit from another job, and even though they bank at the same bank, WF would not release tehse funds into my account! I had to call and argue to get them to make the funds available.
I did contact the Better Business Bureau as well as sent an e-mail to Fox News. It doesn't take very long to make a complaint online to the BBB. Take five or ten minutes and make a complaint.
Wells Fargo Bank
175 N 27th Street, # 11
Billings, MT 59101
Subject: Poor Customer Service, Bank Over-Draft Fees, and Related Charges to My Wells Fargo Account, Billings, Montana
Recently I had an overdraft buying fuel over this past weekend that initiated a plethora of over-draft charges in my account with your bank. My paycheck was directly deposited on May 4, these charges over-drafted my account into the negative, which also triggered an automatic withdrawal from my savings account. I was charged $245.00 in fees, as well as a $10.00 charge for transferring funds from my savings account. This nearly completely drained my account. The overdraft for fuel at Holiday for $35.00 is not an issue with me, but the 7 other $35.00 charges totaling $245.00 for $31.52 in transactions, prompted me to call and try to work something out with your staff. I understand your policy is not to reverse bank fees, unless it was bank error.
I spoke with Heather, Lori, and Jason, all from the Wells Fargo branch on 2235 Grant Road in Billings, Montana, and two other people from your phone bank, and no one was willing to work with me to resolve this. My issue is your bank had no problem taking these funds; nearly my entire paycheck, (I have nothing until I am paid again). I have bills to pay like everyone else, and like most people in the United States today, I'm trying to make ends meet in our difficult economy, and when you lose two weeks pay to overdraft charges, it is just wrong. I understand penalties, and your bank doing me the favor of "covering" my transactions, "as to protect my credit rating", etc. At this rate, thanks, but no thanks. This is trite in comparison with the stress I have had this week of talking to my landlord, and other creditors who were expecting payment.
I admit it was my fault for not paying closer attention to my account, but I hardly think it is fair not to make any attempt to try work with me on reversing at least some of the charges. Lori's attitude as she walked into the lobby was less than tenable. We all have bad days at work, and I understand that. I was a customer in need of customer service. She had already made up her mind before talking to me concerning this, as she explained she had, "already talked to Heather about this…", she was not willing to help me as evident of her body language as she walked into the lobby from her work area, that was obvious, as she approached me with zero effort in customer service. I was wasting her time, and the lady couldn't even force a smile as she greeted me, or as we discussed this. I am not privy to your customer service policies, but found it very awkward and unprofessional that I was not at least invited into a cubicle to discuss this. As people were walking by, the last thing I wanted the world to hear was Lori and I discussing my overdrawn account in front of the main doors at your kiosk/desk in your branch's lobby.
I would also like to add that I am not the only one with money issues, as Wells Fargo bank was one of the banks American tax payers bailed out last year, taking stimulus money. Your bank just made over $250.00 from my account alone, and I am curious what your bank averages each day in just overdraft charges? If $245.00 means more to your bank than my business, I will gladly switch banks. There are a lot of banks in Billings, and the reason I opened an account with Wells Fargo was the persistence of your staff to call them and open an account there. If you had worked with me, I would have bragged your bank up as a place willing to work with a guy when times are a struggle for everyone. I don't mind paying a penalty, but taking a guy to the cleaners over $35.21 is ridiculous. I wasn't out writing checks for $500.00, this is over $31.52.
I have talked with several people about this, and no one thinks I should let this go. I obviously got no-where with your staff, or the Wells Fargo "phone bank", and I most likely will get no-where by writing this letter. Wells Fargo is listed as number four in the nation with the most complaints. Maybe you should work with your staff to build the relationships that you have, rather than rewarding them to prey upon every person who walks through the door by repeatedly suggesting they open a new account.
You can choose to ignore this letter, or blame me for the charges; either way the $35.00 fee per overdraft charged to my account, the fees you stacked up, unprofessionalism by the service manager at your branch, the additional fee of $10.00 transferring money from my savings account further resulting in yet another $35.00 fee, the amount of stress this week, and with no resolve, is just wrong. I had made two deposits into my account prior to the postings, and realize why it was overdrawn. However, sticking the $245.00 in fees on top of it is ridiculous, as well as another $10.00 fee to transfer funds from my savings account to cover your overdraft fees. To further overdraw me is beyond understanding.
Unless you are willing to work something out with me, I will be closing my account and moving to a bank that does not rely upon predatory practices to supplement the income of your executives. I realize I am nobody at your bank, regardless of what was said to my face to get my business to begin with, when I opened an account there. You made a ridiculous return on the $31.52 in transactions. I am sure that is Wells Fargo's typical mode of operation, but a fleecing of this magnitude should be criminal. I know I have no means to rectify this situation besides taking further time in writing this letter, and I am at your mercy. But if I do not hear from you with a proposal to correct this situation, I have no issue with spending further time sharing my understanding of your organization with the world, and going to another bank. The internet is an amazing place and I will be sure to spread the word far and wide. I figure that the more letters I write, and people I can involve (without a resolve to this situation), will end up costing Wells Fargo more in lost time and wages, than you removed from my account, in the long run.
As I researched the internet for answers to this problem, I realized just how many people there are across the United States who had similar and even worse service from Wells Fargo Bank. To clarify, I am not looking for a free ride here, I am looking for some common sense in the midst of these out of control transfer fees and arbitrary charges that have caused so many problems, stress, and wasted time this week. I am not against anyone making money; I am against fee gouging a customer to the point they have nothing left. As stated earlier, this wasn't out of control spending writing bad checks, this was an unfortunate mistake, and all I have asked of your staff was some help with reversing some of these fees so I could at least live my life for the next two weeks until I am paid again.
And finally, I just checked my account again and see that the $10.00 transfer fee resultant from these overdraft charges transferred from my savings account has overdrawn me further, compounding an additional $35.00 fee to leave my account further in the negative as -$46.77. I also understand that since it will be nearly two weeks until I am paid again, and every five days my account is in the negative results in yet another $35.00 fee.
I am asking for a middle ground solution to this situation. I am, and have been, willing to work with Wells Fargo, however, further adding to my frustration are the continual charges coupled with no one having either the supposed authority or willingness to assist a Wells Fargo customer besides doing nothing, or charging me additional fees.
cc: Ms. Janelle Berger
Wells Fargo Bank
Billings, MT 59102
BBB of E. Washington, N. Idaho & Montana