1099 Rules for Reimbursed Expenses for a Subcontractor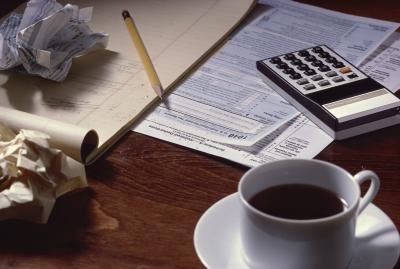 Independent contractors, consultants and freelancers face plenty of professional challenges, including learning to master complicated tax rules. Reimbursement of valid business expenses is not usually taxable to the contractor, assuming he meets the rules of adequate accounting and record keeping.
Independent contractors differ from employees for tax purposes. Generally, the IRS looks at which party ultimately has control over the work product and who is the decision-maker to determine whether someone is an employee or a contractor, although the IRS may consider any relevant facts and circumstances. Contractors receive agreed-upon fees for services provided to the client without any withholdings for tax purposes. Companies that pay an independent contractor $600 or more for services provided during the year must provide the contractor with a Form 1099-MISC by January 31 of the following year. Clients may reimburse contractors for reasonable business expenses, but doing so for a large volume of expenses indicates to the IRS a contractor was actually an employee for tax purposes in Revenue Ruling 55-144.
To be reimbursed for expenses incurred on behalf of a client, the contractor provides an invoice with adequate accounting for expenses to the client. Generally adequate accounting includes a detailed list of expenses and receipts if requested by the client. Assuming the client reimburses valid business expenses, the contractor will not report the reimbursement as income, nor will he deduct the expenses as business expenses. The reimbursement will not be reflected on the contractors Form 1099-MISC.
If the contractor neglects to provide a detailed list of business expenses to the client, the reimbursement, if it is paid, is included as income to the contractor on Form 1099-MISC. Assuming the contractor maintained sufficient records of the expenses, he may deduct the expenses on Schedule C of Form 1040.
The taxpayer claiming the deduction -- either the contractor or the employer -- must substantiate business expenses. Save receipts or records of expenditures, such as cancelled checks or credit card statements. In addition, document the details of each expense, including the business purpose and the parties involved -- for example the attendees of a meal. Also record the date of expenses; where the expense was incurred, including the venue and the city if it is a travel expense; and an itemized list of each expense.
On occasion, independent contractors hire subcontractors to complete certain engagements who may be classified as employees or contractors for tax purposes. In these cases, the original contractors become employers and must adhere to the same rules governing expense reimbursement, albeit from a different perspective.
Rules for Deducting Mileage for Self-Employed Subcontractors .
Rules for Deducting Mileage for Self-Employed Subcontractors by Ron White, Demand Media
A 1099 is a tax form for independent contractors that shows how much they made from a certain business. Unlike a W-2, a 1099 form.
Instructions for Form 1099-MISC (2012) - Internal Revenue Service
File Form 1099-MISC, Miscellaneous Income, for each person to whom you have paid during the year:
Please explain the $600 minimum amount for 1099 rule
Looking for a little tax help out there: I know one company I am working for that my dollar amount will be over $600 the minimum amount you can draw as an IC.
IRS 1099 Employee Rules. A person who receives a 1099, such as an independent contractor, is not considered a regular employee. According to the IRS instructions on .
The Twenty Common Law Factors a test which may be used by the IRS: Under the common law, a worker is an employee if the hiring firm (that .
I got the 1099-MISC nonemployee compensation for mileage .
Feb 06, 2009 I got the 1099-MISC nonemployee compensation on Line 7 for mileage reimbursement and expenses when I was sub contracting for a business, I was
AIDC is the logistical and support center for wildland firefighting in the Southwest
Aug 26, 2013 A 1099 contractor is an independent worker who contracts his or her services to a business. To become a 1099 contractor, you.
Nov 30, 2012 How to Find Write Offs for a 1099. Having 1099 income indicates that you are an independent contractor and not an employee. When you are an employee, you .
A Note Concerning Participant Support Costs Some extramural sponsors of research projects include a category in their budget forms called participant support costs.
Employee Handbook TRAVEL POLICY. Following is the new Employee Handbook Travel & Business Expense Reimbursement Policy. This manual contains additional
What's a 1099 and What Do You Need to Know & Do About Them?
What's a 1099 and What Do You Need to Know & Do About Them? By John Nessel Restaurant Resource Group. It's that time of year when restaurant owners and their .
By now most S-Corps shareholders have heard about IRS Headliner 163. This said S-Corp shareholders with >2% ownership in the corporation could not take the same .
How do I report reimbursed business expenses on my U.S. taxes .
Mar 30, 2008 Best Answer: While a company *can* have an accountable plan for contractors, you won't know for sure until you have the 1099-Misc in your hands. Most .
1099-MISC Forms are a Snap to Prepare - Tax Tips Article - Child .
1099-MISC Forms are a Snap to Prepare a Tax Tips blog article by Alison T. Jacks E.A.
This post is from GRS staff writer April Dykman. Most employees have to submit expense reports at some point be it for out-of-town travel, client. Read more.
Prevailing wage commercial rates -- Labor Standards; Minnesota .
Labor Standards -- Prevailing wage commercial rates. Prevailing wages are the wages required to be paid on state-funded construction projects.
Independent Contractor Defined - Internal Revenue Service
Jan 10, 2013 Independent Contractor Defined. People such as doctors, dentists, veterinarians, lawyers, accountants, contractors, subcontractors, public
Earlier this year, questions poured in from readers grappling with how to deal with 1099-Cs they received from lenders reporting "canceled" or "forgiven" debt. Here .
Prepare Now For 1099 Reporting Under The Health Care Act
In order to pay for health care benefits, the scope of Form 1099 was considerably extended. Effective for payments made after December 31, 2011, practically all .
Reporting 1099 Income - Squidoo : Welcome to Squidoo
If you are self employed or an independent contractor, then instead of a W- 2, you will receive a Form 1099 MISC for services that you perform. 1099s are much more .
How to Deal with that Incorrect 1099 Form [Helpful Example]
Last year I did some work for a venture capital-backed company in Houston, about four or five hours away from my home in the Dallas-Fort Worth metroplex.
I would travel and stay in Houston on the weekdays and come back home on weekends.
I was to be reimbursed all my travel expenses, including gas, hotel, meals, and incidental company purchases, but I paid for these expenses out of pocket.
Two months into the project, we were informed that investors had backed out, and funding was never secured. Ouch. I was out a couple thousand in actual dollars spent, not to mention several thousand more for non-payment of mileage, company purchases, and wages payable.
The only money I received was one check for $1,000 to help offset some of the expenses I had already incurred.
Much to my surprise, I received a 1099-Misc Form from the Houston company last month in the mail. Setting aside "employee vs. independent contractor" issues, I was first curious why I received a 1099 Form, since I received no compensation but a $1,000 reimbursement check.
I was even more shocked when the amount listed on the 1099 form was six hundred and some-odd dollars and change. Great — not only did I have an unexpected 1099 form, but the amount was totally random and didn't even match the dollar amount I did receive!
I was at a loss as to what to do with my situation. So after a bit of searching, here's a few options I came up with:
1. If your 1099 form includes expenses and income
A bankrate.com article suggests that sometimes a 1099 issuer includes payment for items that you don't consider income, such as reimbursement for expenses.
For example, you were paid $10,000 to remodel a kitchen, and were reimbursed $5,000 for materials. When the 1099 arrives, the amount is for the entire $15,000, rather than the $10,000 you received as actual income.
The simple solution is to report $10,000 as income, and take all the deductions that you are entitled, which in this case, would be at least the $5,000 in materials. With this method, all will even out, and no correction is needed.
2. If your 1099 form is plain wrong
If you cannot get the issuer to amend a completely wrong 1099, what do you do? Well, I called the IRS help line: (800) 829-1040. The representative told me I can go through the same process as above (claim income & deduct expenses), and include a note explaining why the particular 1099 form was wrong, and what the correct figures were for income and deductions.
Since my former employer refuses to cooperate (after at least three attempts to request it changed), my best option is to go ahead and claim $1,000 of income and offset the rest as expenses, while leaving a detailed explanation as to why there is a discrepancy.
Now I'm back to the W-2 life: working close to home, avoiding long-term travel, and actually being paid for work completed (what a concept!). Here's hoping for an easier tax season next year!
This article comes from my friend Jason, who blogs at MyMoneyMinute.Com: Personal Finance & all that implies… in minutes a day!
Join 36,000 subscribers improving their financial life.
Subscribe for free. Get my book (31 Days to Improve Your Financial Life), intro series, and article digest.
Success! Now check your email to confirm your subscription.
I worked as a project manager and one of my projects I had to use a 1099 because the contracting house hired me as an independent consultant which was good and bad, the bad was having to account for everything that I did. Had to also save 25% of my money which went straight to taxes, I would have claimed extra things if I understood the nature of 1099 back then but lesson learned.
Is there a way to sue an investment company for cutting a 1099R wrong. We moved money from one company to another and they cut the 1099R for that money and would not correct it for 5 years. I had to sell assets to pay for the tax that was owed.
I recently came across your blog and have been reading along. I thought I would leave my first comment. I don't know what to say except that I have enjoyed reading. Nice blog. I will keep visiting this blog very often.