Delta Reserve Credit Card from American Express Reviews
Travelers who fly Delta on a regular basis will enjoy the Delta Reserve Credit Card from American Express' long-term benefits and opportunity to get free Silver status in the sought-after Medallion program.
About Delta Reserve Credit Card from American Express
The Delta Reserve from American Express is an airline rewards credit card offering a dual intro bonus of 10,000 free miles and 10,000 tier miles.
What makes this card different from other airline rewards cards is that it has a higher annual fee, a testament to the card's luxury benefits that you'd normally find with credit cards not linked to a certain travel brand: The Chase Sapphire Reserve and U.S. Bank Altitude Reserve are two great examples.
As one of the few branded luxury cards in the travel card world, the Delta Reserve finds itself in a unique position and, because of that, the card deserves a good examination of what it offers.
Does the Delta Reserve stack up well against other luxury travel credit cards? How much better is it than other airline rewards cards like the Delta Gold SkyMiles and the United MileagePlus Explorer?
We're going to answer these questions by working through all the important features of this card:
Short- and long-term benefits
Rates and fees
Reviews from other sites
Comparison to other credit cards
We'll finish up our review with a condensed list of pros and cons along with our opinions on who this card is good for.
The Benefits of the Delta Reserve Credit Card from American Express
Credit cards – not including credit cards for bad credit – usually have two sets of benefits.
The first set are short-term perks you usually get within the first year of owning the card. These short-term benefits include free bonus miles for spending a certain amount as well as a waived annual fee and/or an introductory interest rate.
The second set of benefits are long-term benefits. These are the perks that extend beyond the first year and usually recur every year you have the card.
Common long-term benefits on travel cards are points bonuses for buying certain things with your cards. In the luxury space, you can expect yearly travel credits and entrance into airport lounges.
In our opinion, the Delta Reserve's short-term benefits are pretty sparse compared to what you'd get with other travel or luxury rewards cards. We'll do comparisons later in this review, but, for now, here's a quick list of the specific benefits you get in the first year with this card:
10,000 Delta SkyMiles
10,000 Medallion Qualification Miles
These miles will be credited to your Delta SkyMiles account about 6-8 weeks after you make your first purchase on the card.
Your Delta SkyMiles are frequent flyer miles you can use to book rewards seats on a Delta flight. In our opinion, the introductory 10,000 SkyMiles you get aren't that valuable because most Delta seats will cost you between 25,000 and 30,000 miles for a one-way flight.
The 10,000 MQM's you get are a little more interesting because they're put toward the Delta Medallion program, which is an elite level of frequent flyer benefits.
The Medallion program is split into four levels: silver, gold, platinum and diamond.
You can achieve these different levels through spending a certain amount of money each year on Delta flights or getting a certain amount of Medallion Qualification Miles.
For the purposes of this review, we'll limit our discussion to getting Medallion status through miles since MQM's are what you get with the Delta Reserve card.
You can earn Silver Medallion status by getting 25,000 MQM's in one year. Your Silver status gets you:
Unlimited free first-class upgrades
Unlimited free Comfort+ upgrades
No baggage fees
Priority boarding
The final two benefits on this list are pretty standard with American Express airline credit cards, so there's nothing really glamorous there. The real strength of Silver status are the free upgrades.
The benefits you get with Silver Medallion are the main reason we think the intro 10,000 MQM's are more valuable than the 10,000 SkyMiles.
Pro tip: The intro bonus offer expires one year after you're approved for the card.
Whereas the Delta Reserve's short-term benefits are pretty weak, we believe that the airline rewards card has some strong long-term benefits.
Delta Reserve cardholders get free access to the Delta Sky Club network of airport lounges where, according to Delta's websites, you can "enjoy snack and beverages, Wi-Fi access, satellite TV, personalized flight assistance private restrooms and more at the Club."
This benefit is only good for same-day flights where the name on the reservation matches the name on the Delta Reserve card.
The card's terms and conditions also point out that you can't use a codeshare ticket to get into a Sky Club. So, if you book a Delta flight but another airline is operating the flight, you won't be allowed into a Sky Club.
Pro tip: There are 49 Sky Club lounges in North America.
The second main-long term benefit you get with the Delta Reserve is a miles bonus for spending at least $30,000 in a calendar year. If you can hit that spending mark, you'll get 15,000 SkyMiles and 15,000 Medallion Qualifying Miles.
It gets better, though. If you can spend another $30K on top of that ($60K total), then you'll get another 15,000 MQM's and SkyMiles.
Pro tip: Spending is based on the calendar year, which means you have less time to hit $30K your first year assuming you get your card in the middle or end of the year.
Ever year that you pay your annual fee, you'll receive a free round-trip ticket you can use for someone who travels with you.
We read through the terms and conditions for companion passes and found out some interesting facts you'll want to know:
You have to purchase a flight in order to get the companion ticket. Web fares, sale fares and rewards fares don't count
Must be purchases up to 14 days in advance and your return flight has to happen at least three nights after and no more than 30 days after
Once the companion ticket is books, that's it; no returns or replacements
Whenever you fly, you'll get one free checked bag. Like the companion certificate, you need to be aware of a few restrictions.
First, free baggage is only allowed when you book with your SkyMiles number.
Also, you'll only get your free bag on flights Delta or Delta Connection operates. Not sure? The easiest way to know if you're flight is operated by Delta is that you check in at a Delta ticket counter or Delta's website.
Whenever you make purchases directly through Delta you'll get 2 SkyMiles for every $1 you spend. All other purchases will get you 1 SkyMile for every $1.
Pro tip: You won't get points for fees, charges, balance transfers, cash advances or buying/reloading prepaid cards.
The final main perk you get with the Delta Reserve is a 20% discount on any in-flight purchases, which includes food, beverages, movies, internet and more.
The discount isn't taken off at the point of purchase but credited to your statement. It will take, Delta says, between 6 and 8 weeks for those credits to show up on your account.
Fees and Rates for the Delta Reserve Credit Card from American Express
Here's a quick breakdown of the Delta Reserve's rates and fees:
The APR on this card is one of the highest you'll find among luxury cards. The low-end APR is similar to what you get with the Chase Sapphire Reserve, but the high-end APR is greater than all the competition.
When compared to the four luxury credit cards we ranked in our Best Luxury Credit Card of 2017 guide, the Delta Reserve definitely has the worst APR.
In addition to that, you'll get hit with a 29.99% APR if you make one late payment or a payment is returned. That APR will be applied to all purchases for at least six months, at which point AmEx will review your account and determine whether they'll give you your old APR back.
How the Delta Reserve Stacks Up Against Other Cards
Because the Delta Reserve card has a $450 annual fee, we're going to compare it to other luxury travel cards with similar annual fees.
There really isn't much discussion to be had – all four of the luxury cards we reviewed offer better overall perks than the Delta Reserve. The AmEx Platinum, Chase Sapphire Reserve and Citi Prestige also have better intro offers.
We also believe that several of the cards we ranked in our Best Airline Rewards Credit Card of 2017 guide offer better introductory offers.
Reviews of the Delta Reserve from American Express
The reviews we've read from other sites note that the Delta Reserve is at its best when the cardholder flies Delta often and spends at least $60,000 a year.
Another site noted that the American Express Platinum card offered better value for travelers than the Delta Reserve.
Our Thoughts About the Delta Reserve from American Express
The Delta Reserve card has some clear pros and cons and we think there's a specific kind of person who will benefit most from this card.
We think this card's strength is the opportunity to earn 30,000 MQM's as well as the free companion pass. The free baggage is a nice perk, but it's also something you get with the $95-a-year Gold Delta SkyMiles card from American Express.
The Reserve's high APR and its relatively sparse long-term benefits make this card a hard sell for someone who doesn't fly Delta often.
We believe the best fit for this card is someone who will spend at least $60,000 on their card every year and who flies Delta frequently.
Hitting that high spend amount will unlock Silver status in the Medallion program, which means free upgrades to first class and a few other boarding benefits.
When we compare this card to other luxury cards, the Reserve just doesn't offer the same value. However, if you fly Delta a lot, the chance to get Silver Medallion status is a huge perk.
If you aren't convinced about how good this card is, then we encourage you to read through our articles on the best airline rewards and luxury credit cards of 2017. Each article takes a comprehensive approach to the cards we examine, which means you can figure out which card is best for your situations.
American Express Platinum Delta SkyMiles Business Credit Card Review: 5,000 MQM + 35,000 Delta Skymiles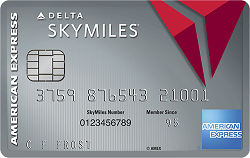 The Platinum Delta SkyMiles Business Credit Card is currently offering 35,000 Delta Skymiles and 5,000 Medallion® Qualification Miles (MQMs) when you spend $1,000 in purchases within the first 3 months. Additionally, you can get a $100 Statement Credit when you make a Delta purchase within the first 3 months.
For every 5,000 bonus miles redeemed, that's $50 off the cost of your ticket. You will also be eligible to receive $100 in statement credit after making one Delta purchase within the same time frame. Earn 2 times the miles per dollar spent on Delta purchases and 1 mile for every dollar spent on all other eligible purchases.
This is a pretty interesting card, and I absolutely love the MQM point value; rack up 5,000 MQM attached to your 35,000 Delta Skymiles, right off the bat when you make the necessary spending of $1,000. Now there is quite a price tag on the annual fee ($195) and it isn't waived either so it's already clear that this is a card that's not for everyone but with all the prestigious benefits you'll receive including Boost miles, MQM and their exceptional SkyMiles Delta Program, it'd be a great pick for business owners looking to expand their business and Delta experience at the same time.
Platinum Delta SkyMiles Business Credit Card Summary:
Apply Now
Maximum Bonus: 35,000 Bonus Miles and 5,000 Medallion® Qualification Miles (MQMs) +$100 SC
Spending Requirement:

$1,000 in purchases within 3 months of account opening.
Earn a $100 statement credit after you make a Delta purchase with your new Card within your first 3 months.

Annual Fee: $195 (waived for first year)
Bonus Worth: The 35,000 MR + 5,000 MQM + $100 SC = $586
Expiration Date: None
Additional Advice: Earn 10,000 bonus miles and 10,000 MQMs after you spend $25,000 each year.
2x miles on all purchases made directly with Delta
1x miles on all other purchases
Annual fee of $195 is not waived
Receive another 10,000 MQM after you spend $25,000 or more within a calendar year and an additional 10,000 MQM when you spend $50,000 or more within a calendar year for a total of 20,000 MQM (plus the sign up bonus)
No foreign transaction fees
Receive a Domestic Main Cabin round-trip companion certificate each year upon renewal of your Card (Payment of the government imposed taxes and fees of no more than $75 for roundtrip domestic flights (for itineraries with up to four flight segments) is required)
Priority Boarding on Delta Flights
First checked bag free on every Delta Flight
Receive a 20% savings in the form of a statement credit on eligible Delta in-flight purchases after using your Card
To get elite status on Delta, you need:
Diamond Medallion: 125,000 MQMs and $12,500 MQDs
Platinum Medallion: 75,000 MQMs and $7,500 MQDs
Gold Medallion: 50,000 MQMs and $5,000 MQDs
Silver Medallion: 25,000 MQMs and $2,500 MQDs
Exclusive Delta Perks
MQM Points
Good for Individuals who flies frequently with Delta
Get your hands on the 2017 Platinum Delta SkyMiles Business with the American Express. and you can earn yourself a 35,000 bonus point + 5,000 MQM points with $100 Statement Credit just for spending $1,000 in purchases within 3 months and making a Delta purchase. Earning points can be relatively easy depending on if your abusing the 2 times the miles category and booking flights, hotels and car rentals with this card. This is an exceptional airlines rewards credit card that does offer you luxurious platinum benefits and features, but a pricey annual fee is attached to this card and it's not waived either.
This card may be perfect for you on the basis if you fly frequently with Delta and if you're willing to take advantage of all of Delta's perks and prestige status. Don't forget to check out our Platinum Delta Skymiles and Delta Gold Business reviews as well! If you don't usually fly Delta, check out our complete list of Credit Card Promotions for other airline bonuses and offers.
Chris provides our readers bank deals and credit card bonuses that will save them money. He is devoted to provided in-depth and accurate details to help readers maximize their money along their financial journey.
Delta Platinum Business (can use your name as sole proprietor)- 70k + $100
New 70K Offer for the Platinum Delta SkyMiles® Credit Card from American Express
The Platinum Delta SkyMiles® Credit Card from American Express is back with the 70,000 miles sign-up bonus and the Gold Delta SkyMiles® Credit Card from American Express is also offering 60,000 miles. Here's a look at the the Platinum Delta card and whether or not you should apply.
70,000 miles after you spend $4,000 in purchases within your first 4 months
$100 statement credit after you make a Delta purchase with your new Card within your first 4 months.
Offer expires on 7/5/17
$195 annual fee not waived the first year
2X on Delta purchases
1X on general purchases
Annual companion certificate in economy
No Foreign Transaction Fees
Earn 70,000 miles after you spend $4,000 within your first 4 months.
If you're planning on also getting the business version of this card or another Delta Amex card, that extra month to hit your sign up bonuses could really come in handy.
Roundtrips in economy start at 25,000 SkyMiles so that's more than enough for two roundtrips across the country. You can also find some short-haul flights on Delta for as low as 5,000 miles one way and those can sometimes be great uses of SkyMiles. A roundtrip in business/first on a domestic trip may run you 75,000 miles, although with Delta's dynamic award pricing many awards may be much higher.
International business class awards often get very pricey with Delta SkyMiles. For example, getting to Europe on Delta will cost you 70,000 miles but 85,000 miles on a partner like Virgin Atlantic, and that's just one way. That's a considerable amount of miles considering that you could book a roundtrip to Europe with ANA for only 88,000 miles.
Since there's a business version of this card currently offering 70,000 miles too, the opportunity to combine earnings with these cards should be considered. Combining a personal and a business card would net you at least 140,000 Delta SkyMiles and that could get you a roundtrip with Delta in business class to Europe. However, if you're interested in just earning SkyMiles, I'd consider getting this card along with Delta Gold card since that card would earn you 60,000 miles but come with no annual fee the first year.
Overall, I'm not big on Delta SkyMiles for various reasons. However, 70,000 miles is a lot of miles and it could be nice to have those miles on deck if you're planning a big trip where you might need to a book a segment with SkyTeam partners. Keep in mind that if you don't have any need for Delta SkyMiles any time soon, these offers tend to come around each year so you could always wait for the next round to come.
This $100 statement credit must be used within the first 4 months just like the minimum spend must be met in that time frame. Many have success with purchasing Delta gift cards and having this statement credit reimburse them.
The Delta Platinum Amex card also offers a lot of additional perks you typically receive with co-branded airline credit cards.
Check your first bag free on every Delta flight for up to four passengers (savings of up to $200 per round trip).
Priority Boarding
20% savings in the form of a statement credit after you use your Card on eligible Delta in-flight purchases of food, beverages, and audio headsets. Some in-flight purchases do not apply.
Reduced fee of $29 per person for up to two guests to enter Delta SkyClub (you just need same-day ticketed air travel on any airline).
Medallion Qualification Dollar requirement for the qualification year will be waived if you make at least $25,000 in Eligible Purchases in that year with your Delta SkyMiles Credit Card from American Express.
Receive a Domestic Main Cabin round-trip companion certificate each year upon renewal of your Card
The reduced fee to SkyClub lounges doesn't appeal to me since I generally have that covered with Centurion Lounge access and Priority Pass with the Platinum Card® from American Express. However, getting priority boarding and free checked bags is a nice perk for those who fly Delta and could more than pay for the annual come year 2 for many people.
In addition to the above benefits, the free annual companion certificate, in conjunction with the $100 statement credit, can definitely offset the annual fee, making this card a keeper for many individuals who fly Delta even just a couple of times a year.
For people who fly Delta often this is a strong credit card offer. Although the annual fee is a bit high at $195, 70,000 miles is a lot and the oppurtunity to climb elite tiers view credit card spend is a unique and valuable benefit. Consider combining this with another Delta card to earn more miles or MQMs, depending on your goals. Just remember that you typically can't get approved for two Amex credit cards at the same time.