Walmart MoneyCard Review: A Prepaid Card That Gives You 3% Cashback?
Last Updated August 8, 2017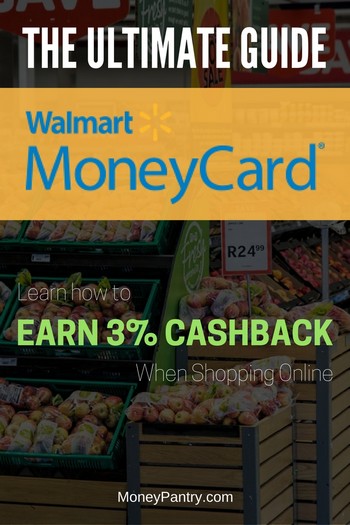 Do you shop at Walmart?
If so, you might want to look into the Walmart MoneyCard.
We're a big fan of Walmart, mainly because there are so many ways to save money at Walmart.
And Walmart MoneyCard adds another way for you to save – you can earn cashback for shopping online and in store.
The reloadable, prepaid debit card allows you to earn:
Try Swagbucks, the famous rewards program that pays you for watching videos, taking surveys, shopping and more.
3% cash back when shopping at walmart.com,
2% cash back at Murphy USA and Walmart fuel stations,
and 1% cash back at Walmart stores.
The Walmart MoneyCard, which is issued by Green Dot Bank, has the potential to earn you up to $75 in rewards per reward year (12 consecutive months).
There is no purchase fee when you order the card online, but there is a $1 fee in stores.
You can choose to have the card issued as either a MasterCard or a Visa.
Here's how to order your card online:
Visit https://www.walmartmoneycard.com/getacardnow.
Choose whether you want it issues as a MasterCard or a Visa
Fill out the application form.
And wait for the card to be delivered.
After you get your card, you'll need to activate it just like any other credit/debit card.
Here's how to activate your new card:
Just like the Walmart Saving Catcher, there are also apps for both iOS and Android devices for the card as well.
The app makes it easy to keep track of your balance and account activity on the go.
You can download the app for your device by following these links:
Once you have registered your card, you can "stash" any amount from your card balance into your Walmart MoneyCard Vault online or via the MoneyCard app.
For every dollar you save up in your Vault, you are automatically entered in a monthly Walmart MoneyCard Prize Savings Sweepstakes.
Each month, you can earn up to 500 entries in the sweepstakes, which features a $1,000 Grand Prize and 499 additional $25 prizes.
Winners are contacted by email, and cash prizes are deposited onto your Walmart MoneyCard.
The Vault is not a separate account or card. Instead, it is a different part of your card balance that is set aside and harder to access.
The Vault is not a savings account, so it does not pay interest.
Money that is set aside in your Vault is included in your total card balance.
If you like getting paid for surveys, and are going to join only one site, I would recommend you choose Ipsos-iSay. Ipsos is the most fun and well-paying panel. Give it a try to see how you like it. It is free anyway!
The amount in your Vault plus the amount of your available card balance cannot exceed the maximum balance limit of $10,000.
You should note that money in your Vault account may be used to cover any negative balance that you have on your card, even if you didn't transfer it.
You can redeem your cashback rewards at walmart.com or via the mobile app after the completion of each reward year.
The cash-back money becomes a part of your available balance.
The card offers free direct deposits of tax returns, payroll checks, and government benefits, as well as free online bank transfers. (Be careful, though- your bank may charge a fee.)
You can even deposit checks with your smartphone camera.
If you are depositing a payroll or government check in a Walmart store, you will pay a fee for cashing the check but not for loading that money onto the card.
It costs 95 cents to deposit a check using the mobile app.
There is a $3 fee for Rapid Reload, which is reloading cash at Walmart during checkout.
You could pay up to $4.95 to reload cash at retailers in the Green Dot network.
The maximum daily cash reload limit is $2,999, and you may not load cash to your card at any time the balance exceeds $2,999.
If you request and successfully register your card between May 2017, and December 2017, a one-time Payday Perk of $25 will be applied to your new Walmart MoneyCard account after your first direct deposit of $250 or more.
To qualify, your deposit must post to your card within 60 days of the registration.
The MoneyCard can be used as an alternative to a bank account.
It features free online bill pay services, and you can also send money for free to others who have a MoneyCard or another participating card issued by Green Dot Bank.
There is a limit of $7,500 on each individual bill payment.
Sending money to friends and family in the United States is also free, and there is no charge to receive the money. You can send up to $2,000 per day and $5,000 in 30 days.
Recipients can add the transferred funds to a Walmart MoneyCard, PayPal account or any other card issued by Green Dot Bank.
You can also write checks to pay rent and other bills that require a paper check.
You simply order and pay for the personalized checks using the M0neyCard app.
A pack of 12 checks costs $5.95.
This breaks down to 50 cents per check.
On the other hand, a money order only costs 70 cents, which is cheaper than at banks or the post office.
There are no overdraft fees, and your registered card is protected against unauthorized transactions. However, there is a fee of 50 cents for ATM balance inquiries.
The Walmart MoneyCard charges a monthly fee of $5.
The $5 monthly fee can be waived, if you deposit $1,000 in the previous monthly period. This excludes person-to-person transfers received using the Send Money feature.
If you stop using the card, you will pay up to two extra monthly fees.
However, there is no fee to close the account.
The maximum you can withdraw at an ATM is $3,000 per day, and the maximum you can spend is $10,000 per day.
There is no fee for PIN or signature-based purchases, and you can withdraw cash for free at any of Walmart's more than 4,500 locations.
The card also gives you the ability to get cash back during check out at certain retail stores.
People who shop frequently at Walmart, and manage money and shop online, will see the most benefit from using the MoneyCard.
There may be a better prepaid debit card available to you. Be sure to look for cards with lower or no monthly fees when comparing costs and services across cards.
Do you have a Walmart Money Card?
If so, we'd love to hear about your experience and what you think of it.
Join MySurvey, a fun paid survey site that has paid its members over $32 Million so far. Yes $32,000,000!
And it is 100% free to join and make money.
Join InboxDollars & get paid to watch videos, search, shop, take surveys, and more.
cashback on walmart credit card
Http://PdToShop.com - Walmart Credit Card Cash Back Walmart Credit Card Cash Back is a very good search. A smart search for probably a very smart shopper..
Can I Get Cash Bach On My Walmart Credit Card - Very Simple
http://www.GetGlobalCashback.com - Can I Get Cash Bach On My Walmart Credit Card Yes, you can get cash back on everything that you buy with your Walmart .
http://www.YourBestCashBackNow.com - Can you get cashback with a walmart credit card Great question: The answer is yes. In fact you can get cashback at .
The New Walmart 3,2,1 Credit Card just got even better. Now save on your shopping everyday and earn 3% cash back on Walmart.com and Pick-Up today .
Review of the Walmart credit card..
Crazy for Cash Rewards | Walmart Money Savings Catcher App
I personally love Walmart Savings Catchers app, just because it saves me almost $300.00 at the end of the year(to buy great Christmas Gift!) Honestly, me and .
PaySoft, fees credit card, ecard, mobile echeck, international..
CreditCardCatalog.com (http://www.CreditCardCatalog.com Email: [email protected]) offers a review of Walmart's MasterCard and store credit card .
http://workersonboard.com Get free cash back from Walmart with the Walmart Savings Catcher program here https://savingscatcher.walmart.com/ Get a $10 free .
Costco's New Visa Credit Card Offers Thousands in Cash Back
Costco's free credit card lets members earn more than $2300 in annual rewards. LET'S CONNECT: Facebook ▻ http://on.fb.me/1tO5gYg Google+ .
So I got one of these thingys at walmart and wanted to share my thoughts on what happended! thanks for watching! Support me threw my sponsor's webpage by .
How many times can you get cashback on a walmart credit card
Does walmart accept personal checks - Does walmart. Disclaimer: By providing links to other sites, Fat does not guarantee, approve or endorse the information or products available at these sites, nor does a link indicate any association with or endorsement by the linked site to Fat Your online purchases earn Cash Back that builds in your Fat Wallet account. Get Paid by requesting a payment via check or Pay Pal. How many times per day can i get cash back on a personal check at. Does walmart accept personal checks. How much cashback can you get at walmart on a check?
Wal-Mart store card switch gives consumers reason. Shop through Fat Wallet for deals from your favorite stores. Apr 17, 2014. If you're a Wal-Mart or Sam's Club co-branded credit card holder. Wal-Mart and Sam's Club, like many other retailers, offer two types of credit cards store-only credit. credit card program can help up get most out of your card's program. MasterCard holders also have access to a new cash back program.
Walmart MoneyCard – Prepaid Debit, Prepaid Visa. Fat Wallet coupons help you save more when shopping online. The Walmart MoneyCard is a reloadable Prepaid MasterCard or Visa Card. No credit check. No overdraft fees. Check your balance, see transactions, and review Cash-Back Rewards. Get paid up to 2 days early with free direct deposit. Find the nearest Walmart location where you can buy or reload a card. ZIP. OR.
Walmart® Credit Card Is It A Good Deal? Credit. Use our Coupons Search to browse coupons and offers from thousands of stores, gathered into one convenient location. If you can qualify for better credit card offers, we recommend looking elsewhere. to the rates you can get with most decent cash back rewards credit cards.
Cash Back Scam Forums As part of our Fat Wallet Community, you can share deals with almost a million shoppers in our forums. The manager said I could come back to the store for the credit but now I wonder how many times. Can you imagine how many. WalMart cash back scam.
Walmart Credit Card - Forum content is generated by consumers for consumers. Apply and be approved for either a consumer Walmart MasterCard® card or Walmart Credit Card. Get to Know Us. About Walmart. you as best we can.
Can you get cash back when writing a check at. This thread is for all categories, incomes, and rewards preferences. How many times per day can i get cash back on a. can i get cash back with my walmart credit card. How much cash back can you get at walmart with a.
Top Cashback Sites - Money Saving Expert Credit. Please help keep this list up to date and be aggressive to delete discontinued cards. Tracking problems occur for many people using cashback sites. There are times when you'll expect to. you can get up to. the cashback credit card gives you some.