Slate from Chase: 0% Intro APR For 15 Months + NO Balance Transfer Fee for 60 Days + Free FICO Score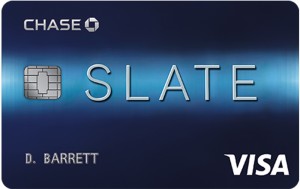 Updated with free FICO score information. Looking to pay down debt in 2015? Transfer your balances to the Chase Slate® Card and get 0% intro APR For 15 Months and pay NO BALANCE TRANSFER FEE if done within 60 days of account opening. You won't pay any more interest until 2018, and all your money will go towards paying down the balance principal. You can literally borrow money for free and pay it back in 15 months with no interest (keeping in mind you'll still need to satisfy the minimum payment each month until then). $0 annual fee.
It is very rare these days to find a no balance transfer fee 0% intro APR offer that is available to all (as opposed to being targeted only to specific customers). You can verify in the Pricing & Terms section of the application, down in the Fees box:
None on transfers made within 60 days of account opening. All other transfers: Either $5 or 5% of the amount of each transfer, whichever is greater.
Make sure you initiate that balance transfer within the first 60 days.
As of March 2015, the Chase Slate card now offers an EMV security chip and a free FICO score every month. The FICO score will be based on your Experian credit bureau report, and they'll also have a "Credit Dashboard" that tells you reasons behind your score and a summary of your Credit Report information. Here's a screenshot:

According to the WSJ, so far this is only available on the Slate and not other Chase-issued credit cards. This is because the Slate is by far Chase's most popular card for those transferring existing balances and that means many of those 10 million cardholders care about their interest rates and credit scores.
Lower your interest on balances!
This is a great opportunity for those people with good to excellent credit but are still working hard to lower their debt payments, as now you can have all your money applied directly into cutting down your principal instead of having it go towards interest and/or fees. The 0% APR applies to new purchases as well, so your balance owed will go down that much faster and you won't have to worry about interest until well into 2018.
Chase Blueprint is a free feature on select cards that lets you break down your balances into things that you want to pay in full each month and bigger purchases that you wish to pay off over time. A gadgety feature, but if at all possible I say nuke those balances completely!
If you wish to get cash from this balance transfer offer without it being classified as a "cash advance", one option that has worked for me is to ask for the balance transfer as a check or electronically transferred to your bank account. Just call the number on the back of your card after you get it and tell them you're trying to pay down debt that's not on another card.
"Disclaimer: This content is not provided or commissioned by the issuer. Opinions expressed here are author's alone, not those of the issuer, and have not been reviewed, approved or otherwise endorsed by the issuer. This site may be compensated through the issuer's Affiliate Program."
"The responses below are not provided or commissioned by the bank advertiser. Responses have not been reviewed, approved or otherwise endorsed by the bank advertiser. It is not the bank advertiser's responsibility to ensure all posts and/or questions are answered."
I borrowed thousands of dollars and made hundreds in interest using this method back when CDs were paying 4% to 5%. But now except for the I-bond deal, I'm not sure it's worth the hassle unless you just really enjoy this kind of stuff.
I see that most, if not all of these "comments" are meant to help, or in some cases in an attempt to appear as some sort of guru with the knowledge of an insider (a boastful, or braggart type), but even if the later is the catalyst for people to start typing, help can still be gleaned.
In any event, most here do not see that these things are similar to Clark Howard "explaining" that it is best to pay extra on a monthly mortgage, or to pay off a car early by adding in funds on top of principal each month to cut off money that goes only to profitable interest for the bank, or to get the term of the loan lowered by paying it yourself early.
This is all fine and good, but it is also something that almost all would do if they could. Even if one knew nothing of finance, it would seem that paying early is a sort of common sense.
The point? No one really needs all of this advice unless they ask specifically. Otherwise, money tips are generally only useful for people with EXTRA MONEY. Those with a ton of disposable cash usually have a good program in place. For the 1-5% of those who are looking for a financial planner then these things help, other than that, almost none of the information here is helpful at all. Not one bit.
Most who come here are low on cash, credit, or income, and they come to seek advice for deferring or on what they may be able to do with a major restriction their assets and buying power. If you look closely at the replies and comments, Most others are simply talking back and fourth to each other about what they would do if in situation "x", and about what they would do if they owed "x" to "y", but they do it by calculating with approximations and estimates based in no small part on the amount of money that they have or the income they are making. Obviously I am not writing of those who have cash set aside or are dealing with new and varied income that which they have come to ask questions about so they can plot their best course of action for future financial sustainability and return (these types seem to be a very small minority in this and other forums of the same topic, however).
Those in need, debt, or suffering a lack of income will get no benefit from T-Bills, stock "x", or other tips that seem to imply that all would be well if they would only "get responsible" and pay of bill 1,2, and 3 in "this amount", in "this order." If someone is starving, Gordon Ramsay's recipes will be of no use.
A lot of advice is polite, and even when it is for self pronouncement, it can be useful, but it does no good when the root cause of the problem is a no funds, or a severe cut in funds to work with. I do not see how so many can be so oblivious to theses truths.
(Also, I meant no ill-will to you or anyone else specifically. Your name was first on the comment chart so I clicked there to "reply".) Have a nice day.
Here I was just making a plan to wrap up the last of my outstanding balance transfers and you go tempting me with this.