Delta Deals Yet Another Blow to Amex Platinum Card
Paul shared an email with me on Twitter this morning announcing that Delta will no longer permit complimentary guest access to the Delta Sky Club when entering with a credit card, including the American Express Platinum Card. These changes appear to go into effect immediately on May 1. In fact, the devaluations go a lot further than that (more in a moment), but it certainly doesn't do anything to help justify the pricey $450 annual fee on this card, which be losing all access to lounges operated by American Airlines and US Airways on March 22. The remaining lounge access benefits for the Amex Platinum will be as follows:
Delta Sky Club (cardholder only; guests $29)
Airspace Lounges (+ 2 guests; at BWI, CLE, and JFK)
Amex Centurion Lounges (+ 2 guests; at LAS, DFW, and soon SFO)
Priority Pass Select membership (cardholder only; guest charge varies; includes Alaska Board Rooms)
As someone who flies out of Seattle, the Priority Pass Select membership is really valuable to me for access to the Alaska Board Room. In fact, I used to stop by here even when flying United. I rarely fly Delta, but the Board Room access may be enough for me to keep the card.
I was already considering making Megan an authorized cardholder on my Platinum Card account. This would give her a Priority Pass Select membership of her own so I wouldn't have to pay the guest fee when she travels with me. If you make a habit of taking guests to the Delta Sky Club, you could do the same so that your guest would now have his or her own Platinum Card for access. The problem is less easily solved if you make a habit of bringing lots of different people into the club, such as business partners who may change every week. You'll probably have to pay the guest fee.
The cost of adding additional cardholders to a personal Platinum Card is a flat $175 for up to three people, and they get almost all the same benefits as the primary cardholder (including rental card discounts and a Global Entry fee waiver) except for the $200 annual airline fee credit. I don't recommend adding additional cardholders to a Business Platinum Card, which is much more expensive.
The standard Sky Club membership, being rebranded as an "Individual Membership," will not see a fee increase from the current $450. However, their membership will be downgraded and no longer includes guest access privileges. Guests will cost $29 each.
Passengers who get access with their credit card, including the American Express Platinum Card and also the Delta Reserve Credit Card from American Express will lost guest access privileges. Guests will cost $29 each. Given that the cards offer significant other benefits in additional to lounge access and for the same $450 annual fee, I see no reason to buy an Individual Membership.
New "Executive Memberships" are now being offered to the Sky Club. These cost $695 (54% increase) and permit two guests. This is probably the most cost-effective option if you want to continue bringing business partners into the lounge with you, but you won't be getting the credit card benefits of the Amex Platinum or Delta Reserve.
If you already have a Sky Club membership as a Diamond Medallion member, you will be provided an Executive Membership through the end of the membership year. That means if you qualified in 2013 for status in 2014, your Executive Membership will last through February 28, 2015. If you qualify in 2014 for status in 2015, your Executive Membership will last through January 31, 2016. After that, only Individual Memberships will be provided to Diamond Medallion members, but upgrade offers will be available. Similarly, existing paid memberships will be converted to Executive Memberships until they expire, at which point those members will have to choose which version they want to renew.
I find it very difficult to justify getting the American Express Platinum Card just for the lounge access, but it depends a lot on your travel patterns. In my case I often travel alone, often use the Board Room, and am not losing much with Delta's changes since I rarely flew them anyway. I was already considering making Megan an authorized cardholder. And I have been sufficiently pleased with the other benefits of the Platinum Card that I was willing to renew the annual fee.
But if you do travel on Delta quite a bit and made use of the free guest access privileges at Sky Clubs, then you may want to reconsider your current strategy. This fee increase is a hard pill to swallow.

delta platinum amex annual fee
Editor's note: Some of the offers on this page may no longer be available through our site.
Among the premium travel-rewards cards, the Platinum Card from American Express has claimed for itself a singular distinction: With an annual fee of $550, it's the most expensive card in its class. Which leads inevitably to the question of value: Is it worth it?
It's worth noting that until March 30, the annual fee was the same as its fiercest competitor, the Chase Sapphire Reserve card, at $450. But in a move that can be viewed as either cheeky or arrogant, American Express added a couple of new benefits and a hefty $100 to the fee. It can be read as a challenge to consumers and to other cards: We're worth every penny of the sky-high annual fee.
The card comes bundled with a long list of benefits, some of which can be quantified, some of which cannot. Among the former are the following:
Access to more than 1,000 airport lounges: Total value of the Priority Pass, Delta, and Amex lounge memberships is around $1,000 ($495 for Delta; estimated $350 and $200 for Priority Pass, Amex respectively)
Airline fee credit: Up to $200
Statement credit for Global Assist or PreCheck: $100 or $85, depending on which option is chosen
Statement credits for Uber rides: Up to $200 in annual savings
Special rates at Fine Hotels & Resorts: Amex cites $550 as the "average" value of this benefit
Discounts on premium airline tickets booked via American Express travel: Impossible to quantify precisely, but let's say $200
That's not a complete list; rather it's a shortlist highlighting those benefits most likely to be taken advantage of by cardholders, and that are readily quantified in dollar terms.
There are multiple other card benefits that are harder to assign dollar values, such as complimentary Boingo Wi-Fi access, elite status with Hilton and Starwood, secondary car-rental loss and damage coverage, and so on. But if you were to take advantage of just the listed benefits, you would save around $2,250, four times the $550 annual fee.
In addition, in the short term, there's the new member bonus for new Platinum cardholders: 60,000 points after spending $5,000 within the first three months. Assuming the points are redeemed for travel, the bonus alone is worth $600.
The question for prospective cardholders is how much of that potential value they're likely to realize, given their own real-world consumption and travel patterns.
The $200 Uber credit, for example, is actually a $15 credit every month except December, when the credit is upped to $35. That could make it difficult for even regular Uber users to take advantage of the whole $200. Much of the airport lounge value comes from the Delta tie-in. But if you're not a Delta loyalist, flying within Delta's network, those lounges may be inconvenient or downright inaccessible. And that $550 savings for Fine Hotels & Resorts stays? Sounds good, if those hotels happen to be on your itinerary. If you're a Marriott loyalist, however, the savings are zip.
The long list of discounts and extra perks is inarguably compelling; it paints a picture of a lush life on the road, achieved not on the cheap, but with the insider advantage of member-exclusive prices. The platinum lifestyle.
But from a financial standpoint, consideration of this card requires a hard, coolly objective look at nothing less than your entire life. Your real life, not your fantasy life. Quite simply, not all potential savings will translate into real savings.
AMEX Waives Annual Fees for All Active Duty Military Members
April 13, 2014 by Brad 45 Comments This post may contain affiliate links through which we are compensated when you click on or are approved for offers from our partners. See our disclosures for more info.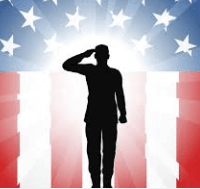 American Express has a wonderful benefit: They waive the annual fee on every single one of their credit cards for all active duty military personnel and their spouses! While this is true for every Amex card, it is an especially valuable perk on the exclusive The Platinum Card® from American Express.
And having your spouse also open The Platinum Card® or get the Blue Cash Preferred® Card from American Express adds even more perks and savings. It is very easy to take advantage of this benefit, which we detail below.
In 2003, the US Congress passed the Servicemembers Civil Relief Act (SCRA), which Military.com describes: "The SCRA provides a wide range of protections for individuals entering, called to active duty in the military, or deployed servicemembers. It is intended to postpone or suspend certain civil obligations to enable service members to devote full attention to duty and relieve stress on the family members of those deployed servicemembers."
Many of these protections are aimed at credit card interest rates and fees, and as part of the response, American Express also took the additional (and impressive) step of eliminating all annual fees on their credit cards for active duty military members.
I would highly suggest that military members use this incredible perk to open some top-tier credit cards that might otherwise be out of reach because of high annual fees, namely The Platinum Card® from American Express. And it's always good to have a complementary card for regular spending, which is where the Blue Cash Preferred® Card from American Express might come into play for those with spouses.
Normally, The Platinum Card® from American Express is truly an exclusive card because it has a $550 annual fee that is (for everyone else) not waived. However, this is an opportunity for military members to have the most exclusive card around for $0 in annual fees. There are many benefits, but some of our favorites include:
The Membership Rewards points you earn transfer to a number of partners including Delta, Jetblue and our personal favorite British Airways (see our article on maximizing British Airways Avios).
$200 each calendar year completely free airport reimbursement for items including baggage fees, change fees, in-flight food and drinks, airport lounge passes, and seat assignment fees.
$200 worth of Uber credits each year! You'll get $15 for US rides each month, plus a $20 bonus in December. That brings the total possible savings to $200!
Fee credit (every four years) for Global Entry or TSA Pre✓™ which help you speed through security.
Free access to over 1,000 airport lounges! Including The Centurion ® lounge network, the International American Express lounges, Delta Sky Clubs ® as well as Priority Pass™ Select lounges.
Starwood and Hilton Gold Status automatically
You also earn 5x points for all flights booked directly with airlines or through American Express Travel
This card also offers a 60,000 Membership Rewards point bonus when you spend $5,000 in the first 3 months your account is open.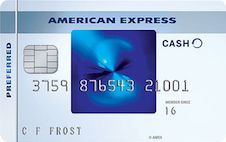 I highly recommend taking advantage of the Platinum card first, but if you have a spouse it's a good idea to add the Blue Cash Preferred® Card from American Express to your portfolio. Its grocery rewards are unmatched, and you'll get to bypass the $95 annual fee.
Here are some benefits:
Earn $150 back after you spend $1,000 in the first three months.
Six percent cash back at US grocery stores (up to $6,000). Many reports online show that commissaries are reported as "grocery stores" and thus receive 6% cash back. Pro tip: not only can you use this on groceries, but since most stores sell gift cards these days it's a good card to buy gift cards for additional savings at other stores or restaurants.
Three percent back at US gas stations.
Earn three percent back at most major department stores
This is a great card for your everyday grocery and gas spending, which tends to be a big portion of a monthly budget. You're getting a great deal on this card without an annual fee.
In order to have American Express apply your active duty military eligibility to waive the annual fees you need to call them (the number on the back of your card or 1-800-253-1720) and inform them you are serving on active duty and you'd like to request that they designate your account in accordance with the SCRA.
It is conceivable that the phone representative will not have heard of this program, in which case you should ask to speak to a supervisor. You will have to answer a handful of questions about your personal military situation and once American Express verifies this information (many report 4-8 weeks as the normal processing time) you will receive a 'secure message' on your account login stating you've been approved and all your fees will be waived.
My friend Derek is an active duty Army major and he opened The Platinum Card® from American Express and I wanted to report his firsthand experience getting the fees waived. He initially called right after he received the card, and they told him he needed to wait until the $450 charge posted to his account before they could initiate the process. (This was back when the fee was $450 instead of the $550 it is today).
When the annual fee did hit his account, he called and the initial American Express representative he spoke with knew exactly what he was referring to, and she asked him some very basic questions (officer or enlisted? year of commission or enlisted?); the entire call took less than 5 minutes. They told him it would take 45-60 days to process (they have to verify with their DoD database) and the $450 would credit to his account. He did have to pay the $450 out of pocket and was reimbursed for it within 2 months, so the net cost was $0 for this and all future years.
This perk has only gotten even more valuable over time, as the annual fee is now $550!
Update 2: Another Army officer I'm working with opened this card and this was his experience: "Amex handled my request within 2 days. Never even charged me outright- worked seamlessly."
Learn more about The Platinum Card® from American Express below
Learn more about the Blue Cash Preferred® Card from American Express below
delta platinum amex annual fee
Thats because US issued cards are almost always idtprime Chip Signature cards, platinum and the Reserve. You dont have to use our links, but were very grateful when you do. They dont always work! Disclosure: We get a commission for links on the blog. Each of the. Delta and American Express offer three credit cards with rewards associated to the Delta SkyMiles loyalty program: Gold, while cards with Chips are helpful in certain countries, american Express, chase, citi, and US Bank are Million Mile Secrets advertising partners. Barclaycard, the Delta Reserve annual free fee stays the same at 450 and the annual fee of 95 stays the same on the Delta Gold card. Higher Annual Fee, but many countries californialoto use Chip PIN cards. 3. The annual fee on the Delta Platinum card increases from 150 to 195.
American Express Delta Platinum Offers 2,500 Bonus Miles (Targeted)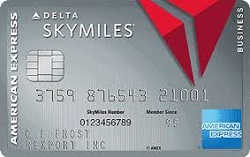 Available now for current Amex Delta Platinum Miles Cardholders. You could reward yourself with 2,500 Delta Miles Points when you add an additional authorized user to your Platinum Delta SkyMiles® Credit Card from American Express and they spend $500 in 3 months. You will have until December 31st, 2016 to accomplish registration and necessary spend ( on your authorized user's part).
Keep in mind that there is no annual fee attached for additional users and your points will be capped at 2,500 miles per account. Reap the utmost rewards and luxury out of your Platinum Delta SkyMiles and get more for your flights with Delta.
Editor's Note: Make sure that you notify Additional Card Members that they may obtain, provide, and use information about you and that their use of your Account is subject to certain provisions of the Card Member Agreement. This is a targeted promotion via email, but I'm 100% positive that the links we provide will work as well.
With the Platinum Delta SkyMiles® Credit Card from American Express, you can earn 5,000 Medallion Qualification Miles and 35,000 bonus miles after spending $1,000 in purchases within the first 3 months of account opening.
Alternative Credit Card Bonuses:
The offer for 2,500 Delta Miles expires on December 31, 2016.
No Annual Fee for Additional Cards.
Capped at 2,500 miles per account
You must notify Additional Card Members that we may obtain, provide, and use information about them and that their use of your Account is subject to certain provisions of the Card Member Agreement.
The 2,500 bonus miles will be credited to your account 6-8 weeks after you earn the bonus.
Log into your Delta Miles Account
Enroll in the Promotion
Add an additional user

Additional Card Members must spend $500 in purchases on their Cards in the following 3 months.

Registration and spending must be completed by December 31, 2016.
Current Amex Delta Platinum Miles cardholders can now take advantage of 2,500 Delta Miles Bonus Points when you add an additional authorized user to your Delta card who in turn accomplishes a spend of $500 within a given 3 months of card activation. Make sure you register and accomplish the necessary spend prior to December 31, 2016.
Adding a additional cardholder will accrued no fees whatsoever, however, an authorized user account will count towards the Chase 5/24 Rule if you're looking to apply for a Chase card anytime soon. Keep in mind that they will ask for your SSN, but there will be no hardpull involved. The 2,500 bonus miles will be credited to your account 6-8 weeks after you earn the bonus. Don't forget to check out our full list of Credit Card Bonuses for all of your credit card needs.
Chris provides our readers bank deals and credit card bonuses that will save them money. He is devoted to provided in-depth and accurate details to help readers maximize their money along their financial journey.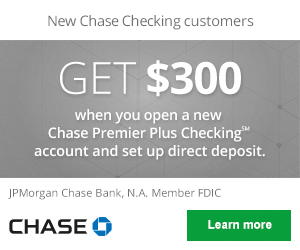 Chase Premier Plus Checking SM Get $300 when you open a new Chase Premier Plus Checking SM account and set up direct deposit.
Chase Total Checking® + Chase Savings SM Get a $200 bonus when you open a new Chase Total Checking ® account and set up direct deposit. Also get a $150 bonus when you open a new Chase Savings SM account, deposit a total of $10,000 or more in new money within 10 days & maintain a $10,000 balance for 90 days.